Details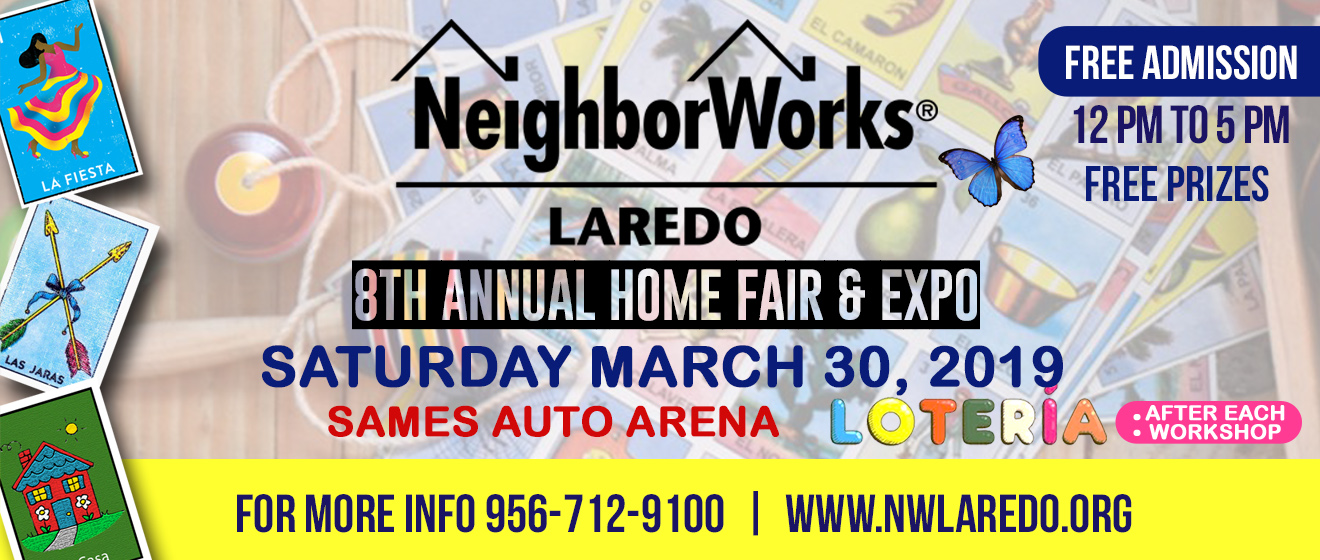 Saturday, March 30, 2019

12:00 PM / Doors Open 11:30 p.m.
NeighborWorks Laredo
8th Annual Home Fair Expo Loteria
Sames Auto Arena
12:00 noon – 5:00 p.m.
FREE & OPEN to Public
NeighborWorks Laredo is happy to inform the public that it will be holding it's 8th Annual Home Fair & Expo – Loteria Style! Learn how to Build, Buy, and Beautify your home or your future home. There are over 25 workshops being scheduled throughout the day and after each workshop, Loteria games will be held with great prizes for the winners. With over 40 Sponsor booths including but not limited to builders, lenders, realtors, insurance and title companies, Down Payment Assistance Program representatives, and many more!

This event is getting bigger and better every year. There have been several themes during the last three years and our 4th year is Loteria and everyone likes to play Loteria. You as a visitor get to choose the best booth. In addition, there are free prizes and giveaways at the event.

Are you looking for "La Casa" of your dreams? We can help and there are plenty of houses waiting to be called "Your Home" with the help of the Realtors and Builders at the event.

NeighborWorks Laredo specializes in providing very well-informed Homebuyer Education Classes and Counseling. If you are not ready to buy a home, we will get you ready. If you are having credit problems, we have a great credit coaching program where the client is guided in how to improve credit scores that will lead to homeownership. If you don't have a down payment the best part of our Homebuyer Education classes is that you qualify for a certificate of completion to show many of the down payment programs you may qualify for. Our HomeOwnership Center staff is highly trained and certified.

NeighborWorks Laredo is a HUD approved Homeownership Counseling Agency. What does that mean? Our homebuyer education classes are mandatory for most down payment assistance programs. Don't miss out on FREE money that you can be using for your home purchase. During the last 25 years, NeighborWorks Laredo has helped create over 4,000 new homeowners with approximately $328,560,727 of community investment.

Will you be the next new home owner? Don't spend your income tax return, let our many sponsors help you make the right investment for you and your family that will call "Your Home".

NeighborWorks Laredo is located at 216 Bob Bullock Loop, Laredo, Tx. 78043, www.nwlaredo.org. Telephone number is 956-712-9100. If you need more information or you want to be part of the event by sponsoring a booth, call or email ealonzo@nwlaredo.org.