Details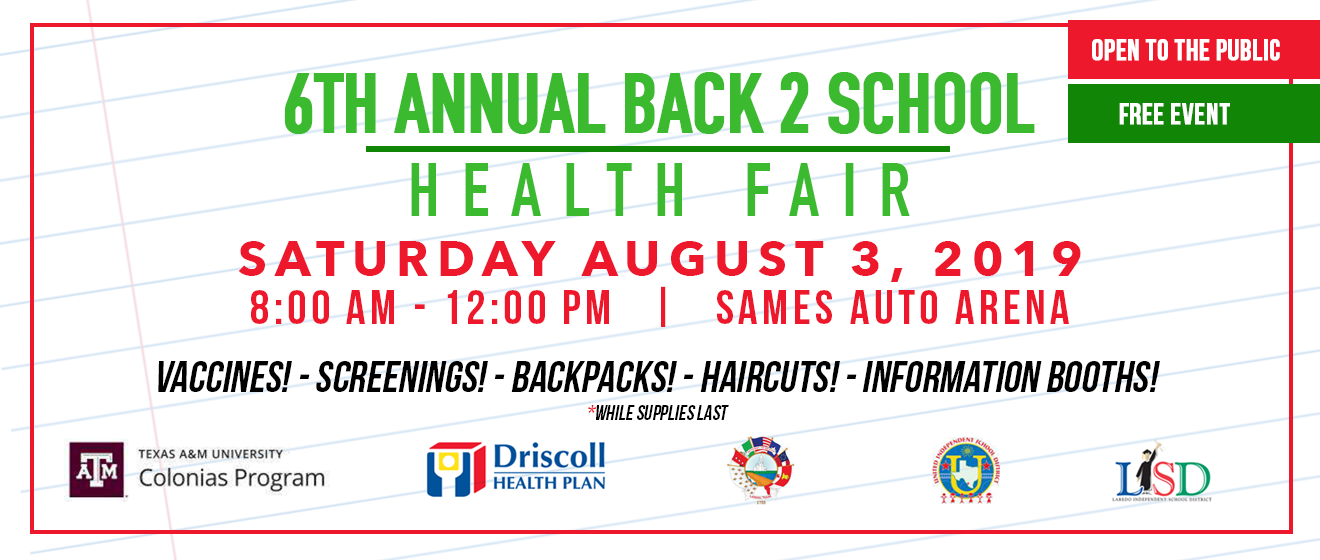 Saturday, August 3, 2019

08:00 AM
Public Invited to Attend
6th Annual Back 2 School Health Fair

LAREDO, Texas–Driscoll Health Plan, in collaboration with the Texas A&M University Colonias Program, the City of Laredo, and both UISD and LISD, will host the 6th Annual Back 2 School Health Fair on Saturday, August 3 from 8:00 a.m. to 12:00 p.m. at Sames Auto Arena located at 6700 Arena Blvd. Local students up to age 18 are encouraged to attend this free and public event where they can receive all of their vaccines, health screenings for adults and children, sports physicals, vision and dental screenings, blood sugar testing, blood pressure checks, backpacks, haircuts and more for free (while supplies last). There is a small fee for those needing a tuberculosis (TB) tests.

This year, community partners are expecting thousands of attendees as last year's Back to School Health Fair drew in approximately 4,000 local families.

Aside from offering free back-to-school supplies, the event's goal is to have families be informed and connect them to services. As a Friend of the Family, Driscoll Health Plan strives in helping to grow a healthier South Texas. Back to school can be stressful for families and for this reason, Driscoll Health Plan invites the community of Laredo to come and connect to key services.

"The City of Laredo is excited to lend support to the 6th Annual Back to School Health Fair on August 3," said Mayor Pete Saenz. "The City understands that our students must have all the resources necessary if we want them to succeed in education. I thank Driscoll Health Plan and our community partners for organizing this great event for our local students and their families."

Since 2013, the Back 2 School Health Fair has focused on providing children the immunizations and resources necessary to attend school and perform well. Students must be present to receive services. Public must follow arena bag policy: http://samesautoarena.com/services/guide/.

For more information, call Driscoll Health Plan at (956) 728-6300; United I.S.D. Federal Programs at (956) 473-6471; or Laredo I.S.D. Federal Programs at (956) 273-1264.

About Driscoll Health Plan
Driscoll Health Plan is a nonprofit, community-based health insurance plan offering healthcare coverage to over 175,000 children, pregnant women, and other adults in its service area that includes 24 South Texas counties and 25,000 square miles. Its vast network of pediatric, adolescent and adult providers ensures every individual receives the right care for his or her needs. Driscoll Health Plan is part of the Driscoll Health System, which includes Driscoll Children's Hospital that has served the children of South Texas for more than 65 years.

###