Details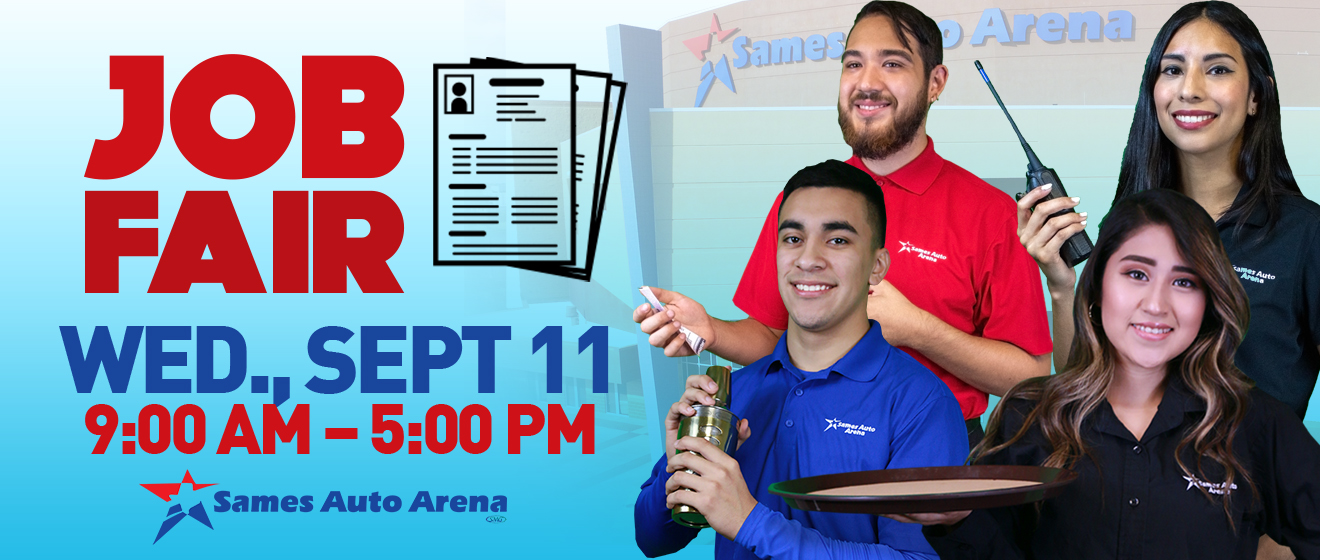 Wednesday, September 11, 2019

09:00 AM / Doors Open 9:00 a.m.
Drive Entertainment at Sames Auto Arena
Apply Now

FOR IMMEDIATE RELEASE: THURSDAY, SEPTEMBER 5, 2019

LAREDO, TX – Drive entertainment in Laredo, Texas by becoming part of the SMG family at the Sames Auto Arena on Wednesday, September 11 from 9:00 a.m. – 5:00 p.m.

"We've hosted successful job fairs, and we will continue to host them at the Sames Auto Arena for those seeking employment," said Juan C. Mendiola, General Manager of the SMG-managed Sames Auto Arena. "We are calling all hardworking and motivated individuals to apply and work with Laredo's only premiere entertainment venue."

On-site interviews will be available upon availability. Those interested can apply ahead of time at http://samesautoarena.com/opportunities/jobs/ and come in for an interview on the day of the job fair.

The departments of food and beverage, operations and the box office are hiring for various positions:
Food & Beverage

Bartender

Cashier

Cook

Runner


Events Staff

Event Staff

Event Staff Supervisor

Parking Attendant

Custodial Supervisor

Custodian


Box Office

Ticket Sellers

Applicants must come professionally dressed (i.e. no jeans, no sandals, no caps, no short shorts) and bring a social security card and ID for hiring purposes.

SMG considers all applicants for employment without regard to race, color, religion, sex, national origin, age, disability, or status as a Vietnam-era or special disabled veteran in accordance with federal law.

In addition, SMG complies with applicable state and local laws prohibiting discrimination in employment in every jurisdiction in which it maintains facilities.

SMG also provides reasonable accommodations to qualified individuals with disabilities in accordance with applicable laws.

For more information, call (956) 791-9192, Like us on Facebook, Follow on Twitter or visit samesautoarena.com.

###