Details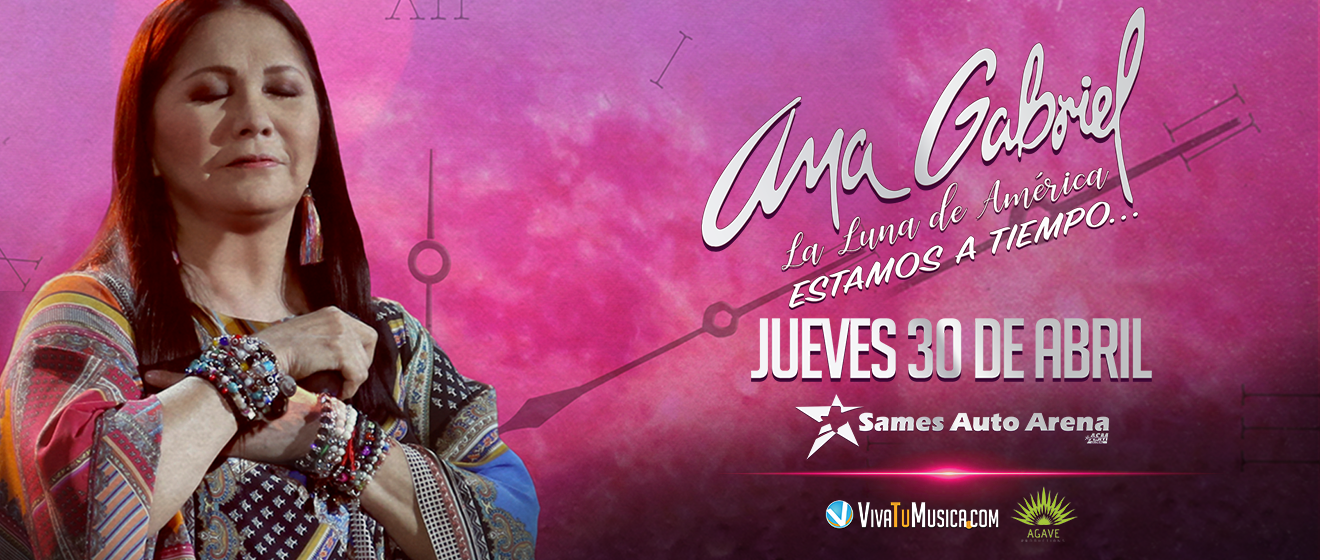 Thursday, April 30, 2020

08:00 PM / Doors Open 7:00 p.m.
Buy Tickets
Ana Gabriel
FOR IMMEDIATE RELEASE: MONDAY, OCTOBER 21, 2019
LAREDO, TX – Sony Music recording artist Ana Gabriel has announced the first leg to her North American tour, which will stop at SAMES AUTO ARENA
in LAREDO, TX, on Friday, February 7, 2020. Pre-sale tickets will be available starting on Thursday October 24th at 10:00 am EST followed by general public on-sale tickets starting on Friday, October 25 and will be available online. For more ticket information and tour updates, please visit
www.cmnevents.com
.
"La Luna de América" will perform in 17 cities between the months of February and May in 2020. Her Spring concerts will include songs from each decade of her hit-making career as well as her new single "Y Tu No Estás" from her upcoming banda album which will be released in 2020. Ana Gabriel invigorating performance and charisma has connected with millions of fans around the world. Ana Gabriel is currently touring in Mexico and is set to perform also on Chile's Most-Renowned Music Festival de Viña del Mar 2020.
"We are delighted to welcome back Ana Gabriel to Sames Auto Arena," said Juan C. Mendiola, General Manager of the ASM Global - managed Sames Auto Arena.
Tickets On Sale Friday, October 25 @ 10:00 a.m.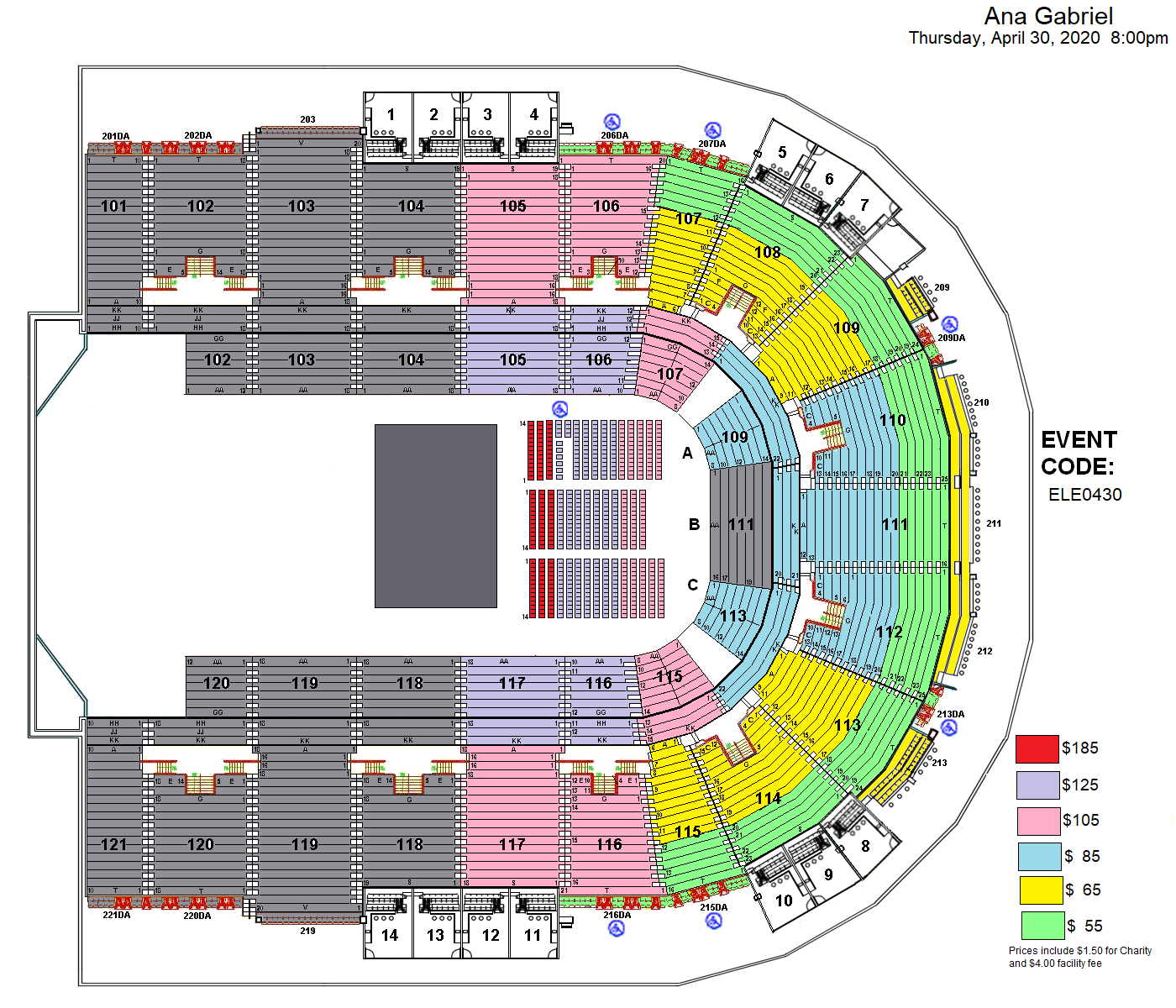 $185.00 | $125.00 | $105.00 | $85.00 | $65.00 | $55.00
(Facility Fees Included)
Tickets available at the Sames Auto Arena Box Office or Ticketmaster.com
"We are delighted to welcome back Ana Gabriel to Sames Auto Arena," said Juan C. Mendiola, General Manager of the ASM Global - managed Sames Auto Arena.
Ana Gabriel, affectionately known to her fans as La Luna de América, is a legendary Mexican singer whom throughout her career has become one of the most important global ambassadors of Mexican music. On her forty-five years in the industry, Gabriel has greatly influenced music, not only in Mexico but in Latin America and around the world.
In 1974, she debuted with her first professional performance. Since then, she has conquered the world's most prestigious stages, with her timeless songs recorded in such styles as bolero, ballad, mariachi and Banda de Sinaloa. She has also collaborated with such greats as Vicente Fernández, Vikki Carr, Plácido Domingo, Jose Luis Perales and Juan Gabriel. Possessing one of Mexico's most recognizable and expressive voices, this icon continues energetically bringing her music to audiences across Latin America.
PARA PUBLICACION INMEDIATA: LUNES, 21 DE OCTUBRE
Miami, FL (21 de octubre de 2019) - "La Luna de América", Ana Gabriel anuncia su gira "Estamos a Tiempo" por los Estados Unidos, durante la primavera del 2020. Considerada como una de las mejores voces de América, la artista estara en el SAMES AUTO ARENA de LAREDO, TX, el jueves 30 de abril de 2020. La preventa de boletos estará disponible a partir del jueves 24 de octubre a las 10:00 a.m. La venta de boletos para el público en general comenzará el viernes 25 de octubre. Para obtener más información sobre la venta de boletos y novedades de la gira, visite www.cmnevents.com.
"Estamos muy deleitados y emocionados de darle la bienvenida nuevamente a Ana Gabriel despues de casi 4 años que estuvo con nosotros" expreso Juan C. Mendiola, Gerente General de ASM Global – admistrado por Sames Auto Arena.
"La Luna de América" quien esta celebrando 45 años de Carrera artística, se presentará en 17 ciudades de la nación norteamericana entre los meses de febrero y mayo del 2020. Sus conciertos en la primavera incluirán canciones de cada década de su exitosa carrera, así como nuevo sencillo "Y Tu No Estás", primer tema de lo que será su nueva producción discográfica con banda, que estará disponible en el 2020. El desempeño y el carisma de Ana Gabriel la ha conectado con millones de fanáticos alrededor del mundo. Actualmente, Ana Gabriel se encuentra de gira en la República Mexicana y recientemente se anunció su presentación en el marco del Festival de Música más importante de Latinoamérica, el Festival de Viña del Mar 2020 en Chile.
Las fechas de la gira "Estamos A Tiempo" en los Estados Unidos, llevará a Ana Gabriel a ciudades como Nueva York, NY; Miami, FL; El Paso, TX; Las Vegas, NV, entre otras. Ana Gabriel, tendrá como invitado especial a Alex Fernández Jr. en los conciertos de Chicago, IL; Atlanta, GA; Ft Myers y Miami, FL.
BOLETOS A LA VENTA VIERNES, 25 DE OCTUBRE - 10:00 a.m.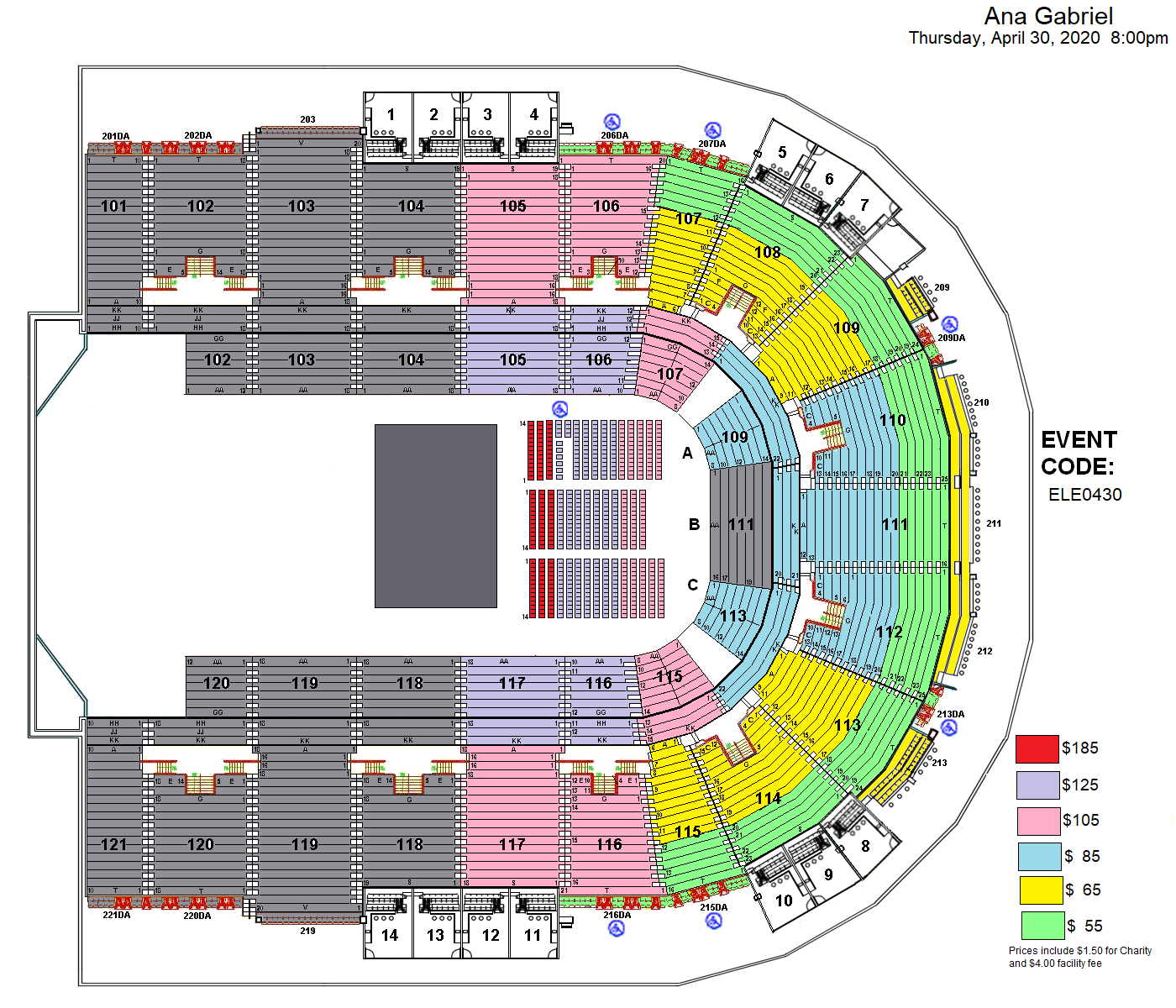 $185.00 | $125.00 | $105.00 | $85.00 | $65.00 | $55.00
(tarifa de instalación incluida)
Boletos disponibles en la taquilla del Sames Auto Arena o Ticketmaster.com
Ana Gabriel, La Luna de América, es una artista que, con su inigualable voz y a lo largo de su trayectoria, se ha convertido en embajadora indiscutible de la música mexicana. En sus 45 años de carrera artística ha influenciado notablemente la música no solo en México sino en Latinoamérica y el mundo entero.
Fue en el año 1974 cuando la cantante debutó en los escenarios y desde entonces, gracias a la maestría con la que interpreta géneros como el bolero, la balada, el mariachi y la banda de Sinaloa, ha obtenido múltiples reconocimientos. Durante su exitosa carrera, Ana Gabriel, ha colaborado con artistas de la talla de Vicente Fernández, Vikki Carr, Plácido Domingo, José Luis Perales, Juan Gabriel, entre otros.
Ana Gabriel es sin lugar a duda, uno de los más grandes referentes de la música mexicana, un ícono que ha demostrado a nivel mundial que su talento no tiene límites.