Details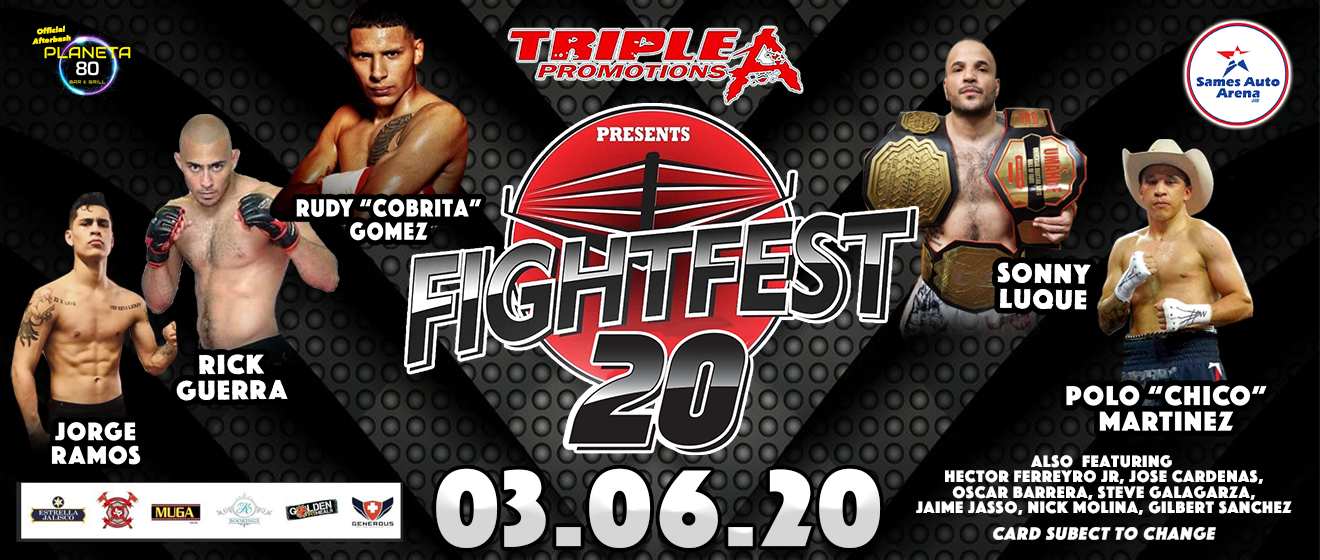 Friday, March 6, 2020

07:30 PM / Doors Open 6:30 PM
Buy Tickets
Fight Fest 20
Doors Open at 6:30 p.m. | First Bout at 7:30 p.m.
FOR IMMEDIATE RELEASE: WEDNESDAY, JANUARY 15, 2019
LAREDO, TEXAS – Triple A Promotions is proud to announce the return of former Texas Middle Weight Champion Rodolfo 'La Cobrita' Gomez who will be headlining Fight Fest 20, after over a year layoff, at the Sames Auto Arena on Friday, March 6. First bout at 7:30 p.m.
Also, on the bout card are four other talented fighters which any of them is capable of being the main event, MMA Champion Sonny Luque, MMA fighter Rick Guerra, Boxing ABF Champion Jorge Ramos and top boxing prospect Leopoldo 'Polo Chico' Martinez.
"The Sames Auto Arena and Triple-A Promotions along with our sponsors are very excited to host once again some of the most promising and professional talent which include some of our local fighters," said Juan C. Mendiola, General Manager of the ASM Global- managed Sames Auto Arena.
Tables are available at a first-come, first-serve process immediately through info below.
Tables for 10 are only $650 / Tables for four (4) are $240 (all fees included)
For table purchasing information please call (956) 242-9814 or (956) 324-4830
Please note tables are not available online
General Admission Arena Bowl seats are $25
Tickets available at the Sames Auto Arena Box Office or Ticketmaster.com
Rodolfo 'La Cobrita' Gomez is a former Texas middle weight champion with a 13-4 record that is coming out of his biggest win when he defeated World Champion Ricardo Mayorga.
In the co main event, ABF Featherweight Champion Jorge Ramos, 7-1-1, will be showcasing his talent. Adding to these 2 main bouts is top boxing rising star Leopoldo 'Polo Chico' Martinez and the 2 top local MMA warriors Sonny Luque and Rick Guerra.
This best combative sports event will feature a total eight boxing bouts and two MMA bouts. Bout Card Subject to change.
For more information, call (956) 791-9192 or visit samesautoarena.com.