Details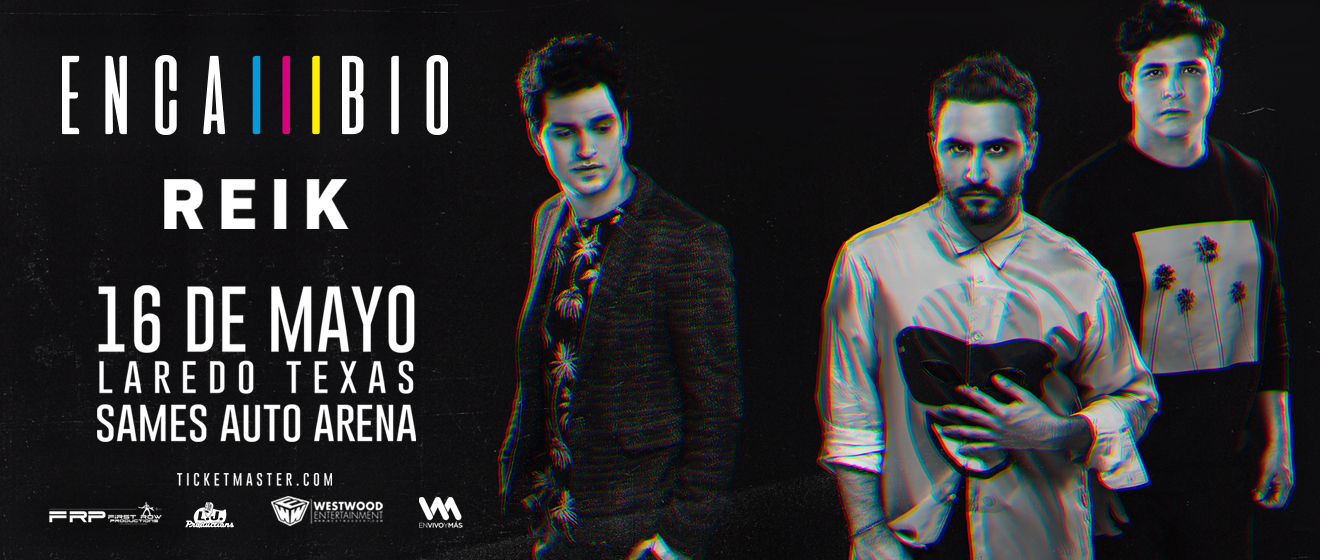 Saturday, May 16, 2020

08:00 PM / Doors Open 7:00 PM
Buy Tickets
REIK
FOR IMMEDIATE RELEASE: THURSDAY, JANUARY 23, 2020
LAREDO, TX – Internationally known Latin Grammy Award Winners Reik returns to the Sames Auto Arena Saturday, May 16.
"We are excited that Reik will perform again on the Sames Auto Arena stage," said Juan C. Mendiola, General Manager of the ASM Global – managed Sames Auto Arena.
TICKETS ON SALE FRIDAY, JANUARY 31 AT 10AM
Ticket Prices: $203 | $153 | $98 | $78 | $58 | $48
In November 23, 2019 Reik kicked-off their new tour titled "En Cambio" at the Mexico City Arena with great success where more than 12,000 people sang along to their songs. During the big night, the group received two awards for their album Ahora which went platinum and also received a gold record.
This new tour is dedicated to celebrating the strength of the trio as a band through the years and the great connection they have with their audience, who have supported them over the years before different changes in their career, such as their new versatility between genres and its international projection.
Reik together with the producer of world hits and winner of Latin Grammy Haze, released the video of their most recent single "Haz lo que Quieras" that was directed by Fernando Lugo and filmed at the Bonnet House Museum and Gardens in Fort Lauderdale, Florida.
"Haz lo que Quieras" is a theme composed by Jhay Cortez and Haze that talks about a love story and what would happen if the people you love most are not here tomorrow.
The year 2019 has been a year full of success for Reik. Their most recent single "Indeciso" along with J Balvin and Lalo Ebratt has reached more than 50 million views and received a gold record award in Mexico less than two months after its release.
Reik has become the Mexican group with the most listeners on the digital music platform Spotify with more than 16 million listeners.
In addition, the band is in the top five in YouTube videos with more than 4 billion views. They are currently part of the Spotify Singles: Holiday Collection 2019 with their own version of "Noche de Paz" recorded especially for this important list.
One of their stops with this tour will be at the Sames Auto Arena on Saturday, May 16. For more information, call (956) 791-9192 or visit samesautoarena.com.
PARA PUBLICACION INMEDIATA: JUEVES, 23 DE ENERO DE 2020
LAREDO, TX – Internacionalmente conocido y ganadores del Grammy Latino, Reik regresa al Sames Auto Arena el sábado 16 de mayo.
"Estamos muy contentos de que Reik vuelva a actuar en la etapa de Sames Auto Arena", dijo Juan C. Mendiola, Gerente General de Sames Auto Arena.
BOLETOS A LA VENTA – 31 DE ENERO - 10AM
precios: $203 | $153 | $98 | $78 | $58 | $48
Boletos disponibles en la taquilla del Sames Auto Arena o Ticketmaster.com
En noviembre de 2020, Reik dio inicio a su nueva gira titulada "En Cambio" en la Arena Ciudad de México con gran éxito donde más de 12,000 personas corearon sus canciones.
Durante la gran noche, la agrupación recibió dos reconocimientos. Disco de platino más oro por el sencillo aleluya y por su más reciente álbum Ahora. Esta nueva gira está dedicada a celebrar la Fortaleza del trio como banda a través de los años y la gran conexión que tienen con su público, quienes los han apoyado a través de los años ante distintos cambios en su carrera, como su nueva versatilidad entre géneros musicales y su proyección internacional.
Reik junto al productor de hits mundiales y ganador del Latin Grammy Haze, lanzaron el nuevo video de su más reciente sencillo "Haz lo que Quieras" que fue dirigido por Fernando Lugo y filmado en las instalaciones de Bonnet House Museum and Gardens en Fort Lauderdale, Florida.
"Haz lo que quieras" es un tema compuesto por Jhay Cortez y Haze que habla sobre una historia de amor y sobre qué pasaría si la personas que más quieres no esta aquí el día de mañana.
El 2019 ha sido un año lleno de éxitos para Reik. Su más reciente sencillo "Indeciso" junto con J Balvin y Lalo Ebratt, ha alcanzado más de 50 millones de views y disco de oro en México a menos de dos meses de su lanzamiento.
Reik se ha convertido en el grupo mexicano con más oyentes en la plataforma digital de música Spotify con más de 16 millones de oyentes. Además, la banda se encuentra en el top 5 en videos de Youtube con más de 4 mil millones de reproducciones. Actualmente forman parte del Spotify Singles: Holiday Collection 2019 con su propia versión de "Noche de Paz" grabada especialmente para está importante lista.
Una de sus paradas con esta gira será en el Sames Auto Arena el sábado 16 de mayo. Para más información, llame al (956) 791-9192 o visite samesautoarena.com.