Details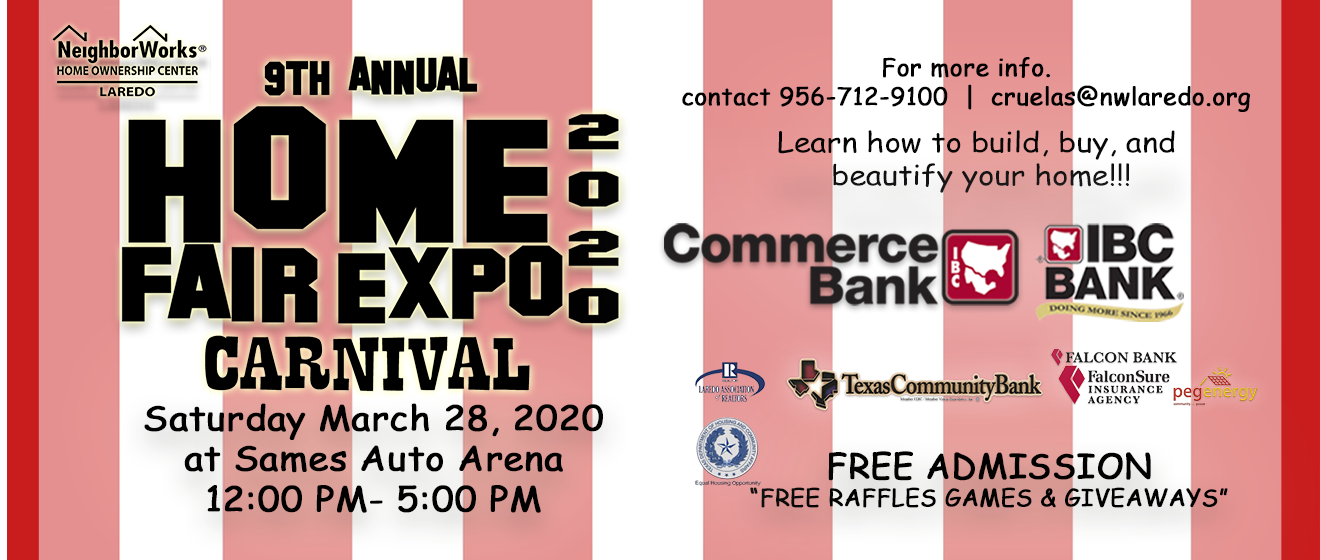 Saturday, March 28, 2020

12:00 PM
NeigborWorks
Learn how to Build, Buy and Beautify your home. This year we are adding a Carnival theme and back by popular demand there will be free Loteria games played after each workshop sponsored by our Platinum and Gold Sponsors. Everyone attending has a chance to win other prizes besides the Loteria game prizes.
There are so many different down payment and mortgage products out there; it's not just for low income families. Law enforcement, teachers, firefighters, librarians, nurses, veterans also qualify for many programs!
NeighborWorks Laredo (NWL) Experts will be on hand to assist with any questions the public may have in home buying, foreclosure prevention, credit improvement and even rental units that are offered. NWL provides monthly homebuyer education classes that can earn clients down payment assistance but primarily the future homebuyer walks out with a better understanding of the home buying process including but not limited to credit, income & expenses, budget, mortgage loans, insurances, and post purchase counseling. If the client is not home buyer ready, we will get them ready!
Scheduled are 20 free workshops such as Down Payment Assistance Programs, Building, Mortgage Loans, Credit, Protecting Your Investments, Credit, Why You Need A Realtor, Homebuying Process, even Solar Panels to name a few. 40 vendors are participating and we expect a big crowd, especially with free Loteria games after each workshop. Attendees will walk into carnival themed booths where other games and entertainment will be provided.
The City of Laredo Health Department will be conducting basic health screening, VITA will be on hand to prepare you Income Tax Return for Free and more!
Special thanks to our Title Sponsors International Bank of Commerce and Commerce Bank, Platinum Sponsors: Falcon Bank, FalconSure Insurance, PEG Energy, Texas Community Bank and the Laredo Association of Realtors.