Details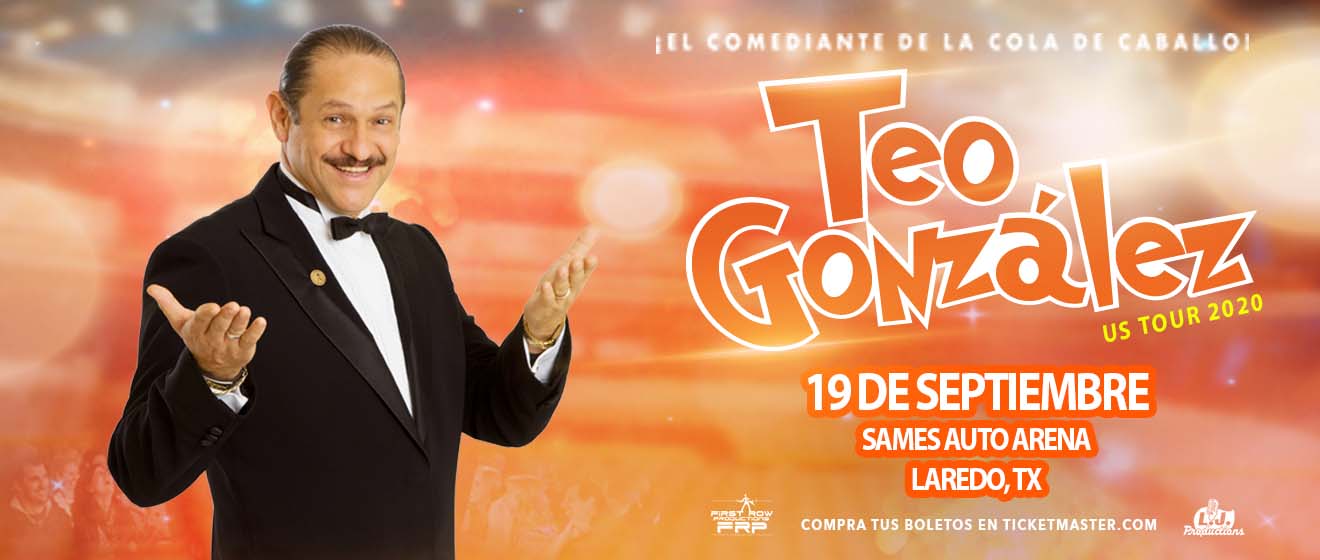 Saturday, September 19, 2020

08:30 PM / Doors Open 7:30 PM
Buy Tickets
Comediante Teo González
sabado, 19 de septiembe, 2020
LAREDO, TEXAS – ¡Prepárate para reir con el comediante "de la cola de caballo," Teo González, el sabado 19 de septiembre en Sames Auto Arena!
"Han pasado un par de años desde que Teo González no se presenta en Nuevo Laredo y estamos muy entusiasmados que en esta ocasión después de tantos años ser presentará en Sames Auto Arena" expreso Juan C. Mendiola, Gerente General de ASM Global – administrado por Sames Auto Arena.
$88.00 | $68.00 | $58.00 | $48.00 | $38.00
(Tarifa de instalación incluida)
Boletos disponible en las taquillas del Sames Auto Arena o Ticketmaster.com
Teo Gonzalez nació en León, Guanajuato, México. Criado en un país y familia donde el futbol era grande, el joven Teo decidió pasar sus primeros años en practiando y perfeccionando sus habilidades en el campo de juego. Se volvió portero del club León en la Primera División Mexicana.
Mientras disfrutaba del deporte, notó un nuevo don que emergía, podía hacer reír a carcajadas a sus compañeros de equipo. Mientras este don salía a la luz una y otra vez, González vió como una señal que la comedia era su llamado. Dejo el equipo para dedicarse a su carrera de comediante de tiempo completo.
No pasando mucho tiempo, capturó la atención de ejecutivos de televisión en donde fue contratado como talento principal en un programa de Televisa Guadalajara. Con la fama que ganó el televisión, González se convirtió en una estrella, y pronto empezó giras por México y países cercanos con su peculiar estilo de comedia!
Saturday, September 19 2020
LAREDO, TEXAS – Get ready to laugh with stand-up comedian Teo González on Saturday September 19 at the Sames Auto Arena!
"It's been a few years since Teo performed in front of an audience in Nuevo Laredo," said Juan C. Mendiola, General Manager of the ASM Global - managed Sames Auto Arena. "We are excited to host his hilarious antics for the first time at the Sames Auto Arena!"
$88.00 | $68.00 | $58.00 | $48.00 | $38.00
Tickets available at the Sames Auto Arena Box Office or Ticketmaster.com
Teo Gonzalez was born in Leon, Guanajuato, Mexico. Growing up in a country and a household where soccer was a big deal, a young Teo committed his early years to practicing and perfecting his skills on the field. He became the goalkeeper for Club Leon of the Mexican First Division.
While he loved the sport, he noticed a new gift emerging. He could make his teammates laugh. And as this skill began to show itself again and again, Gonzalez took it as a sign that comedy was his calling. He left the team to pursue his comedy career full-time.
It wasn't long before he was capturing the attention of television executives who hired him as the main talent for a Televisa program in Guadalajara. With the exposure he gained on the TV show, Gonzalez became a star, and soon began touring his native country and other countries around the world with his signature comedic style!