Details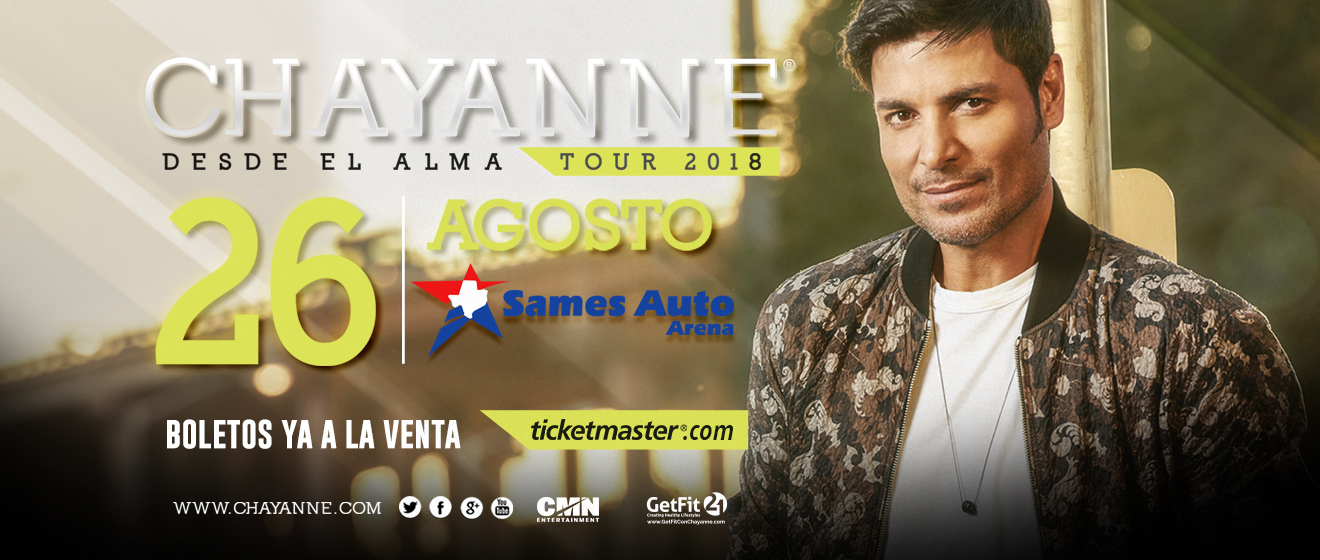 Sunday, August 26, 2018

07:00 PM / Doors Open 6:00 PM
Buy Tickets
CHAYANNE
Sunday, August 26
Doors: 6:00 p.m.
FOR IMMEDIATE RELEASE: Monday March 5, 2018
LAREDO, TX – After more than 2 years away from the stage, renowned international singer returns to the scene with his new tour "Desde El Alma" on Sunday, August 26 at the Sames Auto Arena.

CHAYANNE®, along with his creative team, are working non-stop on the production of the tour which will debut in the USA in August.

"I really enjoy this phase of the tour because there are so many elements that I want to have in my new show. I want a tour where the people go to have a fun time and sing with me", said the artist.

Past tours have been well-received, with sold-out venues and the prestigious Billboard Award for Best Tour. Chayanne's unique blend of powerful romantic ballads and pop tracks with his sensual rhythmic style has allowed him to conquer the hearts of his fans at each one of his shows. His success on stage has contributed his outstanding career and high standing in the hearts of many music lovers around the world.

"Desde El Alma US Tour" will kick off on August 23rd in San Jose, CA., the tour will make stops in 15+ different cities throughout the nation, including The Forum in Los Angeles and the American Airlines Arena in Miami. Ticket sales will start on Friday, March 9, 2018 at 10:00am thru www.ticketmaster.com. "Desde El Alma US Tour 2018" is being produced by Cardenas Marketing Network, Inc. (CMN).



$144 | $114 | $94 | $64
(Facility Fee Included)
Tickets available at the LEA box office, ticketmaster.com,
or charge by phone at 800-745-3000.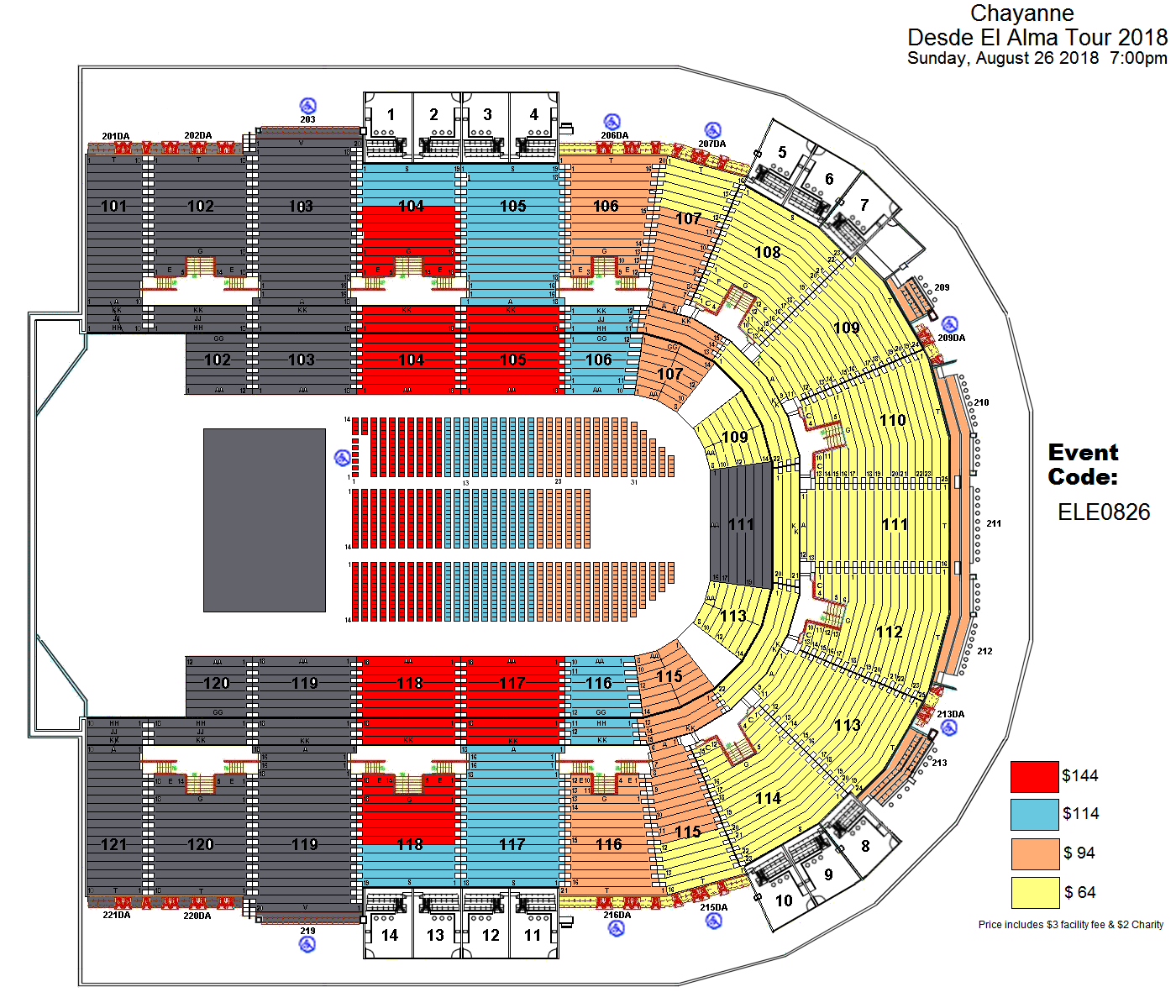 CHAYANNE® Continued BIO
Chayanne was born in Puerto Rico but raised in the world stage. Performing before crowds of adoring fans, acting on film and television at a very young age as part of the group Los Chicos, transitioning to a solo artist came naturally to Chayanne. Today he is recognized throughout Iberia-America as an undisputed icon of Pop music. His success is solidified through more than 50 million albums sold, sold-out tours, starring and guest starring roles in film, soap operas and television series, numerous chart-topping hits and garnering hundreds of music industry awards.

The star has recorded 24 albums to date with his label Sony Music. His songs have consistently topped radio charts with 28 on the Hot Latin Songs list, the 4th most chart-topping artist in the list's history.His first hit "Fiesta en América" highlighted his creative vision by incorporating choreography and dancers to his productions, leading the way to a new concept, later adopted by numerous other artists. Renowned choreographer, Kenny Ortega directed the video "Este Ritmo Se Baila Así", which not only earned Chayanne an MTV Music Video Award, but earned him a Grammy nomination for Best Latin Pop Performance.

Chayanne's song "Salomé" from the album Atado A Tu Amor peaked at #1 in the radio charts nationally and in Europe. The album broke record sales in Europe with over 1 million albums sold, positioning him as the most important artist of the year. That same year, his rhythm and boundless energy were more than enough to propel his success to Italy, Turkey, Portugal, Sweden, and France, where the album obtained Gold status.

Lasting approximately 18 months, spanning 30 countries in four continents, with 3.5 million spectators, Billboard awarded Chayanne's tour, No Hay Imposibles, the best tour of 2011. In his electrifying tour, you could see the audience singing along to the numerous hits Chayanne has garnered throughout his career: "Y Tu Te Vas", "Un Siglo Sin Ti", "Dejaria Todo", "Si Nos Quedara Poco Tiempo", "Tiempo De Vals", "Me Enamore De Ti" and the danceable hits "Torero", "Baila, Baila", "Provocame", "Salome" and others that showcase his dancing abilities.Another brilliant facet of Chayanne's career has been as an actor, appearing in various mini- series, soap operas in Puerto Rico, Mexico and Argentina. He starred in the films "Los Chicos En Conexion Caribe" and "Linda Sara". He starred alongside Vanessa Williams in the film "Dance With Me" and he also gave a Spanish voice to the charismatic character of Flynn Ryder in Disney's 50th animated film Enredados (Tangled). On television he starred in the soap opera "Provocame", made a guest appearance in the television series Ally McBeal and in he starred in the role of "Gabriel" in the highly acclaimed, first-ever miniseries in Spanish.

Aside from constant touring and recording sessions, Chayanne takes time to join charitable causes that give back to the community. He has served as spokesperson for the United Nations High Commissioner for Refugees, participates in making fans' dreams come true through the Make-A-Wish Foundation, promotes awareness of the mission of the American Red Cross and participated in the American Red Cross' 100 days of Summer since 2014 campaigns to encourage blood donations by the Latin community.

After releasing 2 new singles (Que Me Has Hecho Ft. Wisin and, Choka-Choka Ft. Ozuna) 2018 is calling Chayanne back into the studio to continue the recording of a new album, along with that project he is fully concentrated on the pre-production of a new world tour "Desde El Alma" which will start the second semester of the year and will take him on the road for 2 long years.

Chayanne's career is undoubtedly an example of discipline, professionalism, well-rounded talent and charisma, which have won him the admiration of audiences of all ages around the globe.

Sigue a CHAYANNE® en / Follow CHAYANNE® on:

www.chayanne.com
www.instagram.com/Chayanne
www.twitter.com/Chayannemusic
www.facebook.com/Chayanne
www.youtube.com/user/chayanneVEVO

Para más información / For more information:

Vladimir Gomez | Publicist
vgomez@sbscorporate.com