Details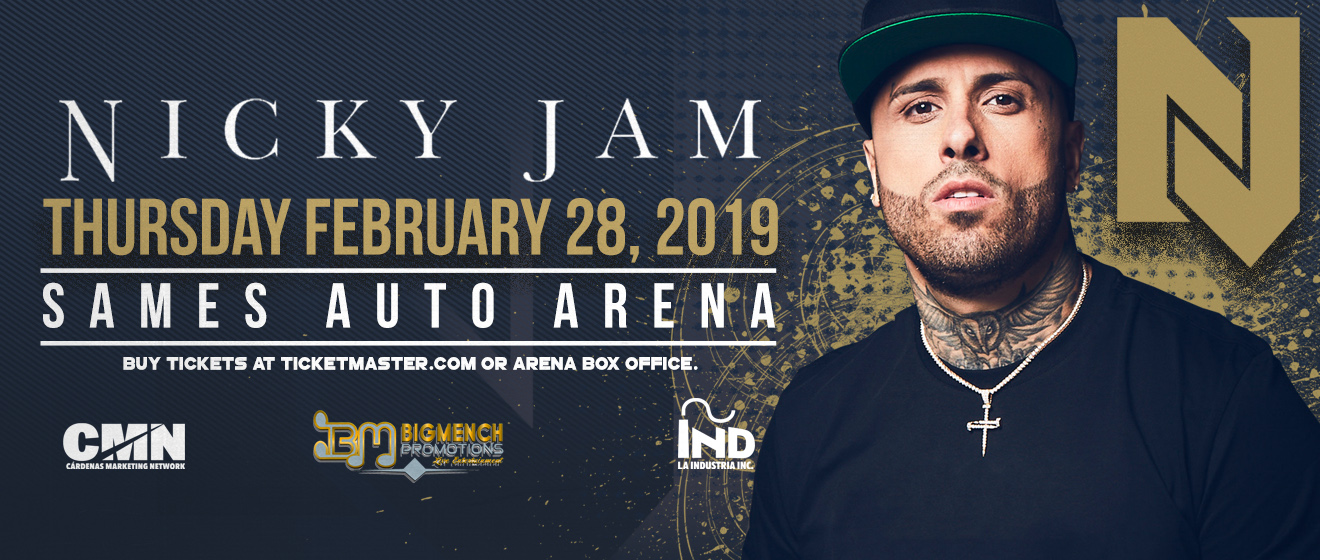 Thursday, February 28, 2019

08:00 PM / Doors Open 7:00 PM
Buy Tickets
Nicky Jam
Thursday, February 28, 2019

FOR IMMEDIATE RELEASE: MONDAY, DECEMBER 3, 2018

LAREDO, TX – Award-winning singer and songwriter Nicky Jam will bring his reggaeton style to the Sames Auto Arena on Thursday, February 28, 2019.

"Nicky Jam has collaborated with a long list of global superstars such as Ozuna, Maluma, Daddy Yankee, J Balvin, Farruko and many more in addition to his solo material," said Juan C. Mendiola, Interim General Manager of the SMG - managed Sames Auto Arena. "This is the first time Nicky Jam will perform at the Sames Auto Arena. We urge you to get your tickets as soon as possible!"

TICKETS ON SALE SATURDAY, DECEMBER 8 AT 10:00 A.M.

Ticket Prices:
Starting at $52.00
(Facility Fees Included)
Tickets available at the Sames Auto Arena Box Office,
Ticketmaster.com or charge by phone at 800-745-3000.
Nicky Jam's most recent single "X," features J Balvin which later features Maluma and Ozuna in a remix. He continued to release stand-alone tracks through the year of 2018, including "Satisfaccion" with Bad Bunny and Arcangel, "Good Vibes" with Fuego, and "Jaleo" with Steve Aoki.

In 2016, Nicky Jam's single "Hasta el Amanecer," played in U.S. radio stations, which contained the singer's trademark catchy, romantic, melodic hooks. The music video has been viewed over a billion times. His album, Fénix, was nominated for a Latin Grammy Award for Album of the Year in 2017.

Born Nick Rivera Caminero on March 17, 1981 in Boston, Massachusetts, Jam moved with his family to Barrio Obrero, Puerto Rico at age ten. His father is Puerto Rican and his mother is Dominican. Like many of his generation, Jam initially got into the reggaeton scene during the '90s and made a name for himself on the mixtape circuit.

In 2005, Nicky Jam broke through to a mainstream audience with his album Vida Escante, which was re-released with bonus material. His follow-up album, The Black Carpet album in 2007, showed similar popularity that spawned his biggest hit to date, "Gas Pela," featuring RKM.

Despite Jam's success, he felt he could do more, and decided to move to Colombia in 2010. It proved to be just the career rejuvenation he needed, resulting in a parade of underground hits including "Tu Primera Vez," "Curiosidad," and "Voy a Beber."

Featuring appearances by Sean Paul, J Balvin, Wisin, Daddy Yankee, Arcangel, Enrique Iglesias, and more, the multi-platinum album Fénix in 2017 hit the Top 30 of the Billboard 200 and topped the Latin Albums chart, which marked Nicky Jam's first appearance on the chart.

Tickets will be available at the Sames Auto Arena Box Office, Ticketmaster.com or charge by phone at 800-745-3000 on Saturday, December 8 at 10:00 a.m. For more information, call (956) 791-9192 or visit www.samesautoarena.com.


###