Details
Saturday, August 21, 2021

08:00 PM / Doors Open 7:00PM
Buy Tickets
Saturday, August 21, 2021
FOR IMMEDIATE RELEASE:
LAREDO, TEXAS – Mexican pop "covers" group MATUTE will perform on Saturday, August 21, 2021 at the Sames Auto Arena.
All tickets for Matute's original date will still be valid. For any questions, please contact 956-791-9192.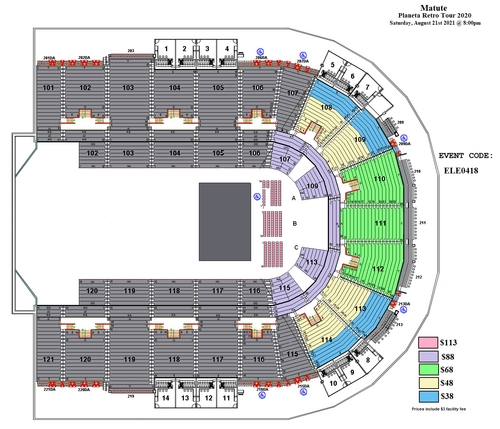 Ticket Prices:
$113.00 | $88.00 | $68.00 | $48.00 | $38.00
(Facility Fees Included)
Tickets available at the Sames Auto Arena Box Office or Ticketmaster.com
Matute is an act that pays tribute to music from the 80's English and Spanish hits. Managed by Jorge D'Alessio, who is the son of Mexican actors Lupita D'Alesso and Jorge Vargas, Matute was formed in early 2007. They are named after the cartoon character "Don Gato y sus Pandilla." Matute decided to record their first cover "Sal de mi piel" featuring Mexican singer Belinda.
Their first self-financed debut album, Ochetizzimo, was recorded in Italy and featured covers such as Tina Turner's "What's Love Got to Do with It," the Outfield's "Your Love," Culture Club's "Karma Chameleon," and Marco Antonio Solis' "Tú Me Vuelves Loco."
In 2010, they performed "La Guerra de los 80's," a show with visual effects and hits from the 80's in a spectacular performance. By 2011, their success was massive and opened doors for a Television show, "MatuTV" in which they featured bands, performances and trivia games, which were all 80's themed.
Matute celebrated their 10th anniversary in 2016 at the Auditorio Nacional in Mexico City and performed for thousands of fans. That same day they released their single "Bailando Sin Salir de Casa" featuring former RBD band member, Anahi.
They collaborated with many artists from different genres for their album, Poderes de los Duetos Fantasticos ¡Actívense! such as Los Claxons, Grupo Cañaveral, Julio Alvarez, and Matisse.
Hours after the album release, it topped the charts in Mexico for digital sales.