Details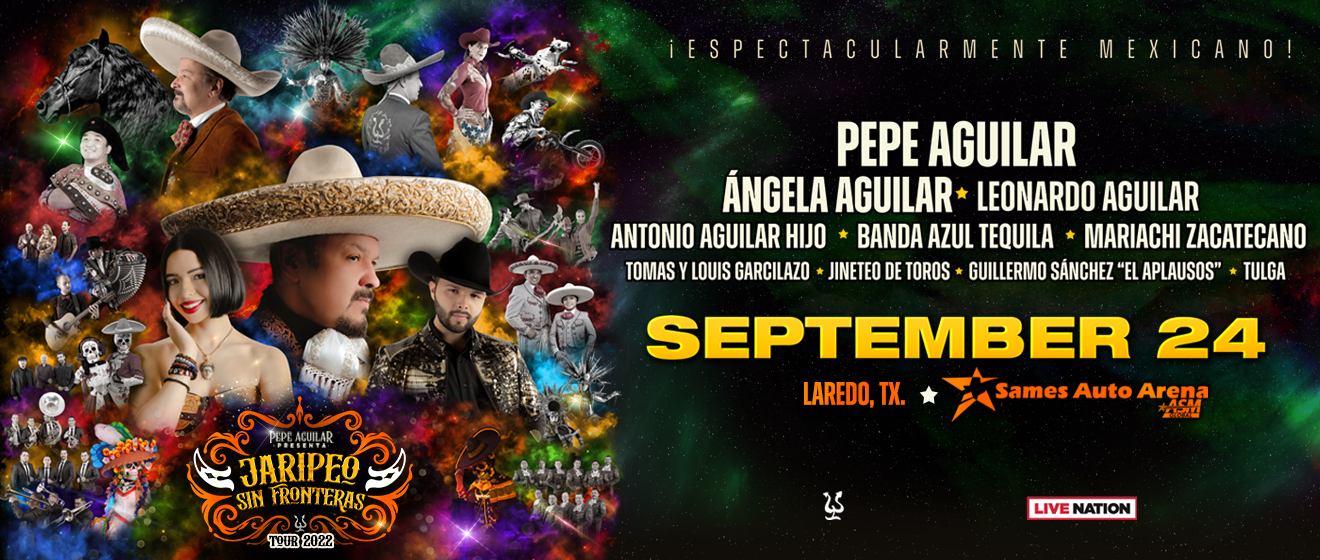 Saturday, September 24, 2022

08:00 PM / Doors Open 7:00 PM
Buy Tickets
PEPE AGUILAR CONTINÚA SU EXITOSA GIRA
"JARIPEO SIN FRONTERAS"
CON 22 FECHAS CONFIRMADAS EN 2022
$200 | $150 | $100 | $80 | $60 | $40
(Tarifa de instalacion incluida)
Boletos disponible sen las taquias del Sames Auto Arena o Ticketmaster.com
En 2022, la legendaria familia Aguilar continuará sorprendiendo a los fans con sus espectáculos únicos.
Laredo, TX: Desde 2018, el icónico cantante, compositor y productor ganador de 4 Grammy y 5 Latin Grammy, Pepe Aguilar, ha llevado su gira "Jaripeo sin Fronteras", producida por Live Nation, a lo largo y ancho de los Estados Unidos, ofreciendo un espectáculo único lleno de música, tradición y actos extraordinarios, que ha dejado a los fanáticos sin aliento. En 2022, el reconocido artista hará su esperado regreso a los escenarios estadounidenses una vez más, y anuncia 22 nuevas fechas de esta gira.
Creada por el propio Pepe Aguilar, la gira "Jaripeo sin Fronteras" ha conseguido un éxito continuo y notable en los Estados Unidos y México, llenando los aforos en cada ciudad en la que se ha presentado. Durante este verano y otoño, "Jaripeo sin Fronteras" continuará generando la acostumbrada emoción entre los asistentes, quienes disfrutarán de la magia de la música y las tradiciones de la célebre familia Aguilar, consolidándose como una de las giras más solicitadas de los últimos años en los Estados Unidos.
Acompañado de su Mariachi "El Zacatecano", además de banda sinaloense y grupo, los fanáticos experimentarán de primera mano el talento único de Pepe Aguilar junto a su hermano Antonio Aguilar 'hijo'; su talentosa hija Ángela Aguilar, nominada al Grammy y a 2 Latin Grammy; y su hijo Leonardo Aguilar, dos veces nominado al Latin Grammy, eso además de actos tradicionales de jaripeo.
Con una poderosa producción que involucró a más de 150 personas, incluidos 40 músicos en el escenario, la gira ofrecerá una experiencia deslumbrante y única para todos los asistentes, que combinará cautivadores juegos de música, con exhibiciones de montas de toros y eventos de rodeo, como equitación y espectáculos acrobáticos ecuestres.
Considerado una de las mejores voces de habla hispana, Pepe Aguilar ha entregado un éxito tras otro durante más de tres décadas, obteniendo elogios como uno de los artistas más queridos y exitosos; su talento musical innato lo ha llevado a la consolidación de una impresionante carrera que ha resistido la prueba del tiempo, dando como resultado un reconocimiento infinito e innumerables premios, incluidos cuatro premios Grammy estadounidenses y cinco premios Latin Grammy.
Los fans interesados también pueden acceder a la compra de entradas en preventa, en el sitio oficial del artista pepeaguilar.com desde el martes 1 de marzo a las 12:00 PM. hasta el jueves 3 de marzo a las 10:00 PM., hora local. Las preventas de Live Nation y Spotify se realizarán el jueves 3 de marzo de 10:00 AM a 10:00 PM., hora local.
Por último, la venta general estará disponible al público a partir del viernes 4 de marzo a las 10:00 AM, hora local en Ticketmaster.com.
Acerca de Live Nation Entertainment
Live Nation Entertainment (NYSE: LYV) es la compañía de entretenimiento en vivo, líder en el mundo, y conformada por los líderes del mercado mundial: Ticketmaster, Live Nation Concerts y Live Nation Sponsorship.
Para más información, visite www.livenationentertainment.com
PEPE AGUILAR CONTINUES HIS SUCCESSFUL
"JARIPEO SIN FRONTERAS" TOUR IN 2022
$200 | $150 | $100 | $80 | $60 | $40
Tickets available at the Sames Auto Arena Box Office or Ticketmaster.com
The Legendary Aguilar Family Will Continue To Stun Fans With Their Unique Shows in 2022
Laredo, TX: Since 2018, iconic 4 times Grammy and 5 times Latin Grammy Award-winning singer, songwriter and producer Pepe Aguilar has brought his Jaripeo sin Fronteras tour, produced by Live Nation, through the United States, leaving fans breathless offering a unique show full of music, tradition and extraordinary acts. In 2022, the renowned artist will make his awaited return to American stages once again, today announcing 22 new tour dates.
Conceptualized by Pepe Aguilar himself, Jaripeo sin Fronteras tour has experienced continued remarkable success across the U.S. and Mexico, packing a full house in each city it has stopped in. This summer and fall, Jaripeo sin Fronteras will continue building electric anticipation and stunning momentum as one of the most in-demand tours in recent years, inviting fans throughout the States to enjoy the magical music and traditions of the legendary Aguilar family.
Backed by his Mariachi "El Zacatecano", a sinaloense band and group, once again, fans will experience first-hand Pepe Aguilar's unique talent alongside his brother Antonio Aguilar, Hijo; his talented daughter, Grammy and two times Latin Grammy nominee Ángela Aguilar; and his son Leonardo Aguilar, two-time Latin Grammy nominee, all these accompanied with traditional jaripeo acts. A massive production involving more than 150 people, including 40 stage musicians alone, the tour provides a dazzling, once-in-a-lifetime experience for everyone in attendance, combining captivating music sets with heart-stopping bull riding displays and rodeo events, such as horse riding and equestrian acrobatic performances.
Considered one of the best voices in the Spanish speaking world, Pepe Aguilar has been delivering hit after hit for more than three decades, garnering praise as one of the most beloved and successful artists; his innate musical talent has led to the creation of an impressive career that has withstood the test of time, resulting in endless recognition and countless awards, including four American Grammys and five Latin Grammy awards.
Fans can access pre-sale tickets via the artist from Tuesday, March 1 at 12 PM-Thursday, March 3 at 10 PM local time. Both Live Nation and Spotify pre-sale run Thursday, March 3 from 10 AM-10 PM local time.
Tickets will be available to the general public starting Friday, March 4 at 10 AM local time at Ticketmaster.com.
About Live Nation Entertainment
Live Nation Entertainment (NYSE: LYV) is the world's leading live entertainment company comprised of global market leaders: Ticketmaster, Live Nation Concerts, and Live Nation Sponsorship. For additional information, visit www.livenationentertainment.com