Details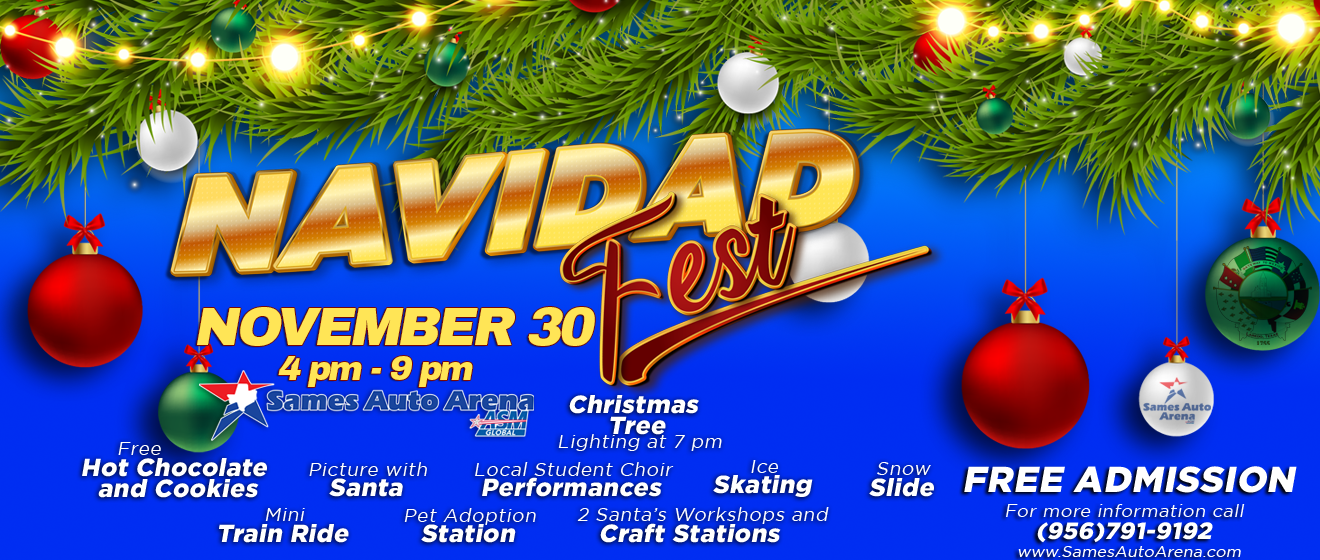 The City of Laredo and Sames Auto Arena Announce Details for Navidadfest 2022
LAREDO, Texas— Navidadfest, an annual tradition, is coming back this year. This is a free holiday celebration at Sames Auto Arena that will take place on Wednesday, November 30, 2022, from 4:00 p.m. to 9:00 p.m.
This year, the public will be treated to free ice skating, photos with Santa Claus, arts & crafts, cookies, hot chocolate, a snow slide, train rides, live performances by local student choirs, pet adoptions, Santa's Workshops, and the annual tree-lighting countdown.
While the event is completely free, attendees must have a ticket in order to take a photo with Santa or participate in ice skating. Tickets will be available on a first-come, first-served basis on November 30, starting at 3:00 p.m. at the Sames Auto Arena box office. There will be a limited amount of tickets given for ice skating per session (7 sessions in total) and 300 tickets for photos with Santa, so get there early! Doors open at 3:00 p.m. and the festivities start at 4:00 p.m.
Ice-skating sessions are 30 minutes at a time and require a written liability release form signed on-site by a participating adult individual or by the participant's parent or legal guardian. Skate sizes may be limited, but participants can also bring their own ice skates. Attendees are encouraged to dress warm as the indoor temperature will be cold. No food, drinks or cellphones are allowed in the ice rink.
The City of Laredo Animal Care Services Department will showcase pets available for adoption. Adoption fees will be waived during this event.
Lastly, Santa Claus will help Mayor Pete Saenz and other special guests light up the Christmas Tree at 7:00 p.m.
Motorists heading to the event are asked to observe all posted traffic signals and barricades, as well as Police Officers staffing the major intersections assisting in the event.
For more information on Navidadfest 2022, the community can call Sames Auto Arena at (956) 791-9192 or visit www.samesautoarena.com.
La Ciudad de Laredo y Sames Auto Arena Anuncian Detalles para Navidadfest 2022
LAREDO, Texas — — Navidadfest, una tradición anual, regresa este año. Esta es una celebración navideña gratuita en Sames Auto Arena que tendrá lugar el miércoles, 30 de noviembre del 2022, de 4:00 p.m. a 9:00 p.m.
Este año, el público disfrutará de patinaje sobre hielo gratis, fotos con Santa Claus, manualidades, galletas, chocolate caliente, un tobogán de nieve, paseos en tren, presentaciones en vivo de coros de estudiantes locales, adopciones de mascotas, talleres de Santa y una cuenta regresiva para iluminar el árbol de Navidad.
Aunque el evento es completamente gratuito, el público debe de obtener un boleto para tomarse la foto con Santa o participar en el patinaje sobre hielo. Los boletos estarán disponibles por orden de llegada el 30 de noviembre, a las 3:00 p.m. en la taquilla de Sames Auto Arena. Habrá una cantidad limitada de boletos para patinaje sobre hielo por sesión (7 sesiones en total) y 300 boletos para fotos con Santa, ¡así que llegue temprano! Las puertas se abren a las 3:00 p.m. y las festividades comienzan a las 4:00 p.m.
Las sesiones de patinaje sobre hielo duran 30 minutos cada una y requieren un formulario de exención de responsabilidad firmado en persona por un adulto participante o por el padre o tutor legal del participante. Las tallas de los patines pueden ser limitados, pero los participantes también pueden traer sus propios patines de hielo. Se les pide a los asistentes que lleguen abrigados ya que la temperatura interior será fría. No se permiten alimentos, bebidas ni teléfonos celulares en la pista de hielo.
El Departamento de Servicios de Cuidado de Animales de la Ciudad de Laredo exhibirá mascotas disponibles para adopción completamente gratis.
Por último, Santa Claus ayudará al alcalde Pete Sáenz y a otros invitados especiales a iluminar el árbol de Navidad. Este evento está programado para las 7:00 p.m.
Se les pide a los automovilistas que conduzcan por el área con precaución y observen todas las señales de tráfico, así como prestar atención a los oficiales que trabajan en las principales intersecciones para ayudar con la entrada y salida del evento.
Para obtener más información sobre Navidadfest 2022, la comunidad puede llamar a Sames Auto Arena al (956) 791-9192.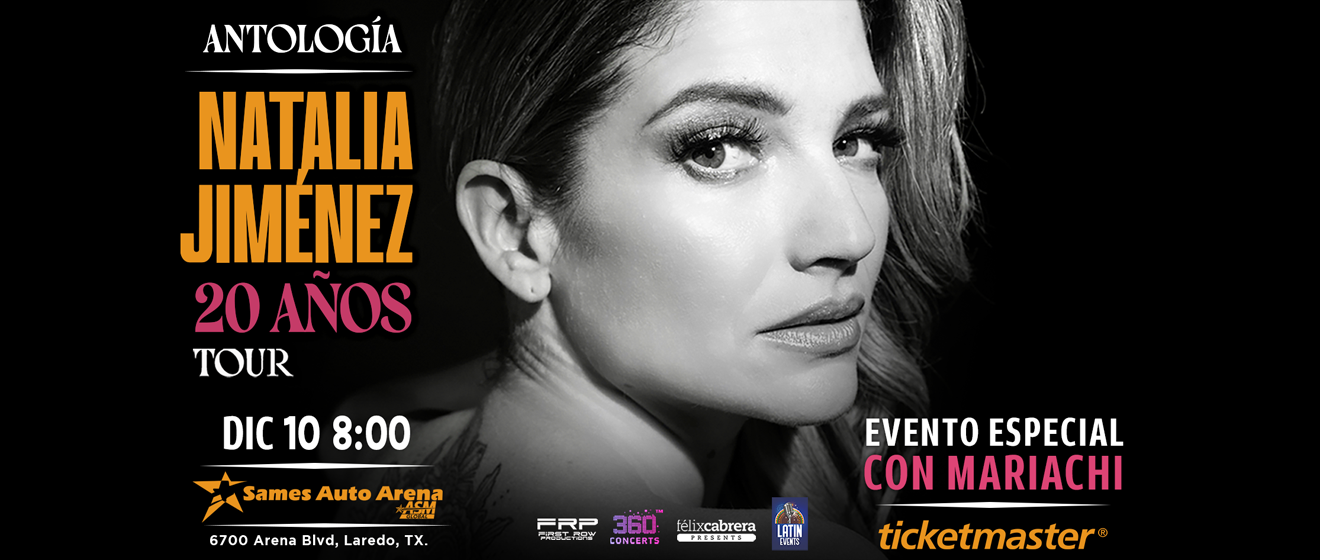 Saturday, December 10, 2022

08:00 PM / Doors Open 7:00 PM
Buy Tickets
LAREDO, TEXAS – Una de las artistas más respetadas de la musica latina, Natalia Jiménez, se prepara para arrancar su gira por Estados Unidos, presentada por Latin Events, 360 Worldwide Entertainment First Row Productions.
La colaboración entre Félix Cabrera, Lucas Piña y Nora Dávila llega a tiempo para celebrar los exitosos 20 años de trayec- toria de Natalia, y ofrecer una experiencia de entretenimiento memorable a los fans.
Boletos a la venta lunes 17 de octubre a las 10 a

m
(Tarifa de instalacion incluida)
Boletos disponibles en las taquillas del Sames Auto Arena o Ticketmaster.com
Producida por Latin Events, 360 Worldwide Entertainment y First Row Productions, la experiencia épica comenzará con la gira de Natalia Jiménez: "Antología 20 años Tour", un recorrido de más de 30 ciudades que se extenderá por todo Estados Unidos. Las entradas de admisión general estarán disponibles a partir del 11 de Octubre. El esperado tramo Norteamericano de la gira arrancará el 8 de Diciembre de 2022 en El Paso, Houston y Laredo, y se extenderá hasta 2023.
Recientemente, Natalia Jiménez cerró con éxito dos presenta- ciones con entradas agotadas en Puerto Rico y una en Miami. Al final de las noches, se unió a Mariachis con los que inter- pretó varias canciones Mexicanas, que forman parte de su repertorio actual, y que la han acompañado desde el éxito de sus discos "México de mi Corazón". Éste éxito es sólo el principio, y pronto continuará por la Costa Oeste.
La gira consistirá en todos los éxitos de la temporada de Natalia con La Quinta Estación, así como canciones de su carrera como solista tales como "Creo En Mi", "Quédate Con Ella", "Una Mentira Más", entre otras. En la primera fase de la gira Norteamericana, Natalia recorrerá California y Texas, donde celebrará sus dos décadas de Carrera Musical.
Con la experticia de 360 Worldwide Entertainment para ofrecer entretenimiento en vivo memorable al pÚblico, están más que emocionados de liderar la gira de Natalia Jiménez ésta temporada.
Latin Events fué fundada por el empresario y filántropo Félix Cabrera. Con más de 40 años de experiencia en el mercado latino de Estados Unidos, Latin Events está ubicada en la ciudad de Nueva York. El Madison Square Garden acoge el comienzo de Cabrera como promotor de artistas, rindiendo homenaje a los 15 años de Fernando Villalona como cantante en la industria musical, junto con algunos de los mejores merengueros de la época. Comenzó en el negocio de la mÚSica en el año 2000 cuando firmó un contrato multimillonario con Sony Music. Sus logros han sido numerosos, como batir el récord de entradas agotadas en conciertos de sólo 45 minutos. Entre otros conciertos con entradas agotadas con artistas como Daddy Yankee, Don Omar, Gilberto Santa Rosa, y muchos otros. Latin Events es muy respetado en los Estados Unidos por sus proyectos con entradas agotadas en todo el país.
Acerca de 360 Worldwide Entertainment:
360 Worldwide Entertainment (360WE) es una empresa fundada por el Sr. Lucas Piña, un veterano de la industria del espectáculo con 25 años de experiencia. Ha creado 21 marcas que siguen generando millones de dólares en ingresos con mega-conciertos como CaliBash, MegaBash, MiamiBash, entre otros, posicionándolos como la mayor serie de conciertos latinos en los Estados Unidos. Así mismo Ocean Fest, una serie de festivales en crucero por el Caribe y el Pacífico. Con más de 4 millones de entradas vendidas hasta la fecha, ha trabajado y se ha asociado con las principales compañías de la industria como MGM resorts, Live Nation, AEG Live, SBS y otros, mientras que trabaja con casi todos los principales lugares y estadios de Estados Unidos.
Acerca de First Row Productions:
First Row Productions, empresa productora Premier de conciertos y todo tipo de eventos Artísticos, ubicada en Texas, inicia operaciones en 2012, con presencia en más de 30 mercados. Nora Dávila presidente de FRP ha consolidado con su liderazgo una de las empresas privadas más importantes de entretenimiento a Nivel Nacional. Al frente de la Dirección y Operaciones está Gerardo Vázquez G. con más de 30 años de experiencia en la Industria de Entretenimiento. Promueve su primer concierto en 1992 dando paso a la etapa como Alto Ejecutivo Dsicográfico en compañías como Disa Records, Univisión Music Group y Universal Music por más de 14 años, retomando la promotoría de espectáculos en el 2010.
Latin Events, 360 Worldwide Entertainment
and First Row Productions presents
LAREDO, TEXAS – One of the most respected artists in Latin music, Natalia Jiménez is preparing to start her tour of the United States and stopping at the Sames Auto Arena on Saturday, December 10. Doors open at 7:00 p.m.
The collaboration between Félix Cabrera, Lucas Piña and Nora Dávila is just in time to celebrate Natalia's successful 20-year career and will offer fans a memorable entertainment experience.
On Sale Monday, October 17 at 10:00 a.m.
Tickets Available at the Sames Auto Arena Box Office or Ticketmaster.com
Produced by Latin Events, 360 Worldwide Entertainment and First Row Productions, this epic experience will kick off with Natalia Jiménez's "Antología 20 Años Tour," a tour of more than 30 cities that will visit the entire United States. The long-awaited North American leg of the tour kicks off on December 8, 2022 in El Paso, Houston and Laredo, and runs through 2023.
Recently, Natalia Jiménez successfully closed two sold-out performances in Puerto Rico and one in Miami. At the end of the nights, Mariachis joined her for several Mexican songs, which are part of her current repertoire; they have accompanied her since the success of her albums "México de mi Corazón". This success is just the beginning, and it will soon continue down the West Coast.
The tour will consist of all the hits from Natalia's season with La Quinta Estación, as well as songs from her solo career such as "Creo En Mi", "Quédate Con Ella", "Una Mentira Más", among others. In the first phase of the North American tour, Natalia will visit California and Texas, where she will celebrate her two decades of her musical career.
With 360 Worldwide Entertainment's expertise in bringing memorable live entertainment to audiences, they are beyond excited to headline Natalia Jimenez's tour this season.
Latin Events was founded by businessman and philanthropist Félix Cabrera. With over 40 years of experience in the US Latino market, Latin Events is located in New York City. Madison Square Garden welcomes Cabrera's start as an artist promoter, paying tribute to Fernando Villalona's 15 years as a singer in the music industry, along with some of the best merengueros of the time. He got his start in the music business in 2000 when he signed a multi-million-dollar deal with Sony Music. His achievements have been numerous, such as breaking the record for sold-out concerts of just 45 minutes. Among other sold-out concerts with artists like Daddy Yankee, Don Omar, Gilberto Santa Rosa, and many others. Latin Events is highly respected in the United States for its sold-out projects across the country.
About 360 Worldwide Entertainment:
360 Worldwide Entertainment (360WE) is a company founded by Mr. Lucas Piña, a veteran of the entertainment industry with 25 years of experience. He has created 21 brands that continue to generate millions of dollars in revenue with mega-concerts such as CaliBash, MegaBash, MiamiBash, among others, positioning them as the largest series of Latin concerts in the United States. Also, Ocean Fest, a series of cruise festivals in the Caribbean and the Pacific. With over 4 million tickets sold to date, it has worked and partnered with the top companies in the industry such as MGM resorts, Live Nation, AEG Live, SBS and others, while working with nearly every major venue and stadium from the United States.
About First Row Productions:
First Row Productions is a premier production company for concerts and all kinds of artistic events. The company is located in Texas, and began operations in 2012 with a presence in more than 30 markets. Nora Dávila, president of FRP, has consolidated with her leadership as one of the most important private entertainment companies at the national level. Heading the Direction and Operations is Gerardo Vázquez G. with more than 30 years of experience in the Entertainment Industry. He promoted his first concert in 1992, giving way to the stage as Senior Psychographic Executive in companies such as Disa Records, Univisión Music Group and Universal Music for more than 14 years, resuming the promotion of shows in 2010.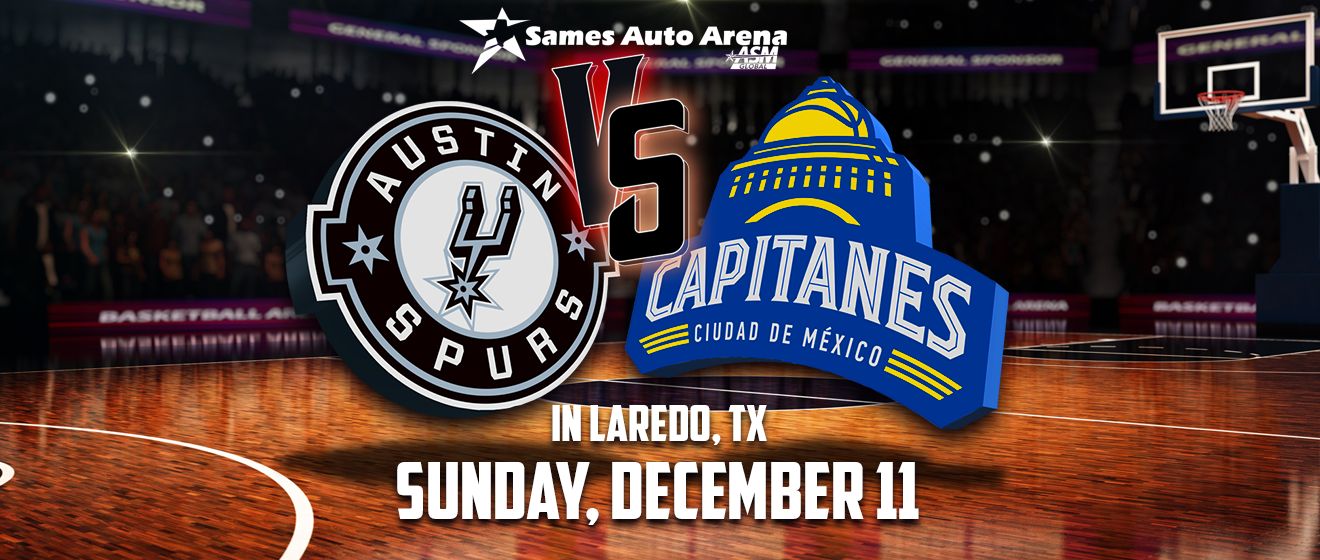 Sunday, December 11, 2022

04:00 PM / Doors Open 3:00 PM
Buy Tickets
FIRST-EVER GAME IN LAREDO
Tickets on pre-sale Wed. Oct 19th at 10am thru Oct 20th use code VENUE
General on sale will be Fri. Oct. 21 at 10am
Laredo, TX – We are proud to announce that the Austin Spurs will host a game in Laredo for the first time in team history on Sunday, Dec. 11 at the Sames Auto Arena as part of Spurs Sports & Entertainment's efforts to deepen their fanbase and better reach their fans from Mexico to Austin.
"It is with the sincerest gratitude that we welcome the Spurs organization to our Gateway City," said Juan C. Mendiola, General Manager of the ASM Global - managed Sames Auto Arena. "I invite the community to experience a professional caliber, successful franchise and witness history in the making in the world of sports."
Tickets starting at $25
Tickets available at the Sames Auto Arena box office or Ticketmaster.com
Austin will face México City Capitanes at 4:00 p.m., and the game will mark the second time the Spurs organization has played in Laredo. The San Antonio Spurs played a preseason game against the Houston Rockets in the city in 2004.
Fans who attend the game will be able to enjoy pre-game tailgating, a special appearance from the Spurs Coyote, in-game entertainment from the Spurs Hype Squad, and in addition, to the opportunity to take photos with San Antonio Spurs championship trophies.
The NBA's official minor league, the NBA G League prepares players, coaches, officials, trainers and front-office staff for the NBA while acting as the league's research and development laboratory. Featuring 30 teams, 28 with direct affiliations to NBA franchises for 2022-23, the league offers elite professional basketball at an affordable price in a fun, family-friendly atmosphere. 54 percent of all NBA players at the end of the 2021-22 season boasted NBA G League experience. In fostering the league's connection to the community, its teams, players and staff promote health and wellness, support local needs and interests, and assist in educational development through NBA Cares programs.