A-Z Guide
AUTOMATED TELLER MACHINE
Automated Teller Machine is located on the Main Concourse adjacent to Gates B.

BAG POLICY
Prohibited bags include, but are not limited to, large purses, camera bags, briefcases, backpacks, fanny packs, cinch bags, computer bags, coolers (including thermos) and luggage of any kind.

Bags allowed inside the venue are CLEAR plastic, vinyl or PVC that do not exceed 12 inches x 6 inches x 12 inches. Bags may be hand carried or have a shoulder strap. A one gallon clear plastic freezer bag (Ziploc) is also allowed.

Diapers can be carried in a clear approved bag. Each member of a family, including children, are allowed to carry an approved clear bag and a clutch purse into the arena. That is sufficient storage capacity for a 3-4 hour event.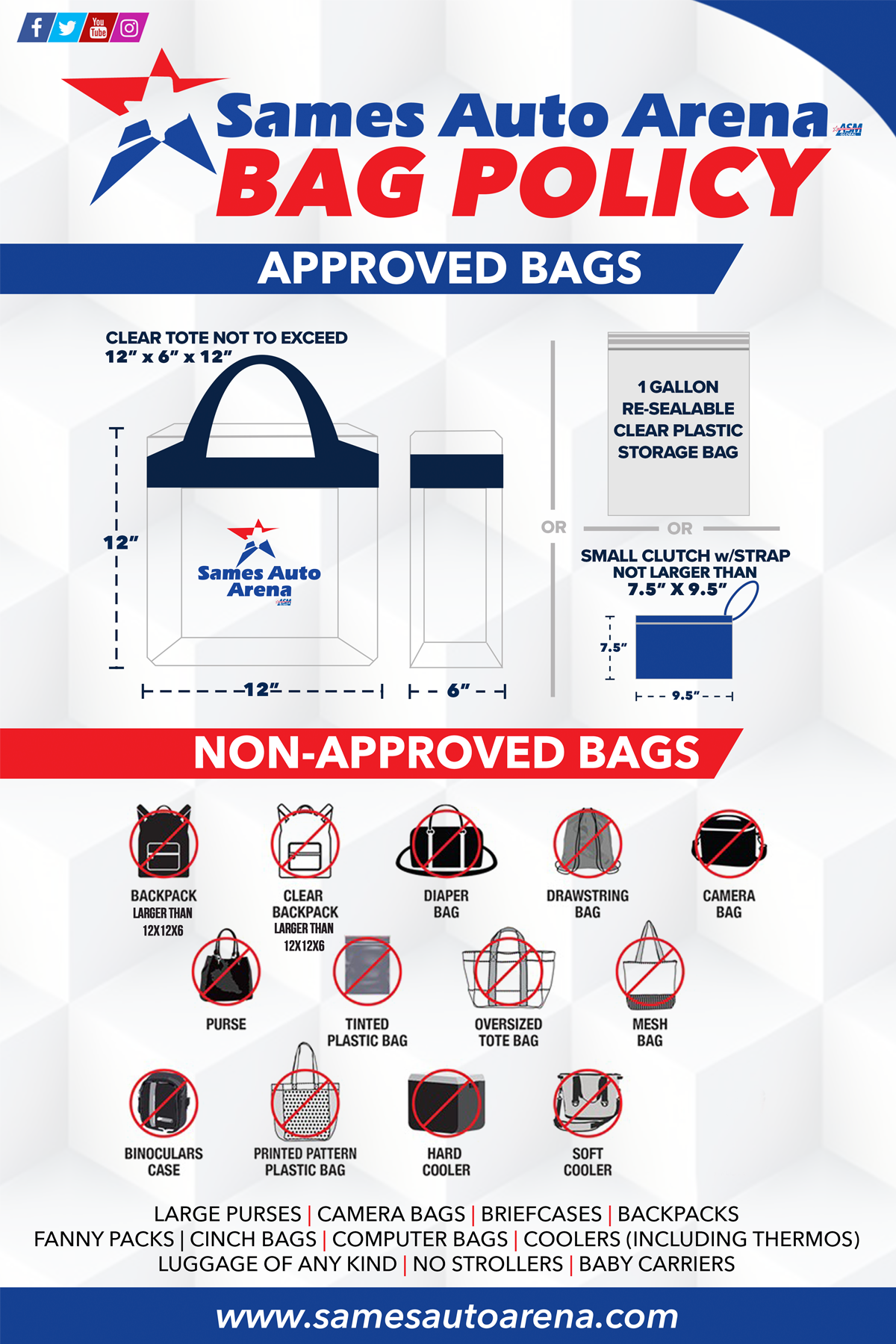 BUILDING POLICIES
Smoking: Smoking is prohibited inside the Sames Auto Arena. There are designated smoking areas outside the building next to Gate B and Gate C.

Cameras: Restrictions on the use of still and video cameras vary by event. Some events permit still cameras without the flash, but not recording devices. Concerts typically do not permit any cameras or recording devices (audio or video). Guests should contact a Sames Auto Arena representative at 956.791.9192 to find out the policy prior to the event.

Prohibited Items: Guests are not allowed to bring certain items into the Sames Auto Arena including; bottles or cans, food or beverages, weapons or firearms, coolers or containers, fireworks, illegal substances, baby strollers or baby carriers and laser pointers, etc. No Strollers nor Baby Carriers.


CONCESSIONS
There are 8 concessions stands in the facility designed with our guests in mind. Accessible countertops and bar counters are at a height that is comfortable for everyone.
DRINKING FOUNTAINS
Accessible water fountains are located throughout the building.

EMERGENCY SERVICES
The Sames Auto Arena personnel have been trained to assist in emergency situations. Areas of Rescue Assistance are available and visual and audible alarms are located throughout the facility for use in the event of an emergency.

FIRST AID
First Aid is located across from Section 109, adjacent to Gate B. Certified medical professionals are available at this location to assist guests with medical needs. Guests in need of emergency first aid should contact the nearest Sames Auto Arena employee for medical assistance.
FOOD & BEVERAGE
There are 8 concessions stands in the facility designed with our guests in mind. Accessible countertops and bar counters are at a height that is comfortable for everyone.

GETTING AROUND
Entrances and Exits: The Sames Auto Arena has five main entrances and exits.

Elevators: There are two passenger elevators available to transport guests of the Sames Auto Arena. These elevators are located on the Main Concourse across from Section 109 and adjacent to Gate B.

GUEST DROP-OFF/PICK-UP
There is one drop-off and pick-up area for patrons on the east side of the Sames Auto Arena on Arena Blvd. Limousines and busses will be allowed to drop off and pick up guests in this area but no vehicles will be allowed to park here.
GUEST SERVICES
Our Guest Services representatives are trained to provide assistance with a clear understanding of how to accommodate the needs of all guests. Guest Services is located at the Main Entrance of the Sames Auto Arena. Guest Services is the hub for many helpful programs, including the Designated Driver Program, the Auto Assistance Program, wheelchair assistance and lost and found.


LISTENING DEVICES
The Sames Auto Arena is equipped with Assistive Listening Devices. Receivers are available for most events and provided free of charge with a form of valid identification. Guests who are interested in this service should contact a Guest Services Representative at 956.791.9192 at least a week prior to the event.
PARKING AND ROUTING
The Sames Auto Arena sits on the north side of the City and is right off of Bob Bullock Loop (20). It is easily accessible to I-35, Routes 59 and 359.

El Metro: El Metro is committed to providing the citizens in its service areas the best service possible. You may call El Metro's Customer Service Center for more information regarding El Metro's Paratransit/El Lift services, scheduling and call backs. El Lift is a special transportation service offered by the City of Laredo providing, curb-to-curb on demand transportation. El Lift uses special vans equipped with hydraulic lifts and wheelchair tie-downs. The vans are operated by drivers trained in defensive driving, sensitivity and the operation of these special vehicles. Call Center hours of operation are Monday through Saturday 7:30am – 7:00pm and Sunday's 8:00am – 5:00pm. The Call Center is located at 1301 Farragut, 2nd Floor West, and can be reached by calling 956-795-2290.

Parking: Parking accommodations for guests with disabilities are available in Lot B. Accessible parking will also be provided in the VIP Parking Area, but these spaces will be reserved for guests with special parking permits. Gates A, B, and the Main Entrance are easily accessible from these parking areas.

Guest Parking: Parking at the Sames Auto Arena is included with the purchase of an admission ticket through the facility access fee. Doors usually open one hour before each event so please come early to secure a good parking spot. Our VIP Parking is for patrons who purchased a VIP Parking Tag and Season Ticket Holders who purchased a Parking Tag.

Escorts: The Sames Auto Arena can provide escorts to parking areas for guests with special needs. This service is free and can be requested through Guest Services. To minimize your wait, we suggest that you make arrangements for this service before the end of the event you are attending.
PUBLIC TELEPHONES
The Sames Auto Arena provides public telephones free of charge to our patrons. Phones are located at the Guest Services table and are accessible to all guests.

RESTROOMS
There are accessible restrooms on every level of the Same Auto Arena. Men's, Women's and Unisex Family restrooms are located in the corners of the Main Concourse.
SERVICE ANIMALS
Service Animals are welcome inside the Sames Auto Arena and must remain on a leash or in a harness at all times. If you intend to bring a service animal to the building, please notify your ticket representative at the time of purchase so that an aisle seat may be reserved for you. Also, please contact a Guest Services Representative at 956.791.9192 so that we may expedite and ensure all your needs. An animal relief area is provided in Lots A and B.

SEATING
The Sames Auto Arena offers accessible seating in an integrated setting on all levels of the building. Accessible seating on the floor is subject to change depending on seating configurations for various events. Please contact your Sames Auto Arena Box Office representative with any concerns or questions.


SIGN INTERPRETERS
The Sames Auto Arena can provide sign language interpretation for guests with hearing disabilities. Requests for this service must be received 30 days prior to the event and be approved by the performer.

STAIRS
Stairways: There are three stairwells located throughout the facility. Two of those stairwells, located on the northwest and southwest side of the building, are for emergency exit use only and lead directly to the outside of the facility. The one stairwell located adjacent to the Administrative Offices and Gate C and across from Section 113 is for patron transport from the Club/Suite Level to the Main Concourse and vice versa.