Historic Laredo Walking Tour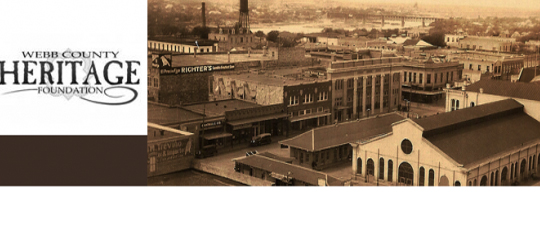 Beginning at the historic heart of Laredo, San Agustin Plaza, this one-hour walking showcases the REPUBLIC OF THE RIO GRANDE Museum, the Villa Antigua Border Heritage Museum, San Agustin Cathedral, San Agustin Plaza, and Casa Ortiz.

All Heritage Tours are conducted in English and Spanish. This is a unique way of getting to know the history and argricultural heritage of this 255 year-old city that has lived under seven flags. All tour start and finish at the REPUBLIC OF THE RIO GRANDE Museum at 1005 Zaragoza St., next door to La Posada Hotel/Suites on San Agustin Plaza.

TOUR SCHEDULE
Tour run from Tuesday through Saturday between 9:00am and 2:00pm by appointment only.

Adults $10.00
Children under $12 and students with a valid ID FREE

Reservations with 24-hour advance notice are required. A minimum deposit of 50% required for large groups. A minimum of four people per tour is required. Scheduled stops are subject to change. Price includes admission to the Republic of the Rio Grande Museum and the Villa Antigua Border Heritage Museum.

For reservations call Christina Saucedo or Andrea Ordoñez at (956) 727-0977 or email at [email protected]
BRIEF HISTORICAL OVERVIEW

Villa San Agustin de Laredo was founded on May 15, 1755. Don Tomás Sánchez who established the new settlement, gave it a saint's name (typical custom for all Spanish colonial settlements) and added Laredo for the town on Spain's north coast.

Sánchez was a captain in the Spanish colonial army and brought with him three families from his ranch to the site he had chosen at an Indian crossing on the Rio Bravo del Norte (Rio Grande). The settlement was part of a grand plan for bringing civilization to an area which now comprises northeastern Mexico and South Texas, known in Spanish colonial times as Nuevo Santander.

Despite isolation and raids by Lipan Apaches and Comaches, the cattle and sheep ranching settlement grew, and Laredoans found themselves particpants in the conflicts of Mexico and the United States. Laredo was pillaged by Texans during the Mier Expedition in 1824, has an American garrison during the U.S.-Mexico War, and contributed two companies to the Confederate cause during the Civil War.

In 1840 it served as the capital of the Republic of the Rio Grande, a separatist movement in northern Mexico. Through these changes in sovereignty (seven flags in all), and even after heavy immigration from the north occasioned by the building of railway lines in 1881 from San Antonio, Corpus Christi, and Monterrey, Laredo never lost its Hispanic character. A unique border culture had emerged.

Economically, agriculture (especially onions) assumed importance from the 1890s until about the time of the World War II. The mercantile trade with Mexico eventually became the dominant factor, and petroleum and natural gas ventures were important early in the century and again in the mid 1970s.

Beginning with a few houses around san Agustín Plaza, Laredo grew to a town of some 2,000 in the 1820s in spite of attacks by Indians who sometimes staged dances in the Plaza, to 4,000 in 1880 just before the railroads arrived. With heavy immigration in the 20th century which began with the Mexican Revolution of 1910, Laredo's population is now approaching the 180,000 mark.