Details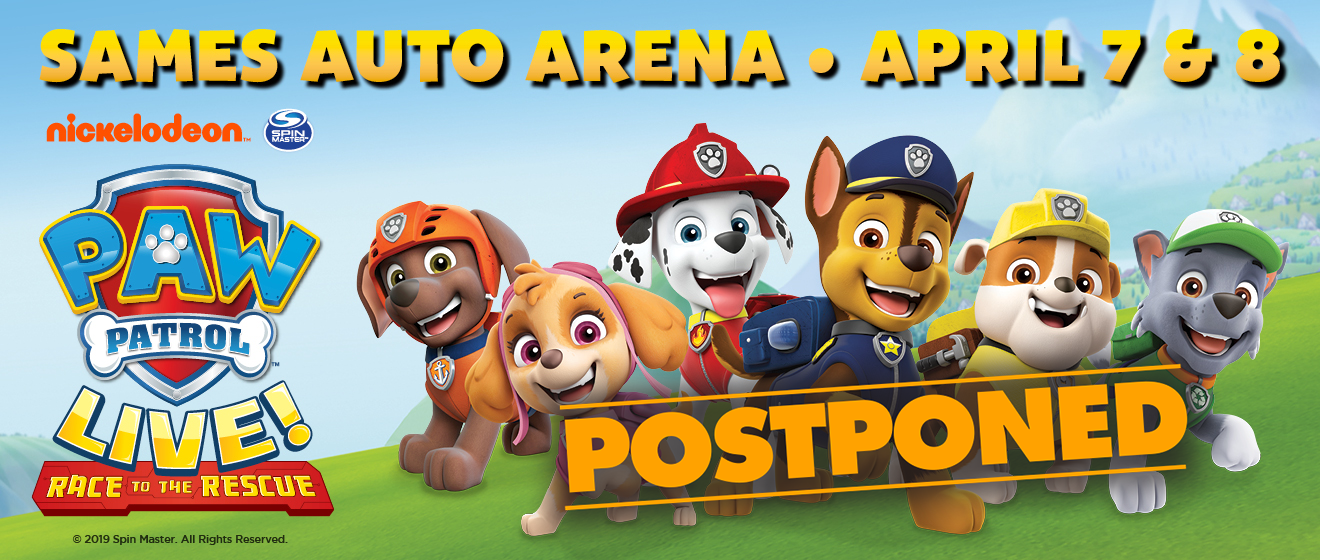 Wednesday, April 8, 2020

12:00 PM
PAW PATROL LIVE AND VSTAR ENTERTAINMENT GROUP
SUSPEND ALL TOURING SHOWS
LAREDO, TX (March 13, 2020) - Following cancellations and/or postponements of numerous VStar Entertainment Group shows in recent days, and taking into consideration the World Health Organization (WHO) and the Center for Disease Control (CDC) recommendations for social distancing, as well as the escalation of the Coronavirus (COVID-19) pandemic, VStar Entertainment Group announces today the immediate temporary suspension of all PAW Patrol Live! "Race to the Rescue" performances currently scheduled to take place between Monday, March 16, 2020 through April 15, 2020, including April 7 & 8 performances previously scheduled to take place at Sames Auto Arena.
VStar Entertainment Group and Sames Auto Arena are currently looking at rescheduling these performances. The exact dates of the rescheduled performances will be communicated in the upcoming weeks on the Sames Auto Arena website. Ticket holders will find the official communication at http://samesautoarena.com/home/ as soon as the new dates are confirmed. We kindly ask current ticket holders to keep their tickets until they receive further instructions.
Tickets will remain valid until the exchange procedure is established.
Thank you for your understanding as we adapt to this ever-changing situation. For any other questions, please contact the Sames Auto Arena at 956-791-9192.
VStar Entertainment Group
is a leading entertainment company and producer of unforgettable live experiences for audiences in the U.S. and internationally. From concept through activation, VStar imagines and creates custom tours featuring original content and licensed, branded tours that provide highly engaging entertainment for fans of all ages. With nearly four decades of expertise in all aspects of event production and management, VStar delivers turnkey, in-house solutions for theatrical shows, interactive exhibits and brand activations. VStar also creates custom-fabricated mascots and costumes, large-scale sets, scenery and 3-D installations, serving as a valued resource for professional sports teams, Fortune 500 companies and experiential marketing agencies. The company has presented more than 40,000 live performances across 40 countries and entertains nearly three million guests annually. VStar Entertainment Group is owned and operated by Cirque du Soleil Entertainment Group. For more information, visit www.vstarentertainment.com.
Cirque du Soleil Entertainment Group
is a world leader in live entertainment. On top of producing world-renowned circus arts shows, the Canadian organization brings its creative approach to a large variety of entertainment forms such as multimedia productions, immersive experiences, theme parks and special events. It currently has 4,500 employees from nearly 70 countries. Going beyond its various creations, Cirque du Soleil Entertainment Group aims to make a positive impact on people, communities and the planet with its most important tools: creativity and art. For more information about Cirque du Soleil Entertainment Group, please visit cdsentertainmentgroup.com.