Details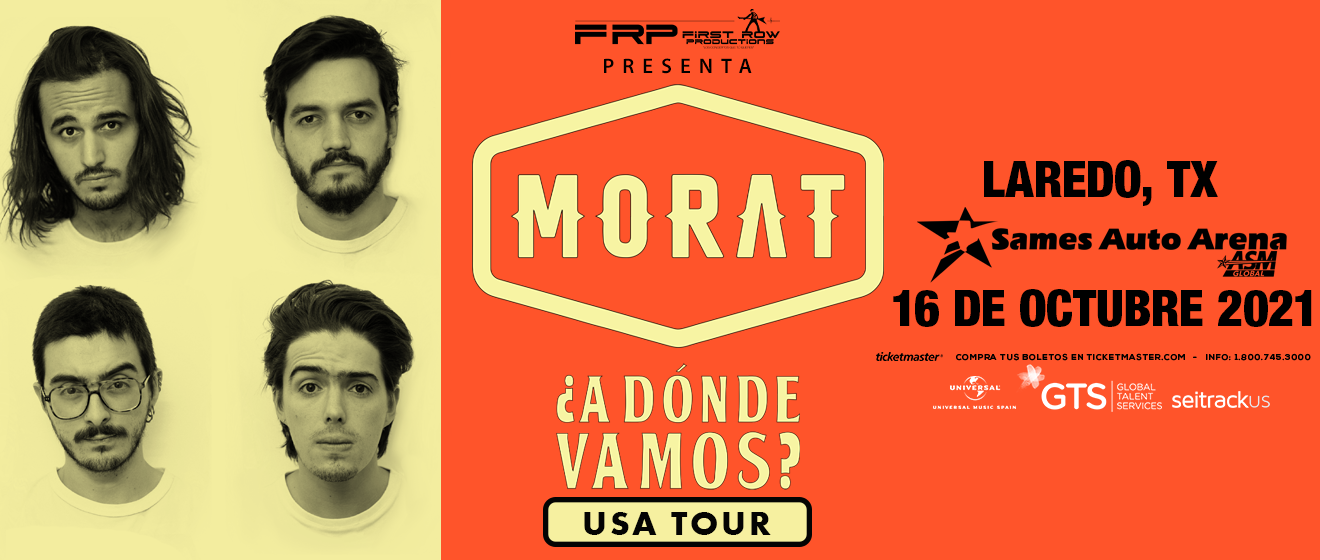 Saturday, October 16, 2021

08:00 PM / Doors Open 7:00PM
Buy Tickets
ANUNCIA LAS FECHAS DE SU GIRA
For Immediate Release: Tuesday – June 1, 2021-
LAREDO, TX – First Row Productions anuncia MORAT ¿A Dónde Vamos? USA Tour en vivo en el Sames Auto Arena el sábado 16 de octubre de 2021.
BOLETOS A LA VENTA A PARTIR DEL VIERNES, 4 DE JUNIO A LAS 10AM HORA LOCAL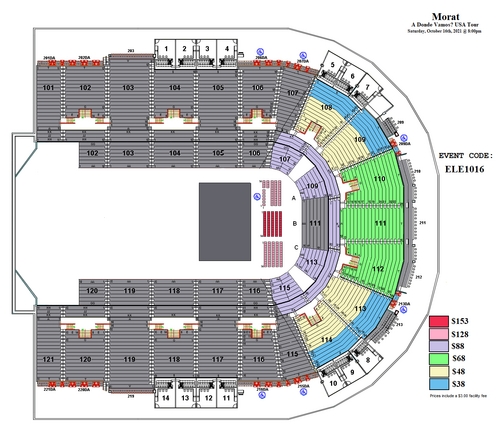 $153 | $128 | $88 | $68| $48 | $38

(Tarifas de instalación incluidas)

Morat, la banda colombiana más celebrada a nivel internacional, anuncia su nueva gira por Estados Unidos, ¿A Dónde Vamos? USA Tour.




Tras el éxito de "Balas Perdidas", su triunfal gira del 2019 que vio conciertos agotados en ciudades como San Antonio, TX, McAllen, Tx, y Miami, FL, la agrupación regresa este otoño a Estados Unidos para presentar 14 fechas alrededor del país.




El nombre del ¿A Dónde Vamos? USA Tour tiene un significado muy especial para la agrupación pues habla de dónde estaban parados ayer y cuál es el rumbo que quieren tomar después de estos tiempos tan extraños. La gira tendrá inició el 29 de septiembre en Los Ángeles, California y recorrerá ciudades como San Diego, CA, San Antonio, TX, Laredo, TX, Dallas, TX, Nueva York, Houston, Chicago y Atlanta, entre otras, antes de finalizar en The Fillmore en la ciudad de Miami, FL el 24 de octubre.




Fans podrán disfrutar de éxitos como "Cuando Nadie Ve", "Besos En Guerra", "No Se Va", y "Cómo Te Atreves" además de sencillos más recientes como "Bajo La Mesa" y "No Hay Más Que Hablar" en un espectáculo que promete ser uno de los mejores del año.

¿A Dónde Vamos? USA Tour

29-Sep Los Angeles, CA The Belasco

1-Oct San Diego, CA Balboa Theatre

2-Oct San Jose, CA San Jose Civic

3-Oct Anaheim, CA House of Blues

7-Oct Dallas, TX Majestic Theatre

8-Oct San Antonio, TX Majestic Theatre

9-Oct El Paso, TX The Plaza Theatre

14-Oct Houston, TX Arena Theatre

15-Oct McAllen, TX Payne Arena

16-Oct Laredo, TX Sames Auto Arena

17-Oct Chicago, IL Copernicus Center

21-Oct New York, NY HK Hall

22-Oct Atlanta, GA Buckhead Theatre

24-Oct Miami, FL The Fillmore Miami Beach

Acerca de Morat:

Considerados como una de las promesas del pop latinoamericano, Morat es un grupo de cuatro amigos que decidió crear su propia banda de música en el 2011 por amor y pasión por este género. Aunque tuvieron que esperar cuatro años para comenzar con su éxito internacional, desde entonces la agrupación no ha parado ni un solo momento de sorprender con sus letras y melodías.