Details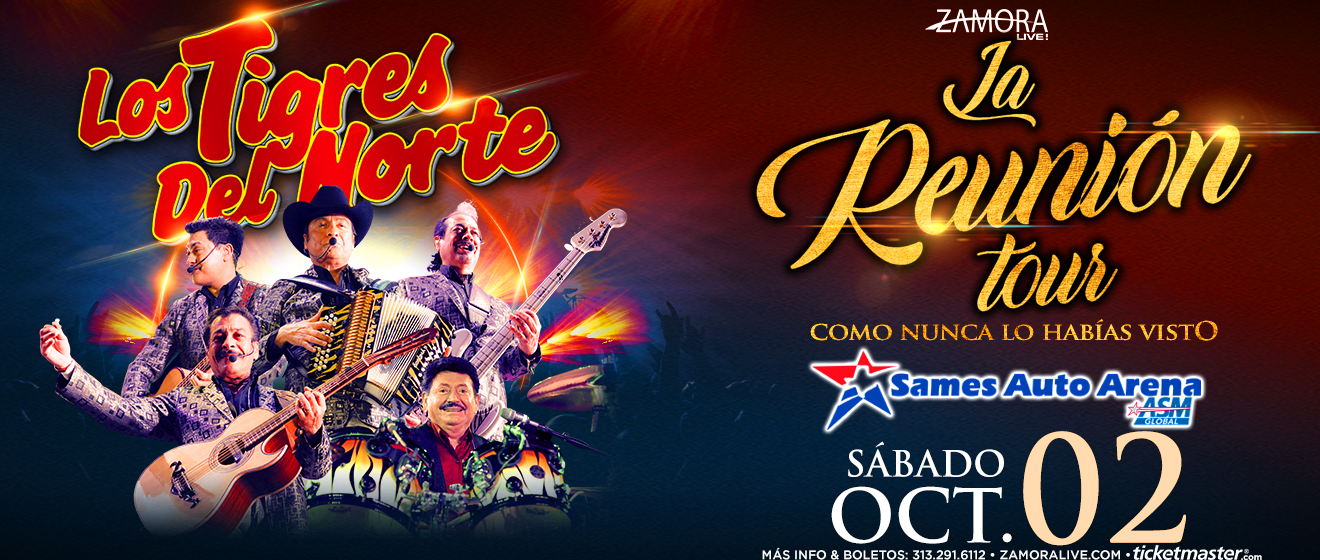 Saturday, October 2, 2021

08:00 PM / Doors Open 7:00 PM
Buy Tickets
Los Tigres del Norte
Saturday, October 2, 2021
FOR IMMEDIATE RELEASE: TUESDAY, AUGUST 10, 2021
LAREDO, TEXAS – After a decarde, Norteño band Los Tigres del Norte returns to the Sames Auto Arena on Saturday, October 2.
"We are pleased to welcome such a legendary band back to Laredo," said Juan C. Mendiola, General Manager of the ASM Global - managed Sames Auto Arena. "Their origins are inspirational and shows true testament of what family means."

Tickets On Sale Wednesday, August 11 @ 10:00 a.m.
Ticket Prices:
$253.00 | $152.00 | $102.00 | $92.00 | $62.00
(Facility Fees Included)
Tickets available at the Sames Auto Arena Box Office or Ticketmaster.com

Los Tigres del Norte is comprised of Mexican-American brothers who, as teens, left Mexico for California to seek better means of supporting their family after their father's injury prevented him from working. Their band name came from an immigration official who called these teens 'little tigers' when they crossed the border.
In the 1970s, they signed with Fama Records, which this company grew as the leading Spanish-language recording label on the West Coast. With guidance from the company founder, Los Tigres adopted an electric style, trading in their traditional acoustic sound for one incorporating bass, drums and electric guitar. Their songwriting also adopted a modern approach which emphasized contemporary social themes common to the Mexican-American heritage.
Their breakthrough moment came in 1972 with their hit corrido 'Contrabando y Traicion,' an age-old style narrative relatable to the mestizo cultural area of North America, including the northern states of Mexico an southwestern areas of the United States. Traditionally, corridos feature a salutation or prologue; a story, often a legend or ballad of a hero or criminal native to northern Mexico with a lesson or moral at the ending of the song. But, 'Contrabando y Traicion' features two lovers who traffic marijuana across the border in their vehicle's tires.
The song was a hit in Southern California and set the long course of success for Los Tigres who continued to write a more modern corridos, known as narcocorridos, and immigration. Throughout their career span , Los Tigres, also known as Los Idolos del Pueblo and Los Jefes de Jefes, maintained a respectable image, never overemphasizing the drug trade nor any other criminal activity. They would not photograph with guns or other weapons in sight.
By the early 2000s, Los Tigres toured globally and their shows often reflected the diversity of their fan base. They also continued releasing albums on an annual basis and branched out into cinema as well, with DVD videos becoming a regular addition to their CDs. In total, they've released over 50 albums, recorded over 500 songs, and appeared in over a dozen films.
In 2011, Diego Torres, Zack de la Rocha, Andrés Calamaro, and others would help the group celebrate their career on the spirited live album MTV Unplugged: Los Tigres del Norte and Friends.
Los Tigres del Norte returns to Laredo, Texas at the Sames Auto Arena on Saturday, October 2. Tickets will be available at the Sames Auto Arena Box Office or Ticketmaster.com. For more information, call (956) 791-9192 or visit samesautoarena.com.
###