Details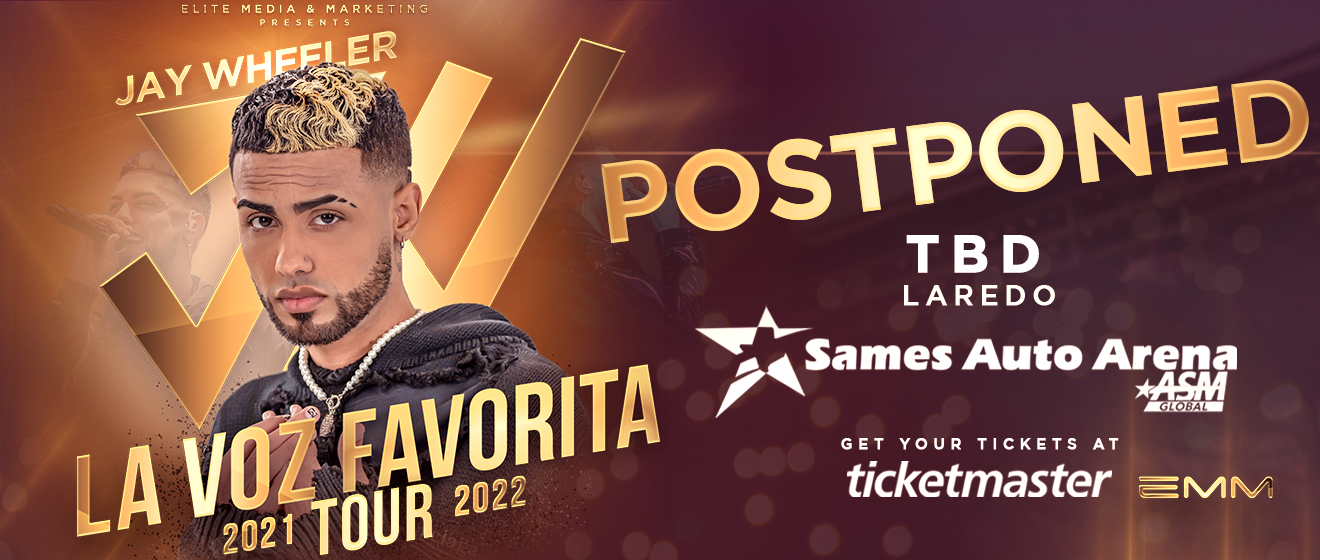 Saturday, February 5, 2022

08:00 PM / Doors Open 8:00 PM
Buy Tickets
JAY WHEELER TOUR
For Immediate Release: Monday, October 11, 2021:
LAREDO, TEXAS – Puerto Rican singer Jay Wheeler will make his way to the Sames Auto Arena on Saturday, February 5, 2022.
$149.50 | $129.50 | $109.50 | $99.50 | $79.50 | $59.50 | $39.50
Tickets will be available at the Sames Auto Arena Box Office or Ticketmaster.com
Wheeler became well known with a video that went viral in 2016, in which he then pursued a music career.
Wheeler used his newfound fanbase to release music through both Instagram and Facebook, building up a steady following and earning the nickname "La Voz Favorita" (The Favourite Voice). Chosen by his fans, he decided to go by the stage name Jay Wheeler.
After a steady number of releases between 2016 and 2018, Wheeler was noticed by Dynamic Records, who signed him to his first record deal. DJ Nelson noticed Wheeler in a viral video in which he produced two of his albums, Platónico and Platónicos.
He collaborated with Myke Towers with the song "La Curiosidad" which peaked at $5 on the Billboard Hot Latin Songs chart.
Tickets go on sale Saturday, October 16 at 10:00 a.m. For more information, call (956) 791-9192 or visit www.samesautoarena.com.
###