Details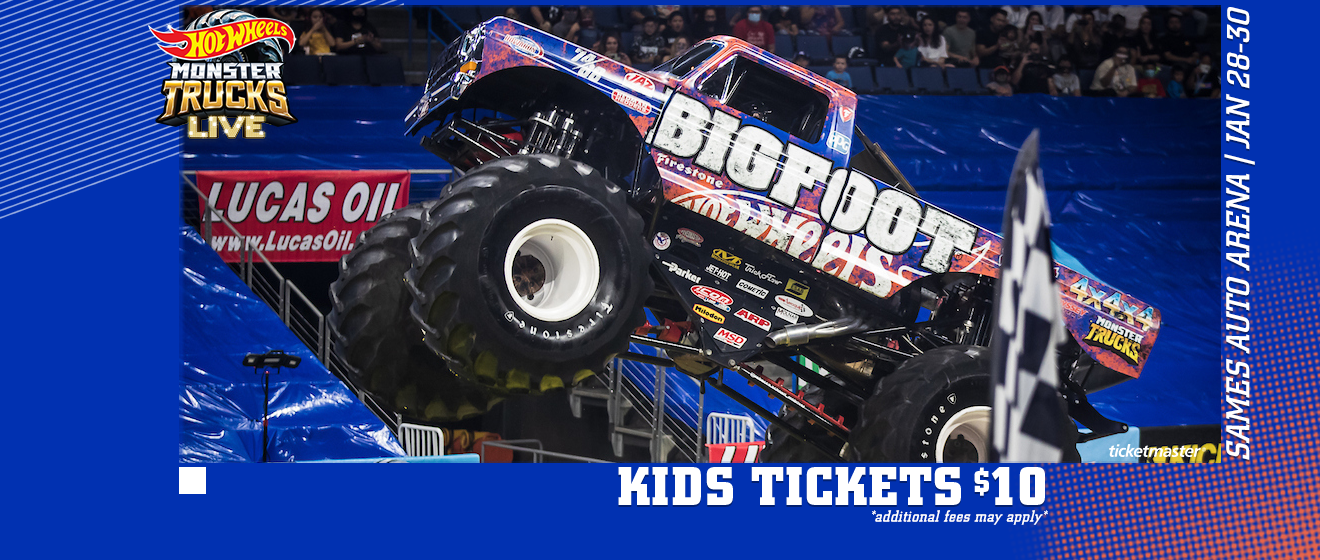 Saturday, January 29, 2022

07:30 PM / Doors Open 6:30 PM
Buy Tickets
Hot Wheels Monster Trucks Live™
Debuts in Laredo, Texas on Friday, January 28 thru Sunday, January 30, 2022
Worldwide Tour Roars Into Sames Auto Arena to Deliver a Thrilling Hot Wheels® Monster Trucks Experience for the Whole Family!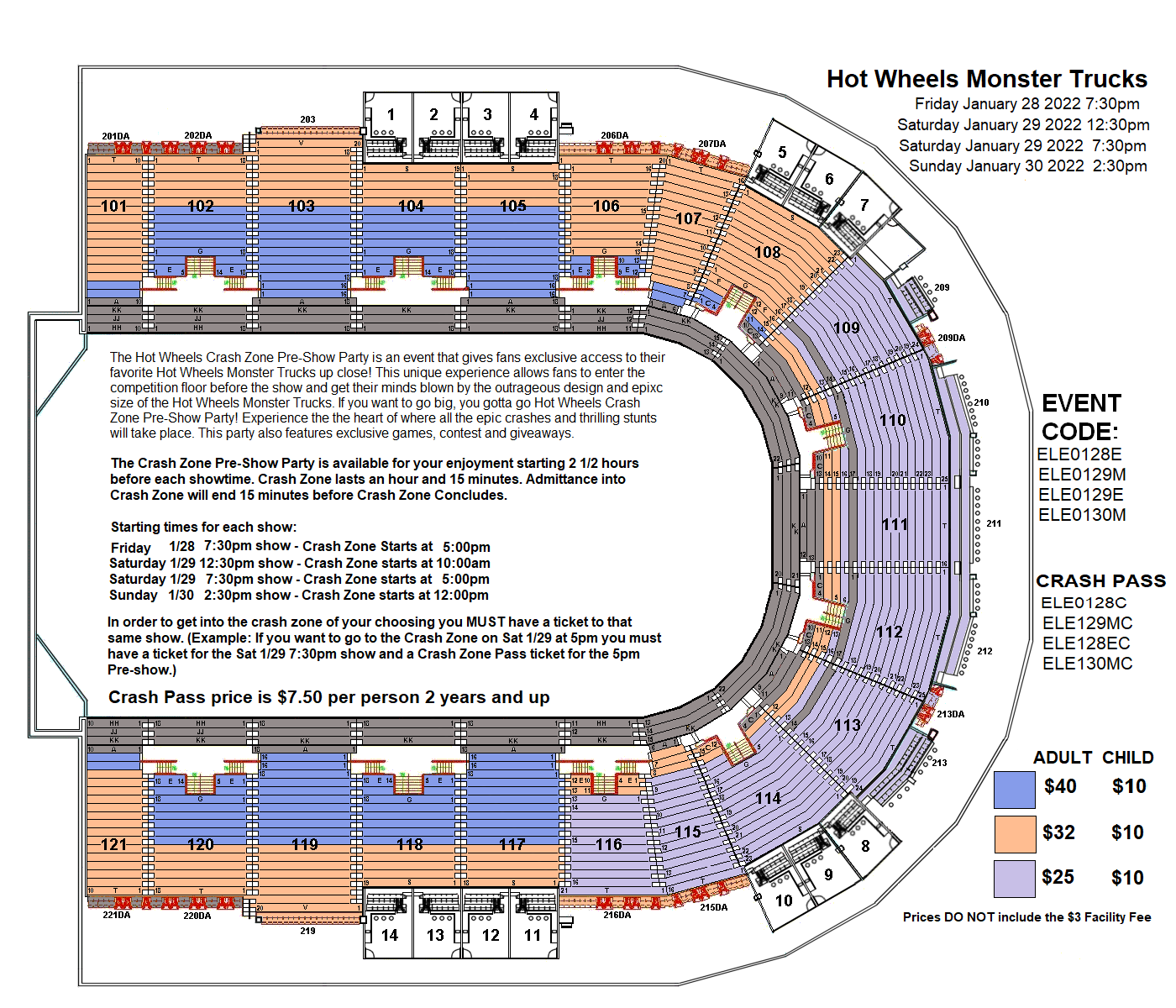 (Prices DO NOT include Facility Fees)
Tickets will be available at the Sames Auto Arena Box Office or Ticketmaster.com
Monday, November 8, 2021: Laredo, Texas – For the first time ever, Hot Wheels Monster Trucks Live will visit Sames Auto Arena on Saturday, January 29 for three epic performances! Fans of all ages will enjoy an exciting lineup of epic monster trucks as they experience the thrill of watching the iconic Hot Wheels monster truck toys come to life in a full-size, kid-focused, immersive Hot Wheels experience.
Show times are as follows:
Friday, January 28, 2022 / Crash Zone 5:00p.m. / Doors 6:30p.m. / Start of show 7:30p.m.
Saturday, January 29, 2022 /Crash Zone 10:00a. m. / Doors 11:30a.m. / Start of show 12:30p.m.
Saturday, January 29, 2022 /Crash Zone 5:00p.m. / Doors 6:30p.m. / Start of show 7:30p.m.
Sunday, January 30, 2022 /Crash Zone 12:00p.m. / Doors 1:30p.m. / Start of show 2:30 p.m.
The popular family entertainment tour continues to bring audiences the only opportunity to see real-life versions of the famous Hot Wheels monster trucks toys including fan favorites - Bone Shaker™, Tiger Shark, V8 Bomber™, and Demo Derby plus the all-new Mega Wrex™, Race Ace™ and Bigfoot® Midwest Madness™, a first-ever collaboration between Hot Wheels and Bigfoot. Event performances will also feature a special appearance from the car-eating, fire-breathing transforming robot MEGASAURUS, and the high-flyers of Hot Wheels Monster Trucks Live, Freestyle Motocross! Fans will experience exciting show action and fuel-injected playfulness with over-the-top smashing, crashing, and epic monster truck competitions and battles!
The exciting Crash Zone Pre-Show Party will be held 2-1/2 hours before every performance. The unique experience provides fans access to the competition floor to see the outrageous designs and epic size of the Hot Wheels Monster Trucks! Each pass includes an autograph card plus a souvenir pass and lanyard exclusive to Crash Zone attendees! Passes will be available to purchase will supplies last.
The Hot Wheels Monster Trucks Live tour is a partnership between Mattel and Raycom-Legacy Content Company.
About Raycom-Legacy Content Company
Raycom-Legacy Content Company is a large-scale event operation, promotion, content production, licensing, and media firm. The company produces entertainment experiences including Hot Wheels Monster Trucks Live™, an international Monster Truck tour visiting North America and Europe. Raycom- Legacy Content Company is a partnership between Raycom Sports – a leading independent sports marketing, event management and production firm – and Legacy Motorsports Events – which was co-founded by entertainment and motorsports executives Ken Hudgens, Tim Murray, Eric Cole, and Bob Boggess. The company is based in Charlotte, N.C.
Mattel is a leading global children's entertainment company that specializes in design and production of quality toys and consumer products. We create innovative products and experiences that inspire, entertain, and develop children through play. We engage consumers through our portfolio of iconic franchises, including Barbie®, Hot Wheels®, American Girl®, Fisher-Price®, Thomas & Friends® and Mega®, as well as other popular brands that we own or license in partnership with global entertainment companies. Our offerings include film and television content, gaming, music, and live events. We operate in 40 locations and sell products in more than 150 countries in collaboration with the world's leading retail and technology companies. Since its founding in 1945, Mattel is proud to be a trusted partner in exploring the wonder of childhood and empowering kids to reach their full potential. Visit us online at www.mattel.com.
ASM Global is the world's leading producer of entertainment experiences. It is the global leader in venue and event strategy and management – delivering locally tailored solutions and cutting-edge technologies to achieve maximum results for venue owners. The company's elite venue network spans five continents, with a portfolio of more than 325 of the world's most prestigious arenas, stadiums, convention and exhibition centers, and performing arts venues.
For more information, please visit http://www.asmgobal.com.