Details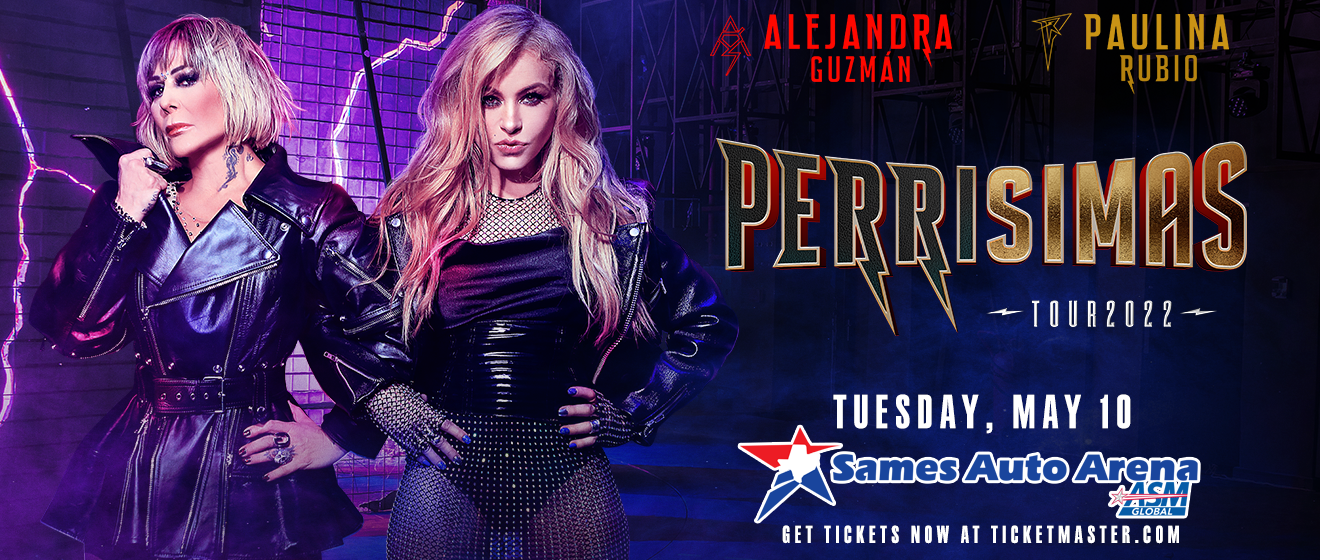 Tuesday, May 10, 2022

07:30 PM / Doors Open 6:30pm
Buy Tickets
PAULINA RUBIO & ALEJANDRA GUZMÁN
ALEJANDRA GUZMÁN & PAULINA RUBIO
TO FACE OFF IN HISTORIC,
HIGHLY ANTICIPATED "PERRÍSIMAS" US TOUR 2022
Live at the Sames Auto Arena – Tuesday, May 10, 2022
Los Angeles, CA. (December 15, 2021). La Chica Dorada and La Reina de Corazones, Paulina Rubio and Alejandra Guzmán, will hit the road next spring to face off in a once-in-a-lifetime run of shows that will form the greatest and most controversial tour to ever occur in the history of Latin pop-rock, "PerrÍsimas" US Tour 2022. Over the course of more than three decades, Alejandra Guzmán and Paulina Rubio, legendary award-winners and global superstars, have each constructed outstanding careers, garnering praise as the "Queen of Latin Rock" and the "Queen of Latin Pop," respectively. After years of rivalry between them, for the first time ever, Rubio and Guzmán will perform on the same stage to settle the score, promising an electrifying, heart-stopping experience for audiences across America.
Produced by the superstars themselves, the Perrísimas US Tour will kick off in April 2022 and will consist of more than 20 shows, making stops in major cities such as Chicago, New York, Miami, and Las Vegas before wrapping up on May 22 in Los Angeles. Tickets go on sale to the public this Friday, December 17, at 10 a.m. local time. Ticket pre-sale begins today, December 15, at 12 p.m. local time, ensuring that the dedicated fans of both artists will have exclusive access to prime seating.
For complete pre-sale details visit www.perrisimastour.com
As two of the greatest female artists in Latin music history, both Alejandra Guzmán and Paulina Rubio have left an impressive and lasting impact both on the industry and on global culture, selling more than 50 million records combined worldwide. Racking up endless recognitions, accomplishments and countless hits, their music has transcended generations, shaping the soundtrack of the lives of millions of listeners around the world. "Perrísimas" US Tour 2022 is the only opportunity for fans to witness the highly anticipated, unprecedented encounter between these two international icons and will unquestionably go down in the record books as one of the greatest tours of all time.
"It's time to get back to concerts,
break molds and reset with music.
Going back to concerts, is going back to life!!!"
Paulina Rubio
"This is going to be a dangerous summer."
Alejandra Guzmán
TICKET PRICES:
$99.00 | $79.00 | $59.00 | $49.00 | $39.00
(Facility Fees Included)
Tickets will be available at the Sames Auto Arena Box Office or Ticketmaster.com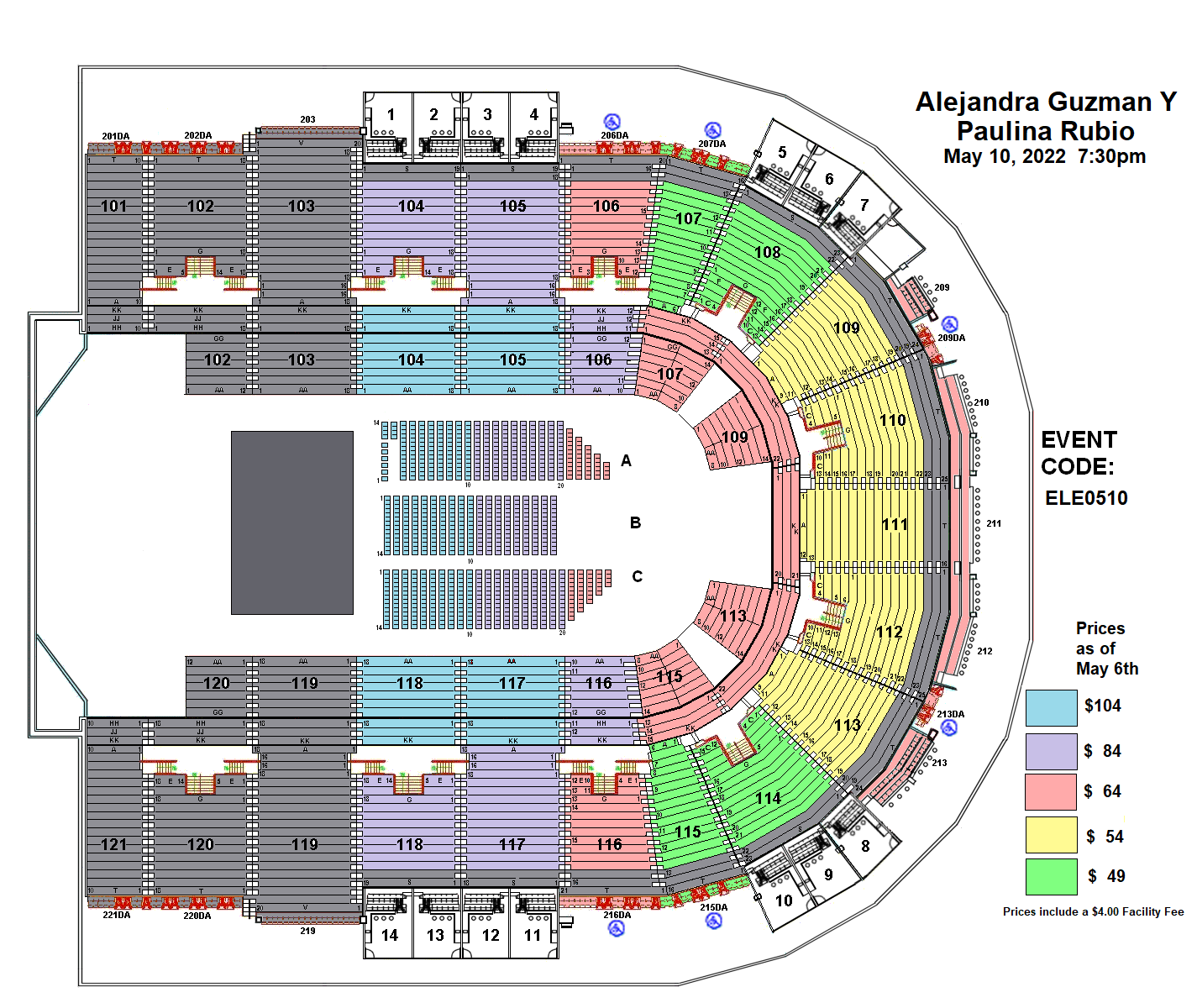 ABOUT ALEJANDRA GUZMÁN
Singer and songwriter Alejandra Guzmán, known as the "Queen of Mexican Rock" and "Queen of Hearts," and recognized by The New York Times for her "husky melodrama" and music that Billboard calls "anthemic rock" characterized by her "hoarse vocals and fierce rebellious attitude," has achieved one of the most illustrious careers in Latin music. With over 25 million albums sold throughout 30+ years, "La Guzmán" has released 23 top-charting albums with multiple Top-10 hits, sold out 19 world tours, and accumulated 28 Gold and 13 Platinum records, as well as 41 awards and 68 nominations for the Grammy Awards, Latin Grammys, Premios Juventud, Billboard Latin Music Awards, Premio Lo Nuestro, Latin American Music Festival, and Premio ERES. Alejandra is also a lauded television, film, and stage actress and, more recently, a top-selling jewelry designer.
ABOUT PAULINA RUBIO
Hailed as the "Latin Madonna" by Rolling Stone, Paulina Rubio began her musical career as the founding member of the revolutionary teen group Timbiriche. By the '90s, she had already begun to make her mark on the industry as a solo artist, and today is among the top 5 women with the most #1 songs on the Billboard Top Latin charts and 2 singles which hit the Billboard Hot 100 chart. Over a span of nearly 40 years, her global hits have translated into multi-platinum sales and garnered her numerous accolades, including seven Grammy nominations (with nods in the prestigious "Song of the Year" and "Recording of the Year" categories), and recognition by Forbes as one of the 50 most powerful women in México.
For more information about Alejandra Guzmán visit:
https://www.instagram.com/laguzmanmx/
https://www.facebook.com/laguzmanoficial
https://twitter.com/Al3jandraGuzman
For more information about Paulina Rubio visit:
https://www.instagram.com/paulinarubio/
https://www.facebook.com/paulinarubio
https://twitter.com/PaulinaRubio
###
ABOUT ASM GLOBAL
ASM Global is the world's leading producer of entertainment experiences. It is the global leader in venue and event strategy and management – delivering locally tailored solutions and cutting-edge technologies to achieve maximum results for venue owners. The company's elite venue network spans five continents, with a portfolio of more than 325 of the world's most prestigious arenas, stadiums, convention and exhibition centers, and performing arts venues.
For more information, please visit http://www.asmgobal.com.