Details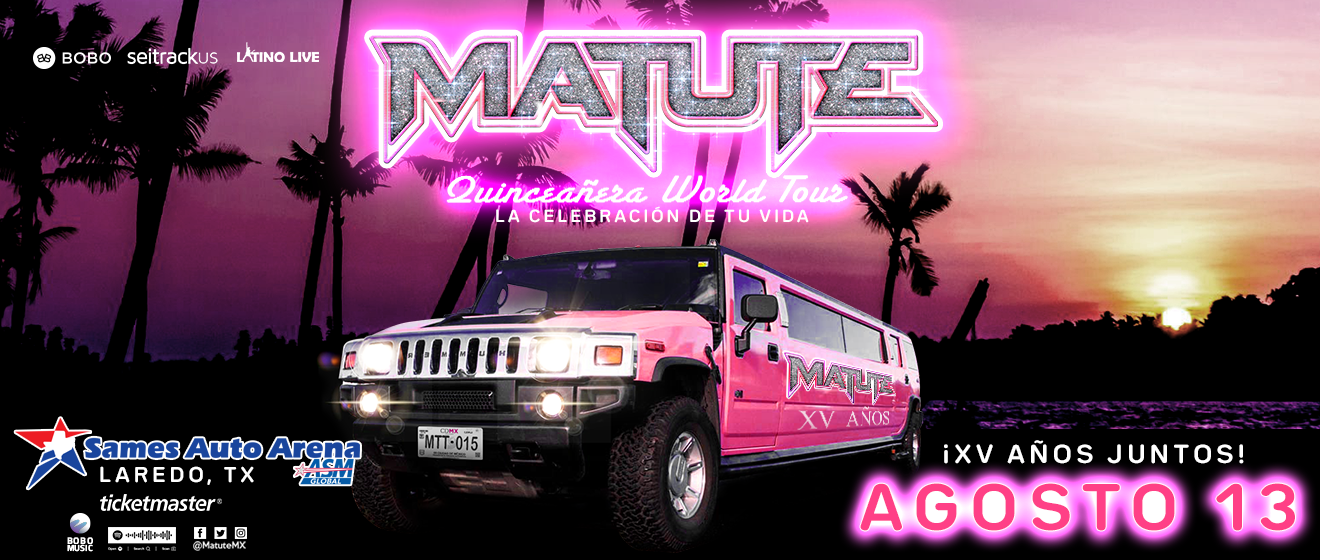 Saturday, August 13, 2022

08:00 PM / Doors Open 7:00 PM
Buy Tickets
¡¡GRAN ANUNCIO!!
Sábado, 13 de agosto, 2022
PARA PUBLICACIÓN INMEDIATA: LUNES, 7 DE FEBRERO, 2022
LAREDO, TEXAS – Latino Live te invita a la fiesta más grande de tu vida este 13 de Agosto en Sames Auto Arena, Texas.
"Estamos emocionados de trabajar con Latino Live y su primera producción como una nueva compañía," expreso Juan C. Mendiola, Gerente General de ASM Global – administrado por Sames Auto Arena. "¡Matute seguramente lo llevará de regreso a los 80s!".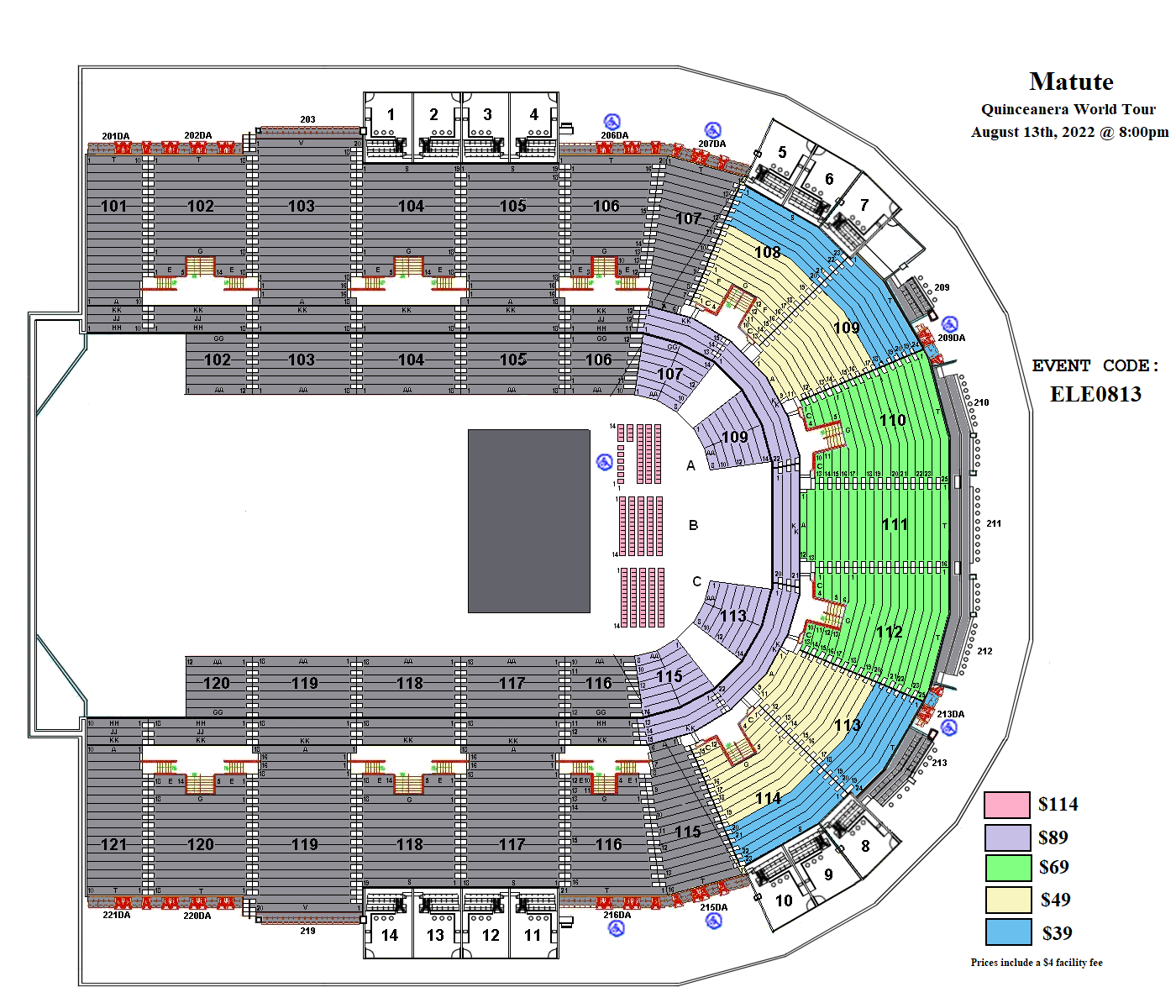 Boletos a la venta viernes 11 de febrero a las 10 am
$114.00 | $89.00 | $69.00 | $49.00 | $39.00
(Tarifa de instalacion incluida)
Boletos disponible sen las taquias del Sames Auto Arena o Ticketmaster.com
Matute celebrará sus XV años de trayectoria con la experiencia musical más espectacular de toda su historia.
Los grandes hits de la década de los 80's vendrán acompañados de una imponente producción con la que Jorge, Tana, Oso, Irving, Nacho y Pepe sorprenderán a toda su familia ochentera.
¡No te puedes perder el "Quinceañera World Tour" de Matute!
Esta es una exclusiva más de Latino Live... ¡Siempre Pensando en ti y en los Conciertos que tú quieres!!
Matute grabó su primer cover Sal de mi Piel con la Cantante Mexicana Belinda.
Su primer álbum, financiado por ellos mismos, ochentizzmo fue grabado en Italia e incluye covers como "What's Love Got to Do with It" de Tina Turner, "Karma Chameleon" de Culture Club y "Your Love" por the Outfield's y Tú Me Vuelves Loco del interprete Marco Antonio Solís.
En 2010, realizaron La Guerra de los 80's, un show con elementos visuales y éxitos de los 80's en un show espectacular. Para el 2011, su éxito fue masivo que les abrió puertas para un programa de Televisión, MatuTV, en donde destacaban bandas, shows y juegos de trivia, donde todo era relacionado a los 80's.
Han colaborado con muchos artistas de diferentes géneros para su álbum, Poderes de los Duetos Fantásticos ¡Actívense!, Como Los Claxons, Grupo Cañaveral, Julio Álvarez y Matisse.
Horas después del lanzamiento de su sencillo, llego al numero 1 en listas de ventas digitales.
Para más información, llame al (956) 791-9192, siga Sames Auto Arena en redes sociales o visite samesautoarena.com
Saturday, August 13, 2022
FOR IMMEDIATE RELEASE: MONDAY, FEBRUARY 7, 2022
LAREDO, TEXAS – Latino Live invites you to the biggest party with Mexican pop cover group MATUTE this August 13 at Sames Auto Arena, Texas.
"We are excited to work with Latino Live and their first production as a new company," said Juan C. Mendiola, General Manager of the ASM Global - managed Sames Auto Arena. "Matute will sure take you back to the 80s!"
Tickets On Sale Friday, February 11 @ 10:00 a.m.
$114.00 | $89.00 | $69.00 | $49.00 | $39.00
Tickets available at the Sames Auto Arena Box Office or Ticketmaster.com
Matute will celebrate 15 years with the most spectacular musical experience in its entire history.
The great hits of the 80's will be accompanied by an impressive production. Jorge, Tana, Oso, Irving, Nacho and Pepe will surprise 80's FANS. Don't miss Matute's "Quinceañera World Tour"!
This is one more exclusive by Latino Live which always thinks of the fans and the concerts they want!!
Matute was formed in early 2007. They are named after the cartoon character "Don Gato y sus Pandilla." Matute decided to record their first cover "Sal de mi piel" featuring Mexican singer Belinda.
Their first self-financed debut album, Ochetizzimo, was recorded in Italy and featured covers such as Tina Turner's "What's Love Got to Do with It," the Outfield's "Your Love," Culture Club's "Karma Chameleon," and Marco Antonio Solis' "Tú Me Vuelves Loco."
In 2010, they performed "La Guerra de los 80's," a show with visual effects and hits from the 80's in a spectacular performance. By 2011, their success was massive and opened doors for a Television show, "MatuTV" in which they featured bands, performances and trivia games, which were all 80's themed.
They collaborated with many artists from different genres for their album, Poderes de los Duetos Fantasticos ¡Actívense! such as Los Claxons, Grupo Cañaveral, Julio Alvarez, and Matisse.
Hours after the album release, it topped the charts in Mexico for digital sales.
For more information, call (956) 791-9192, follow the Sames Auto Arena on social media or visit samesautoarena.com.