Details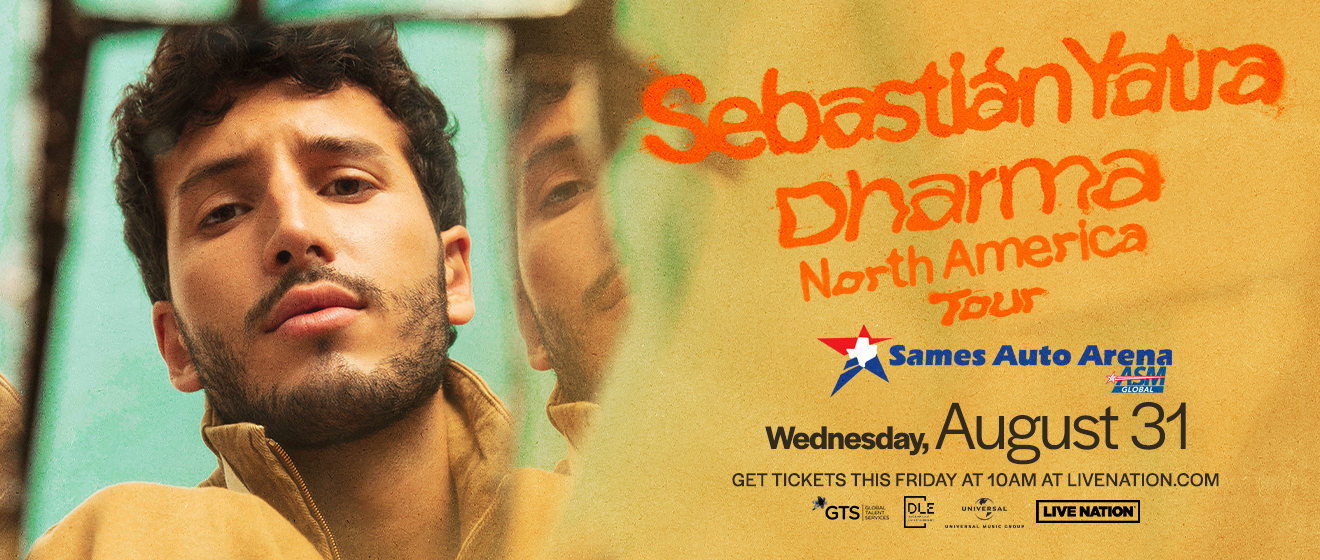 Wednesday, August 31, 2022

08:00 PM / Doors Open 7:00 PM
Buy Tickets
SEBASTIÁN YATRA ANNOUNCES NORTH AMERICAN TOUR DATES
FOR "DHARMA WORLD TOUR"
PRESALE ON FEB. 23RD | PUBLIC ON SALE FEB. 25TH
ON TICKETMASTER.COM
February 22, 2022 - Chart-topping Colombian singer-songwriter Sebastián Yatra (@SebastianYatra) announces North American tour dates supporting the "Dharma World Tour." Produced by Live Nation, the 22 live dates span the United States, Puerto Rico and Canada, celebrating the genre-bending multi-platinum new album, "Dharma." Tickets go on sale to the public on February 25th at 10am local time on Ticketmaster.com. Citi is the official card of the Dharma World Tour. Citi cardmembers will have access to presale tickets beginning Wednesday, February 23rd at 10am local time until Thursday, February 24th at 10pm local time through the Citi Entertainment program. For complete presale details visit www.citientertainment.com.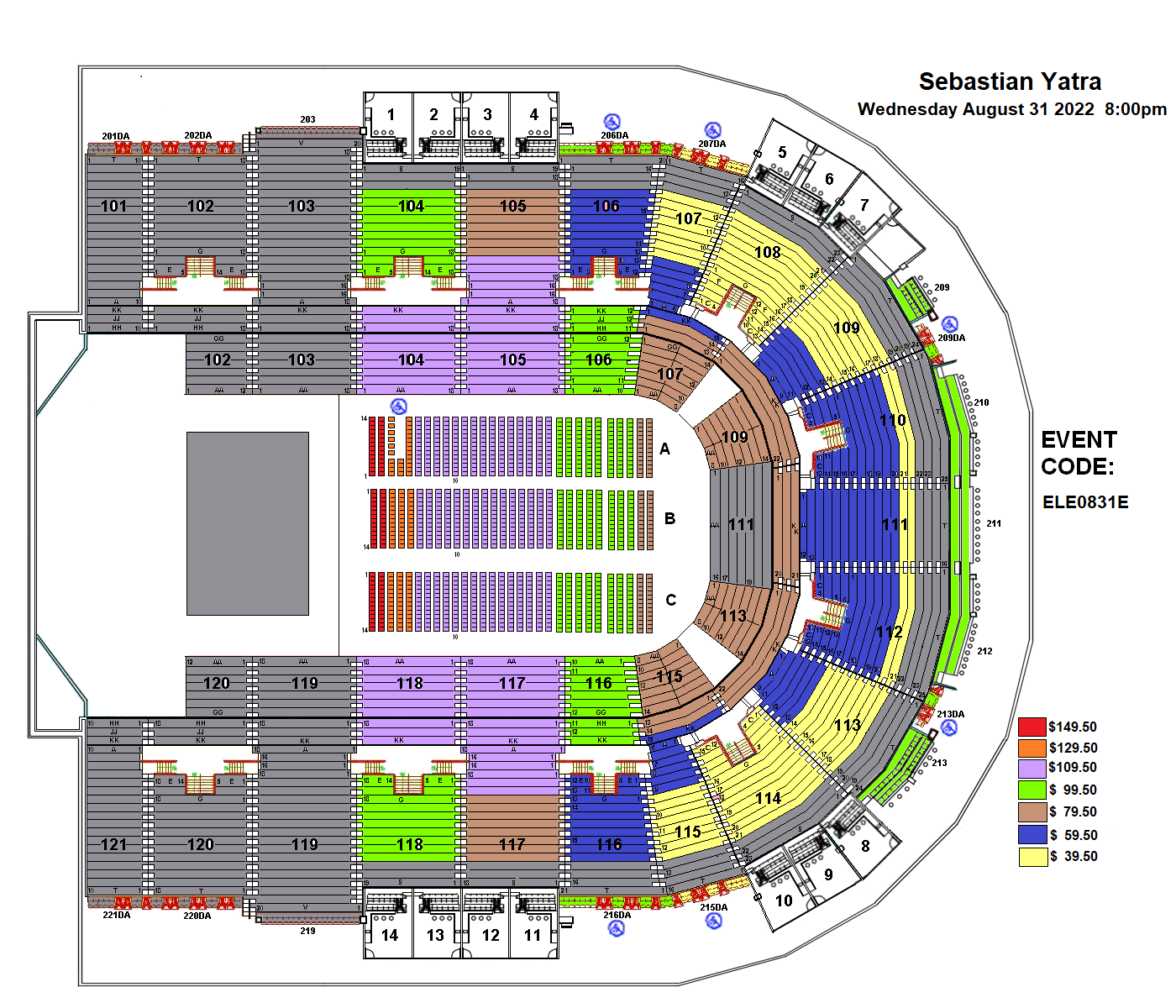 Tickets On Sale Friday, February 25 @ 10:00 a.m.
$39.50 | $59.50 | $79.50 | $99.50 | $109.50 | $129.50 | $149.50
Tickets available at the Sames Auto Arena Box Office or Ticketmaster.com
The genre-versatile music orchestrator will kick off the "Dharma World Tour" tomorrow February 23rd at Auditorio Nacional in Mexico City, Mexico. Additional information on tickets here and North American routing below.
Also this week, Sebastián Yatra will also bring his engaging live performance to the Premio Lo Nuestro stage where he is also nominated for 4 awards including "Premio Lo Nuestro Artist Of The Year," "The Perfect Mix of the Year," "Pop Solo Artist Of The Year," and "Pop Collaboration of the Year." Premio Lo Nuestro airs on February 24 on Univision. Sebastián Yatra will also co-headline Billboard's exclusive South By Southwest concert dubbed 'Samsung Galaxy + Billboard Present THE STAGE at SXSW' alongside Shawn Mendes on Saturday, March 19th at the Moody Amphitheater at Waterloo Greenway Conservancy in Austin, Texas [tickets here].
Sebastián Yatra's new album 'Dharma' showcases the music maker's continued versatility across music styles → [stream here]! The award-winning multi-talents' genre-bending 17-track third studio album arrived alongside multi-platinum certifications, 2.3 Billion combined streams, and a #1 ranking on Spotify's US & Global album debut charts. 'Dharma' peaked at #1 on Billboard's Latin Streaming & Latin digital song sales charts. The album scored the #23 ranking on Spotify globally 🌎 and Top 10 in 7 countries, including #2 Spain 🇪🇸 and #4 in Argentina 🇦🇷, Ecuador 🇪🇨 and Peru 🇵🇪..
The 47th most streamed artist on YouTube is building pillars for Latin music across his massive single releases including the current powerhouse single 'Tacones Rojos' which is streaming on Spotify's Top 50 Global as the only song from a Latin pop solist, new fan favorite "Melancólicos Anónimos," the 8x platinum hit "Pareja del Año", his 4x platinum smash "Chica Ideal", and the Latin GRAMMYs nominated ballad "Adios." 'Tacones Rojos' is a song that continues to prove the hitmaker's strength for making feel-good music, standing tall as a leading pop song among an otherwise reggaeton-dominated genre, with +271.7 Million streams and a steady upward trajectory on global streaming and radio charts, including #1 on Latin pop radio in the US & Puerto Rico, and #1 in Spain for 2 consecutive weeks.
Sebastian Yatra's performance of the song "DOS ORUGUITAS" ("TWO CATERPILLARS") from The Walt Disney animated film "ENCANTO" unlocked two career milestones - landing the Oscar nomination for "Best Original Song" (honoring Lin-Manuel Miranda's original work) as well as a Spotify US Chart Top 50 debut for the Latin music leader artist as the only Spanish-language song.
The Colombian singer and composer will also star in Netflix's "Once Upon a Time...Happily Never After" out March 11th alongside Spanish singers Mònica Maranillo and Nia Correia; created and directed by Manolo Caro.
Live Nation Entertainment (NYSE: LYV) is the world's leading live entertainment company comprised of global market leaders: Ticketmaster, Live Nation Concerts, and Live Nation Sponsorship. For additional information, visit www.livenationentertainment.com.
SEBASTIÁN YATRA ANUNCIA FECHAS
DE GIRA POR NORTEAMÉRICA PARA
"GIRA MUNDIAL DHARMA"
LA PREVENTA COMIENZA EL 23 DE FEBRERO
VENTAS AL PÚBLICO COMIENZAN EL 25 DE FEBRERO
EN TICKETMASTER.COM
22 de febrero, 2022 - El galardonado y talentoso artista colombiano, Sebastián Yatra (@SebastianYatra) anunció sus fechas de gira por Norteamérica como parte de la "Gira Mundial Dharma". Producida por LIve Nation, las 22 fechas de presentación en vivo recorren los Estados Unidos, Puerto Rico y Canadá celebrando el álbum multi platino que trasciende géneros, "Dharma". Los boletos salen a la venta al público el 25 de febrero a las 10 am hora local en Ticketmaster.com. Citi es la tarjeta oficial de la Gira Mundial Dharma. Los portadores de la tarjeta de crédito Citi tendrán acceso a boletos durante el periodo de preventa comenzando el miércoles 23 de febrero a las 10 am hora local hasta el 24 de febrero a las 10 pm hora local a través del programa de Citi Entertainment. Para más detalles acerca de la preventa visite www.citientertainment.com.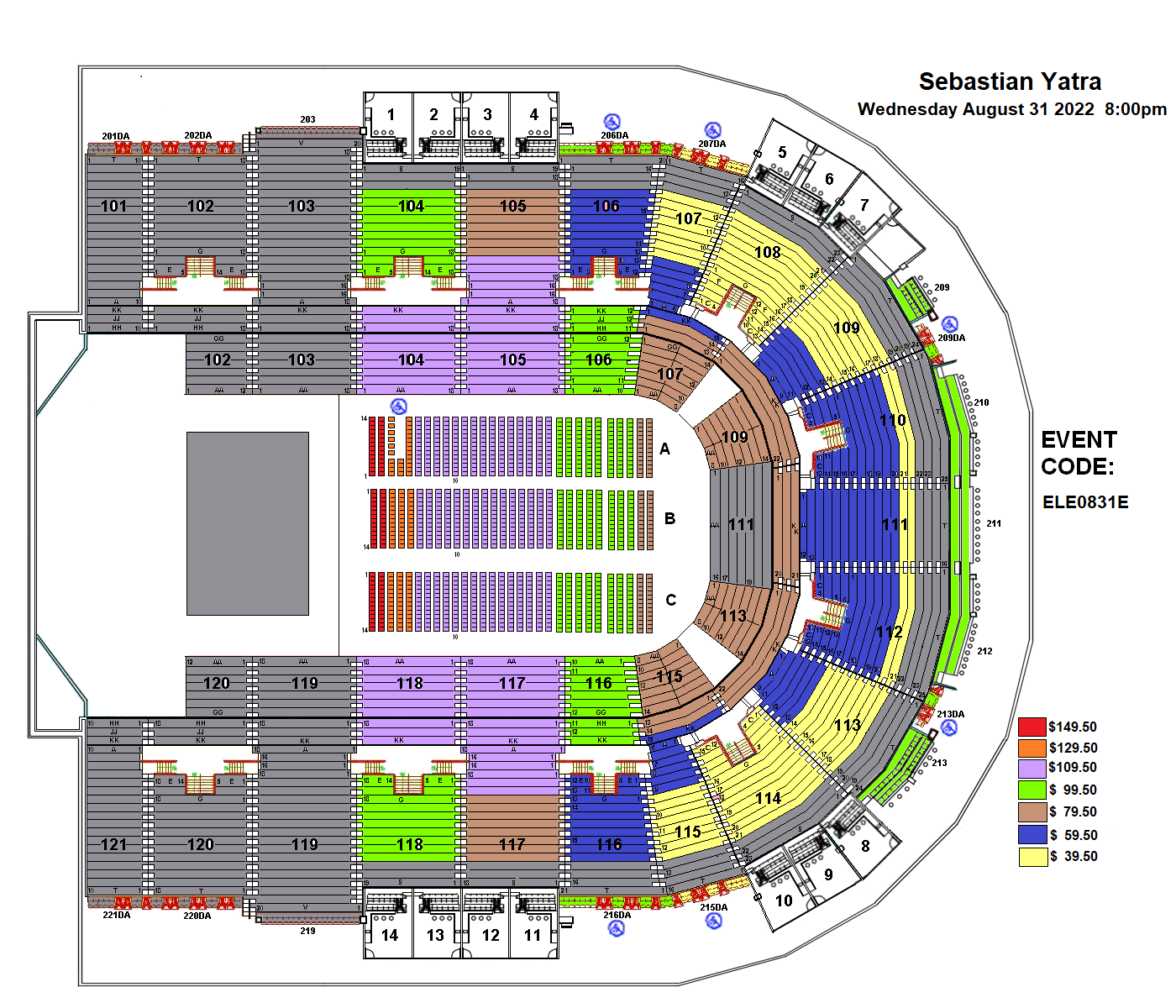 Boletos a la venta viernes 25 de febrero a las 10 am
$39.50 | $59.50 | $79.50 | $99.50 | $109.50 | $129.50 | $149.50
(Tarifa de instalacion incluida)
Boletos disponible sen las taquias del Sames Auto Arena o Ticketmaster.com
El versátil creador de música que trasciende géneros comenzará la "Gira Mundial Dharma" mañana 23 de febrero en el Auditorio Nacional en la Ciudad de México. Encuentra información adicional sobre los boletos aquí y las fechas para Norteamérica abajo.
Esta semana también, Sebastian Yatra traerá su increíble presentación en vivo al escenario de Premio Lo Nuestro donde también está nominado a 4 premios incluyendo "Premio Lo Nuestro Artista del Año", "La Mezcla Perfecta del Año", "Solista Pop del Año" y "Colaboración Pop del Año". Premio Lo Nuestro se transmite el 24 de febrero por Univision. Sebastian Yatra también se presentará en el concierto exclusivo de Billboard en South By Southwest titulado Samsung Galaxy + Billboard Presentan THE STAGE en SXSW' junto a Shawn Mendes el sábado, 19 de marzo en el Moody Amphitheater del Waterloo Greenway Conservancy en Austin, Texas.
El nuevo álbum de Sebastian Yatra "Dharma" demuestra la versatilidad del genio musical a través de los diferentes estilos musicales - → [escuchala aquí]! El álbum de 17 canciones que trasciende géneros, "Dharma" del galardonado y talentoso artista llegó junto con múltiples certificaciones multi platino, 5.1 Billones de reproducciones combinadas y el puesto #1 en la lista de debut Global y de Estados Unidos en Spotify. "Dharma" también llegó al puesto #1 en la lista de Billboard Latin Streaming y en la lista de ventas digitales de canciones latinas. El álbum alcanzó el puesto #23 en Spotify a nivel global 🌎 y Top 10 en 7 países, incluyendo #2 en España 🇪🇸 y #4 en Argentina 🇦🇷, Ecuador 🇪🇨 y Perú 🇵🇪.
El artista #47 más visto en YouTube está construyendo los pilares de la música latina con el gran lanzamiento de sus sencillos incluyendo el poderoso sencillo ('Tacones Rojos') que actualmente se encuentra en la lista de Top 50 Global de Spotify como la única canción de pop latino interpretada por un solista, el nuevo tema favorito de los fans, "Melancólicos Anónimos", el éxito 8x platino ("Pareja del Año"), el mega éxito 4x platino ("Chica Ideal"), y la balada nominada al Latin GRAMMY, Adios." 'Tacones Rojos' es una canción que comprueba la destreza del creador de éxitos para generar música que nos hace sentir bien, liderando las listas con una canción pop dentro de un género donde predomina el reggaetón, con +357 millones de reproducciones y continúa creciendo de manera exponencial en las listas globales y de radio, incluyendo #14 en las lista de Hot Latin Songs de Billboard, y #1 en la radio de pop latino en los Estados Unidos y Puerto Rico, y #1 en España por dos semanas consecutivas.
La presentacion de Sebastián Yatra de la cancion "Dos Oruguitas" de la película animada de The Walt Disney, 'Encanto' desencadenó dos hitos en la carrera del artista - una nominación al Oscar por "Mejor Canción Original" (honrando el trabajo original de Lin-Manuel Miranda), y debutar como la única canción en español para el líder de la música latina dentro de la lista Top 50 de Spotify en los Estados Unidos.
El cantante y compositor colombiano también protagoniza la serie de Netflix, 'Once Upon a Time...Happily Never After' que se lanza el 11 de marzo junto a las cantantes españolas Mónica Maranillo y Nia Correia; creada y dirigida por Manolo Caro.
Live Nation Entertainment (NYSE: LYV) es la principal empresa de entretenimiento en vivo del mundo, compuesta por los líderes del mercado mundial: Ticketmaster, Live Nation Concerts y Live Nation Sponsorship. Para más información, visite www.livenationentertainment.com.