Details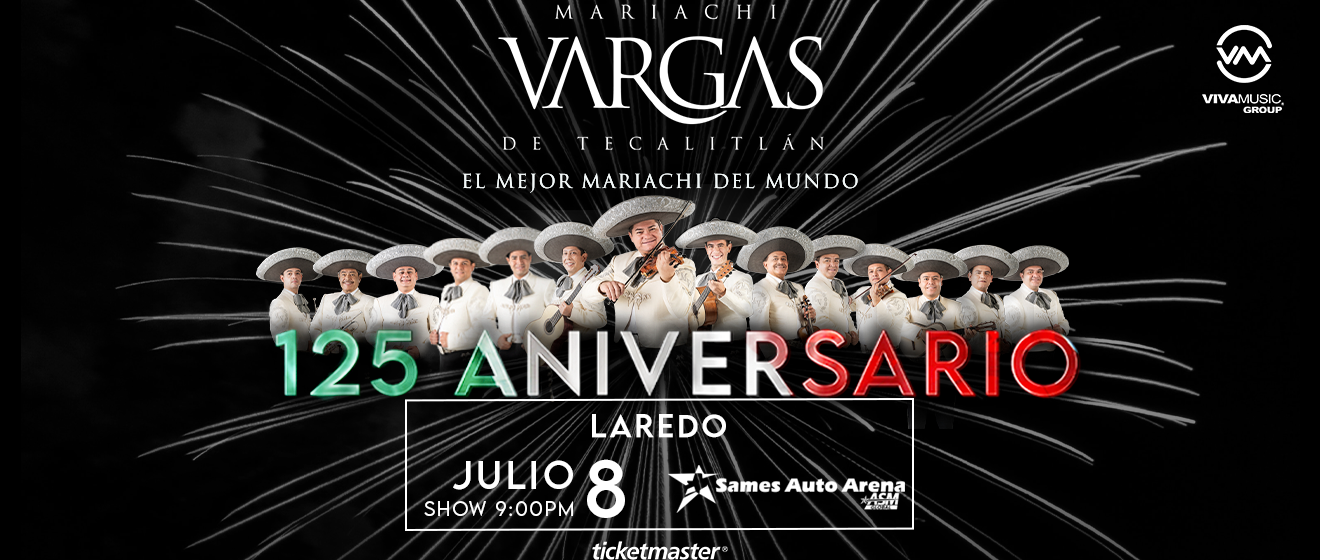 Friday, July 8, 2022

09:00 PM / Doors Open 8:00 PM
Buy Tickets
Mariachi Vargas en el Sames Auto Arena
MARIACHI VARGAS DE TECALITLÁN celebra su 125 aniversario siendo una de las instituciones musicales con un legado cultural genuino; hoy se encuentran felices de anunciar las próximas presentaciones: viernes 08 de julio en Laredo, Texas en el Sames Auto Arena y sábado 09 del mismo mes en el Music Hall de Dallas,Tx para compartir con su público las canciones que los han vuelto un estandarte de la música mexicana: Sabes Una Cosa, La Bikina, El Son De La Negra entre otras.
"Estamos encantados de anunciar shows nuevos para la arena," expreso Juan C. Mendiola, Gerente General de ASM Global – administrado por Sames Auto Arena. "Fanáticos pueden recibir un 10% de descuento el viernes 3 de junio hasta domingo 5 de junio usando el código VENUE en la taquilla o Ticketmaster.com".
BOLETOS A LA VENTA LUNES, 6 DE JUNIO - 10:00 a.m

.
Precios: $139.00 | $93.10 | $66.10 | $44.50
asientos de pasillo: $154 | 103 | $73 | $49
(tarifa de instalación incluida)
Boletos disponibles en la taquilla del Sames Auto Arena o Ticketmaster.com
Tras una gira por México donde pisaron Monterrey, Querétaro, Toluca y muchas ciudades más. El Mejor Mariachi del Mundo decide seguir el gran festejo con su público de otros continentes como Europa y Asia para compatir el folklór de su tierra.
El espectáculo que presentarán a partir del mes de julio será la segunda temporada de este aniversario en donde un show totalmente nuevo envolverá a su gente en una atmósfera vernácula sin igual.
Aunado a las fiestas patrias, se llega en el mes de septiembre la fecha exacta de su celebración y lo quieren hacer con sublimidad en agradecimiento a todas las generaciones que continúan haciendo éxito sus temas.
Mariachi Vargas at the Sames Auto Arena
FOR IMMEDIATE RELEASE: FRIDAY, MAY 27, 2022
LAREDO, TEXAS – Today they are happy to announce the next performance on Friday, July 8 in Laredo, Texas at the Sames Auto Arena to share with their audience the songs that have made them a standard of Mexican music: Sabes Una Cosa, La Bikina, El Son De La Negra among others.
"We are thrilled to announce new shows for the arena," said Juan C. Mendiola, General Manager of the ASM Global - managed Sames Auto Arena. "Fans can receive a 10% discount starting on Friday, June 3 through Sunday, June 5 by using the code VENUE at the box office or Ticketmaster.com."
MARIACHI VARGAS DE TECALITLÁN celebrates its 125th anniversary as one of the musical institutions with a genuine cultural legacy.
Tickets On Sale Monday, June 6 @ 10:00 a.m.
Ticket Prices: $139.00 | $93.10 | $66.10 | $44.50
Aisle Seats: $154 | 103 | $73 | $49
(Facility Fees Included)
Tickets available at the Sames Auto Arena Box Office or Ticketmaster.com
After a tour of Mexico where they set foot in Monterrey, Querétaro, Toluca and many more cities, the Best Mariachi in the world decided to continue the great celebration with other continents such as Europe and Asia to share the folklore of their land.
The show will be the second season of this anniversary which a totally new show will encircle fans in a unique vernacular atmosphere.
Mariachi Vargas wants will put on a performance with sublimity in gratitude to all the generations that continue to make their themes successful.