Details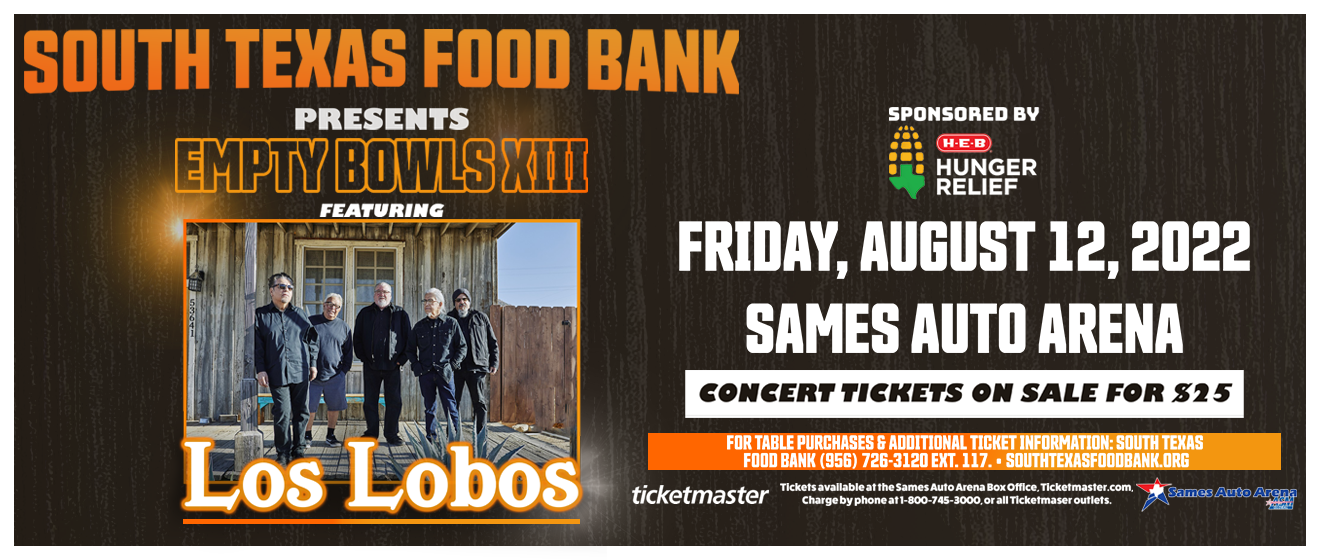 Friday, August 12, 2022

08:00 PM / Doors Open 7:00 PM
Buy Tickets
South Texas Food Bank's Empty Bowls Returns to the Sames Auto Arena
LAREDO, TX – After a long-hiatus, The South Texas Food Bank announced the return of their traditional summer fundraiser, Empty Bowls. In its 13th edition, the event returns to the Sames Auto Arena on Friday, August 12, 2022.
The South Texas Food Bank Board held a special event at their facility, located at 2121 Jefferson, to officially announce the event; it's title sponsor, H.E.B.; and this year's featured band – the legendary, Mexican-American fusion rock band Los Lobos.
"After a long-hiatus and demand from our supporters, we are very excited to once again come together to announce our upcoming Empty Bowls event," said John Solis, South Texas Food Bank Board President. "It is good to be back."
Tickets On Sale Monday, June 6 @ 10:00 a.m.
Tickets available at the Sames Auto Arena Box Office or Ticketmaster.com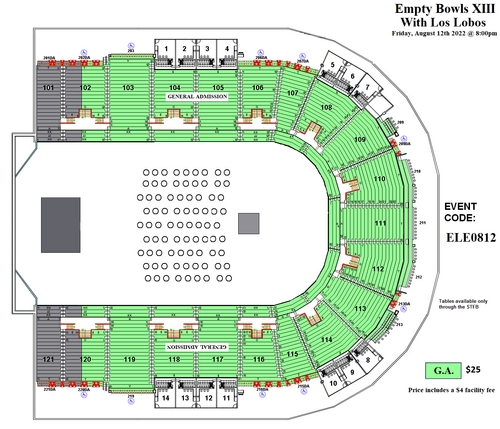 Board President Solis and board member Gaby De Leon highlighted H.E.B.'s longstanding relationship with the food bank and support to the South Texas area. De Leon, who is a food bank board member and an H.E.B. employee, pointed out that the food bank is a product, or an example of H.E.B.'s commitment to the area.
"This organization and its mission were created with the support of H.E.B. They entrusted the founding members of this organization with the mission to provide hunger-relief to the communities that they served; and for over 30 years the food bank continues to work towards this effort – reciprocating the trust placed on them by H.E.B. and all supporters alike," she said.
During the poster unveilment, Los Lobos's cover of the iconic Ritchie Valen's song "La Bamba" blared, triggering the excitement of the attendees.
President-Elect, Kevin Romo proceeded to read a brief bio of the multi-Grammy winning band. He noted that "The South Texas Food Bank is proud to welcome this trail-blazing band of great cultural significance to the Mexican-American community in the southwestern United States."
"It doesn't matter what music genre you like –whether you like rock or Tejano – or what language you prefer -Spanish over English – it doesn't matter, Los Lobos have a little bit of everything for everyone," Romo added. "You just can't miss this opportunity to see this iconic band live!"
Internationally recognized and acclaimed, the east-L.A. based band Los Lobos has earned numerous awards throughout the years. Their list of recognitions include: induction into the Austin City Limits Hall of Fame; recognition from the National Endowment for the Arts; fourGrammy
Awards, including this year's award for Best Americana Album for Native Sons.
Their signature sound is rich blend of rock-and-roll, R&B, surf music, soul, mariachi, música norteña, punk rock, western and country. Their repertoire includes songs in English, Spanish and "Spanglish".
The soundtrack to the 1987 film, La Bamba -the biographical film of Chicano Rock'n'Roll icon, Ritchie Valens catapulted the band to stardom. The band has enjoyed a long-string of hits that include "Shakin', Shakin, Shakes", "La Pistola y El Corazon", "Anselma", "Set Me Free", and many more in their nearly 50-year career.
"What a great way to comeback," said Alma Boubel, Executive Director of The South Texas Food Bank. "We have an amazing title sponsor, H.E.B., and an equally amazing band, Los Lobos."
She extended her invitation to the community, "I invite all food bank supporters to come out and be part of this great event, that is going to be more like a reunion, at the Sames Auto Arena. We have table sponsorships available starting at $1,500 and general admission concert tickets for $25. Therefore, everyone can come and support this great cause, and have a great time doing it!" Boubel thanked the different businesses that have already signed up to support the fundraiser.
"We want to encourage our local and regional business and private sector to consider being part of this charitable tradition," she said. "As our board president noted, all proceeds cover some of the most mission essential, operational costs associated with food acquisition and distribution."
"Our operational costs have skyrocketed due to inflation," she added. "This is why we continue to seek out the support of the community. We can't continue to what we do without you." Concert ticket sales will officially go on sale on Monday, June 6th and can be purchased directly at Sames Auto Arena Box Office, the South Texas Food Bank or via Ticketmaster.
For table sponsorships, please contact the food bank's Marketing Department at either 956-726- 3120 Ext. 117; or via e-mail at [email protected] or [email protected] An online ticket purchase option will soon be available.
More information to be release on the food bank's website and social media platforms.
About the South Texas Food Bank
The South Texas Food Bank is a 501 (c)(3) non-profit organization whose mission is to alleviate hunger in the eight-county service area in the south Texas area by collecting and distributing food through partner agencies and programs while creating awareness and educating the community on the realities of hunger.
Currently, the food bank has served an average of 44,000 families; 11,000 elderly; and 36,000 children per month throughout their eight county service area that includes: Webb, Zapata, Jim Hogg, Maverick, Dimmit, Val Verde, Kinney and Starr. South Texas Food Bank Food pantries can be found in communities like Laredo, Zapata, Hebbronville, Carrizo Springs, Eagle Pass, Brackettville, Del Rio, Roma, Rio Grande City and other rural communities.
For more information, contact:
Angie Osterman, Sr. Marketing Specialist/Regional Liaison
Tel: (956) 726-3120 Ext. 117