Details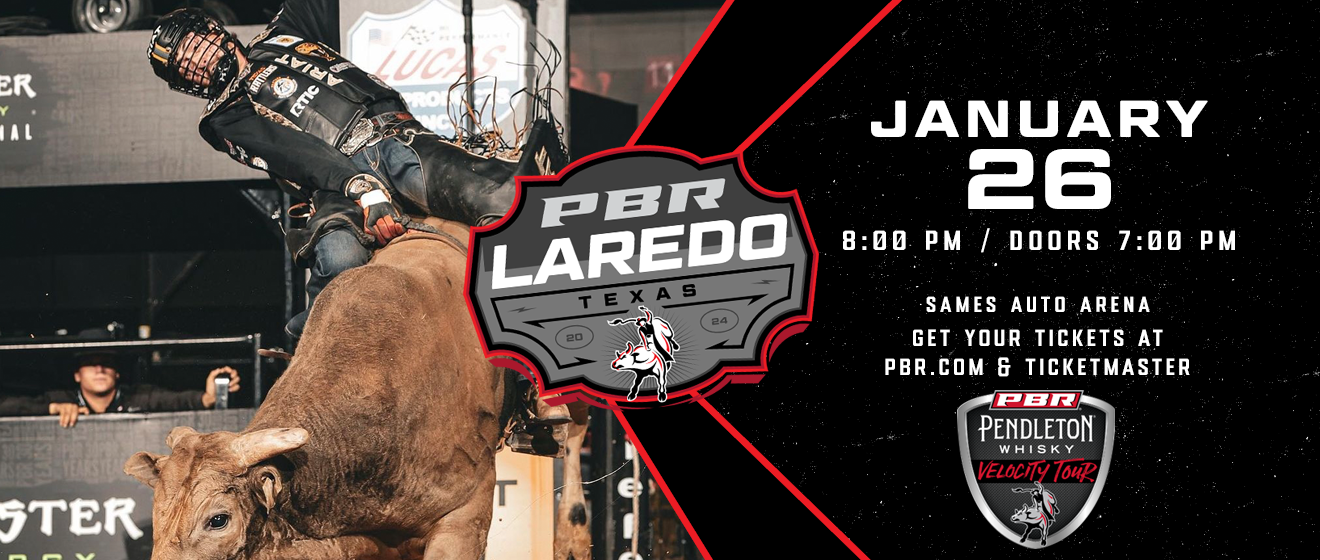 Friday, January 26, 2024

08:00 PM / Doors Open 7:00 PM
Buy Tickets
Professional Bull Riders' Pendleton Whisky Velocity Tour
Returns to Laredo, Texas
for First Time in More Than Eight Years on January 26-27, 2024
Tickets for PBR Laredo on sale Friday, October 6 at 10:00 a.m. CT
LAREDO, Texas (October 2, 2023) – For the first time in more than eighth years, PBR's (Professional Bull Riders) Pendleton Whisky Velocity Tour will buck into Laredo, Texas, returning to Sames Auto Arena on January 26-27, 2024 with PBR Laredo.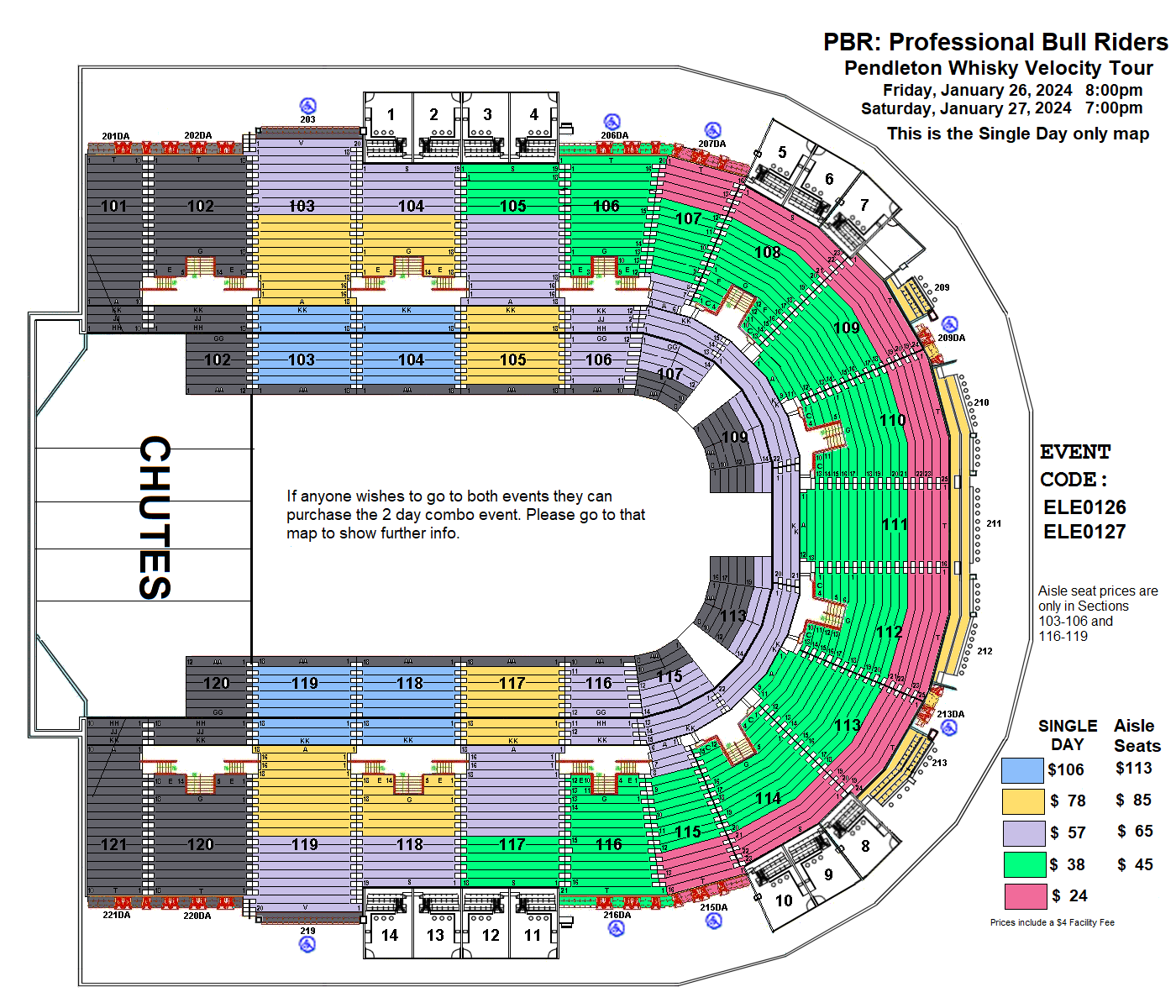 Ticket Prices:
Single Day: $106 | $78 | $57 | $38 | $24 | Aisle Seats: $113 | $85 | $65 | $45
2 Day Combo: $181.40 | $133.30 | $98.10 | $65.80 | $42.00
(Facility Fees Included)
Tickets available at the Sames Auto Arena Box Office or Ticketmaster.com
For two nights only, some of the best bull riders in the world will battle the sport's rankest bovine athletes in the ultimate showdown of man vs. beast in one of the most exciting live sporting events to witness.
PBR's return to Laredo comes on the spurs of one of the organization's most dynamic individual seasons in 2023, as the Velocity Tour broke and reset numerous attendance and competition records en-route to its most successful season to date.
The upcoming PBR Laredo will mark the ninth event of the new individual season for the PBR's expansion series. Eventgoers will watch riders vie for crucial points in the race to be crowned the 2024 PBR Velocity Tour Champion.
When PBR's Velocity Tour was last in Laredo in January 2015, Bryan Titman (East Bernard, Texas) went a perfect 2-for-2 to win his career-first event on the organization's expansion tour.
As competition got underway in Round 1, Titman tied the fifth-best score, riding Fukashima (Covenant Livestock) for 84 points.
The Texan then climbed to the top of the leaderboard in Round 2, topping Rusty Rooster (Covenant Livestock) for 86 points.
In the championship round, Titman clinched the PBR Laredo event win when he bested Red Dingo (Currey Creek Bucking Bulls & Cattle Co.) for a commanding 88 points.
The bull riding action for PBR Laredo begins with Round 1 at 7:00 p.m. CT on Friday, January 26, followed by Round 2 and the championship round at 7:00 p.m. CT on Saturday, January 27. All 40 competing bull riders will get on one bull each in Round 1. The Top 36 riders from Round 1 will advance to Round 2 Saturday evening. The riders' individual two-round scores will be totaled with the Top 10 advancing to the championship round for one more out and a chance at the event title.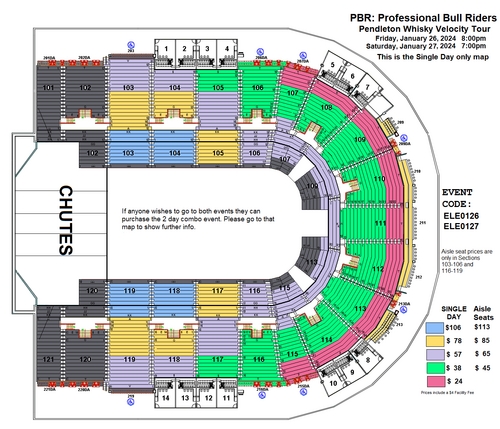 Tickets for the two-day event go on sale Friday, October 6 at 10:00 a.m. CDT, and start at $20, taxes and fees not included. Tickets can be purchased online at ticketmaster.com and PBR.com, at the Sames Auto Arena Box Office during operating hours or by calling PBR customer service at 1-800-732-1727.
PBR Elite Seats are available for avid fans who want an exclusive VIP experience while enjoying the world's top bull riding circuit. These tickets, available in three tiers, offer premium seats, personal on-site concierge at the PBR fan loyalty booth, and more. For more on elite seats call (800) 732-1727, or to purchase visit Ticketmaster.com.
For more information about the PBR and the 2024 PBR Pendleton Whisky Velocity Tour schedule, or to purchase tickets, visit PBR.com.
Stay tuned to PBR.com for the latest news and results and be sure to follow the sport on all social media platforms at @PBR.
About the PBR (Professional Bull Riders) Pendleton Whisky Velocity Tour:
The PBR's Pendleton Whisky Velocity Tour (PWVT) began in 2014 as the premier expansion tour for the PBR. The Velocity Tour, the sport's fastest-growing tour, brings the excitement and top-levels of cowboy and bovine talent that fans have come to expect from the sport to cities across the United States. The PWVT is proudly supported by Pendleton Whisky, Boot Barn, Cooper Tires, Rank 45, South Point Hotel & Casino, Tractor Supply, Kubota, the United States Border Patrol, Zip Recruiter and GovX. Every Velocity Tour event is carried on PBR RidePass on Pluto TV, PBR's flagship digital network.