Details

Friday, December 14, 2018

07:00 PM / Doors Open 6:00 PM
Buy Tickets
Jesus Adrian Romero
y Jon Carlo
viernes, 14 de diciembre 14

McAllen, Texas. (Aug. 29, 2018) Got Faith Music en Espanol, les presenta con orgullo los éxitos mas grandes de estas dos grandes estrellas de la música Cristiana y música Navideña para celebrar la temporada. Prepárense para el evento mas espectacular de la temporada Navideña. Por primera vez, el máximo exponente de la música cristiana en español, Jesús Adrián Romero, junto al cantautor de musica Cristiana contemporanea Jon Carlo.


Precios
VIP $85 (incluye: vip laminado, poster de la gira, y asientos premium)
$65 | $45 | $30
(Facility Fee & Non-profit Fee Included)
Boletos disponibles en la taquilla, Ticketmaster.com, y cargo por teléfono 1-800-745-3000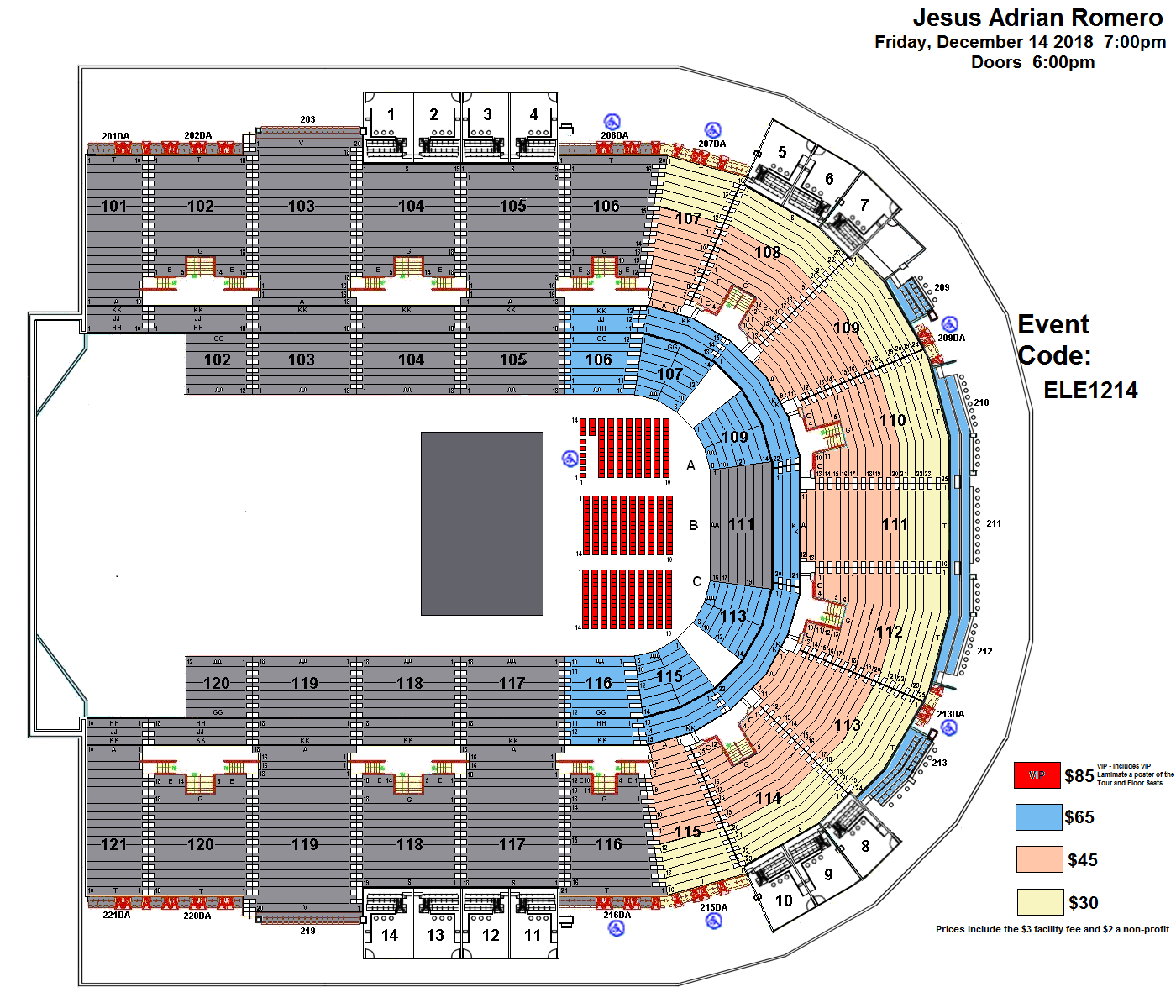 Jesús Adrián Romero:
Es un exitoso cantante y compositor de música cristiana, en el género de alabanza y adoración. También es Pastor y empresario. Cuenta con cerca de una veintena de producciones musicales y dos libros. Durante su carrera como cantante y productor ha sido galardonado con 12 Premios Arpa e igual cantidad de Premios AMCL.

Jesús Adrián Romero nació en la ciudad de Hermosillo Sonora, México, el 16 de febrero de 1965. A la edad de 16 años sintió el llamado para prepararse como Pastor, por lo cual realizó estudios bíblicos en un seminario de California y paralelamente sirvió como guía espiritual.

El salmista Romero también fundó Vástago Producciones, una empresa dedicada a la producción discográfica, así como a la realización de eventos y conciertos cristianos.

En su exitosa carrera Jesús Adrián Romero ha sido nominado en tres ocasiones a los premios Grammy Latino. Además ha obtenido más de una decena de Premios Arpa y Premios AMCL.

Jon Carlo:
Es un joven productor y cantautor, que aspira, a través de su música y su creatividad, llegar a agradar a Dios al máximo. Nació en República Dominicana y reside actualmente en la ciudad de McAllen, Texas.

En el año 2009 Jon Carlo nos presenta su primera producción musical como solista que lleva por nombre "Mi más grande pasión" el cual llego a ser catalogado como el mejor disco de música Cristiana contemporánea alcanzando reconocimientos dentro de la iglesia hasta ser elegido para cantarle al Papa Francisco en la Jornada Mudial de la Juventud Brasil 2013 ante mas de 6 millones de personas. En el 2014 lanzo su segunda producción "Traigo Musica de Dios el cual fue prenominado al Grammy Latino 2015 por su alta calidad y producción.

Got Faith Music:
Es conocido por producir los mayores eventos de música cristiana en el sur de Texas y ahorra llegan al El Paso. Got Faith Music produce eventos como el Got Faith Music Festival y Got Faith Concert Series, al que asistieron más de 180 mil fanáticos y más de 50 artistas de Musica Cristian... Artistas incluye Jesús Adrián Romero, Marcela Gándara, Mercyme Newsboy, Chris Tomlin, For King & Country, Jeremy Camp, Matthew West y muchos más. El equipo Got Faith Music continuará trayendo los nombres más importantes a la tarima de Got Faith .

Para mas información o solicitud de prensa contacte a Got Faith Music por estos medios:
CONTACTO: ALECK RIOS | Internet: Gotfaithmusic.com | Correo Electronico: [email protected] | Telefono: 956-8787610

###

Jesus Adrian Romero
Jon Carlo
Friday, December 14

McAllen, Texas. (Aug. 29, 2018) Got Faith Music en Espanol, proudly presents the greatest successes of these two great stars of Christian music and Christmas music. Prepare for the most spectacular event this Christmas season. For the first time, the greatest exponent of Christian music in Spanish, Jesús Adrián Romero, together with contemporary Christian music singer Jon Carlo will perform on Friday, December 14 at the Sames Auto Arena.

TICKETS ON SALE FRIDAY, AUGUST 31 AT 10AM
Ticket Prices
VIP $85 (Includes VIP laminate, Tour Poster, and Premium Seat)
$65 | $45 | $30
(Facility Fee & Non-profit Fee Included)
Tickets available at the Sames Auto Arena Box Office, Ticketmaster.com, or charge by phone at 800-745-3000

Jesús Adrián Romero:
Romero is a successful singer and composer of Christian music, in the genre of praise and worship. He is also a pastor and businessman. Romero has about 20 musical productions and two books. During his career as a singer and producer, he has been awarded 12 Harpa Awards and an equal number of AMCL Awards.

Jesús Adrián Romero was born in the city of Hermosillo Sonora, Mexico, on February 16, 1965. At the age of 16, he felt the call to become as a Pastor. In California, he enrolled in a biblical studies seminar, which served as a spiritual guide.

Romero also founded Vástago Producciones, a company dedicated to record production, as well as conducting Christian events and concerts.

In his successful career, Jesús Adrián Romero has been nominated three times for the Latin Grammy Awards. He has also won more than a dozen Arpa Awards and AMCL Awards.

Jon Carlo:
Carlo is a young producer and singer-songwriter who aspires through his music and his creativity to reach God to the fullest. He was born in the Dominican Republic and currently resides in the city of McAllen, Texas.

In 2009, Jon Carlo presents his first solo musical production called "Mi más grande pasión" (My Greatest Passion), which came to be classified as the best contemporary Christian music record, reaching recognitions within the church until being chosen to sing to Pope Francisco at the World Youth Day Brazil 2013 in front of more than 6 million people. In 2014, he released his second production "Traigo Musica de Dios", which was pre-nominated for the 2015 Latin Grammy for its high quality and production.

Got Faith Music:
Got Faith Music is known for producing the greatest Christian music events in South Texas to El Paso. Got Faith Music produces events such as the Got Faith Music Festival and Got Faith Concert Series, which is attended by more than 180 thousand fans and more than 50 artists of Cristian Music. Artists include Jesús Adrián Romero, Marcela Gándara, Mercyme Newsboy, Chris Tomlin , For King & Country, Jeremy Camp, Matthew West and many more. The Got Faith Music team continues to bring the most important names to the Got Faith stage.

For more information or press requests, contact Got Faith Music through these means:
CONTACT: ALECK RIOS | Internet: Gotfaithmusic.com | Email: [email protected] | Telephone: 956-878-7610


###