Details
Sunday, June 2, 2019

07:00 PM / Doors Open 6:00 p.m.
Buy Tickets
LATIN POWERHOUSES WISIN & YANDEL
U.S. 'COMO ANTES TOUR 2019'
Sunday, June 2, 2019
New Album Los Campeones del Pueblo / The Big Leagues Out December 14

LOS ANGELES, CA (Dec 11, 2018) – Latin music's most iconic duo, Wisin & Yandel, announced their first U.S. tour today since their five-year hiatus with the Como Antes Tour 2019. Co-produced by Live Nation and CMN, the 15-city tour will kick off May 23rd in Phoenix, AZ and make stops in Miami, Chicago, Houston, Los Angeles and more, before wrapping June 23rd in Orlando, FL. Full routing below.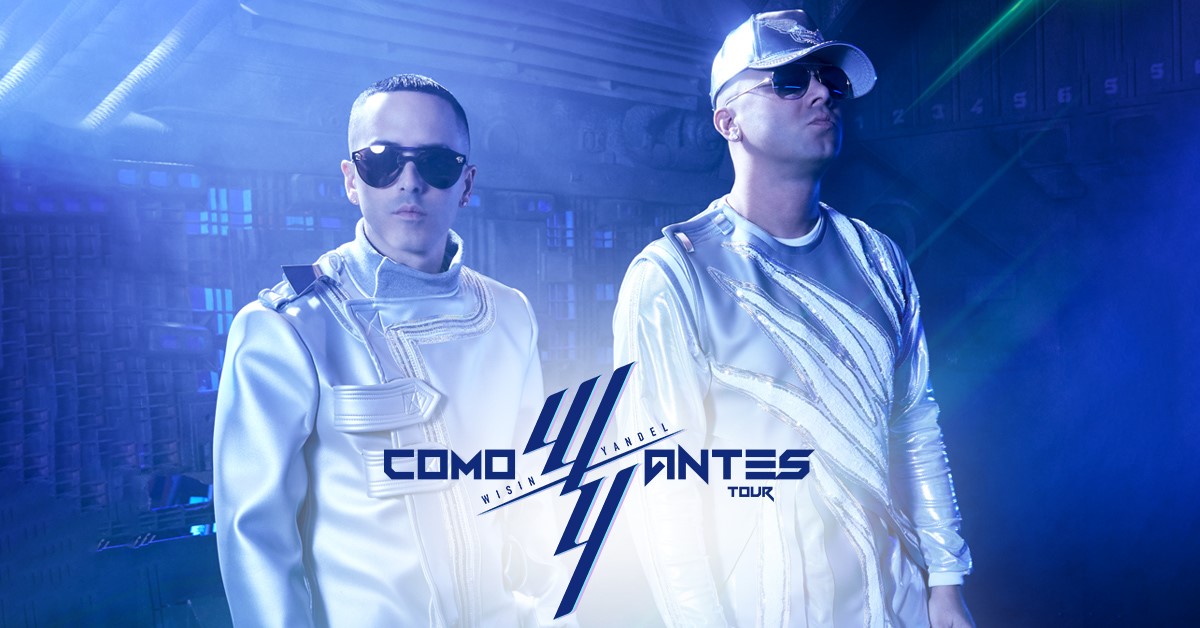 Ticket Start at $35.00
(Facility Fees Included)
Tickets available at the Sames Auto Arena Box Office,
Ticketmaster.com or charge by phone at 800-745-3000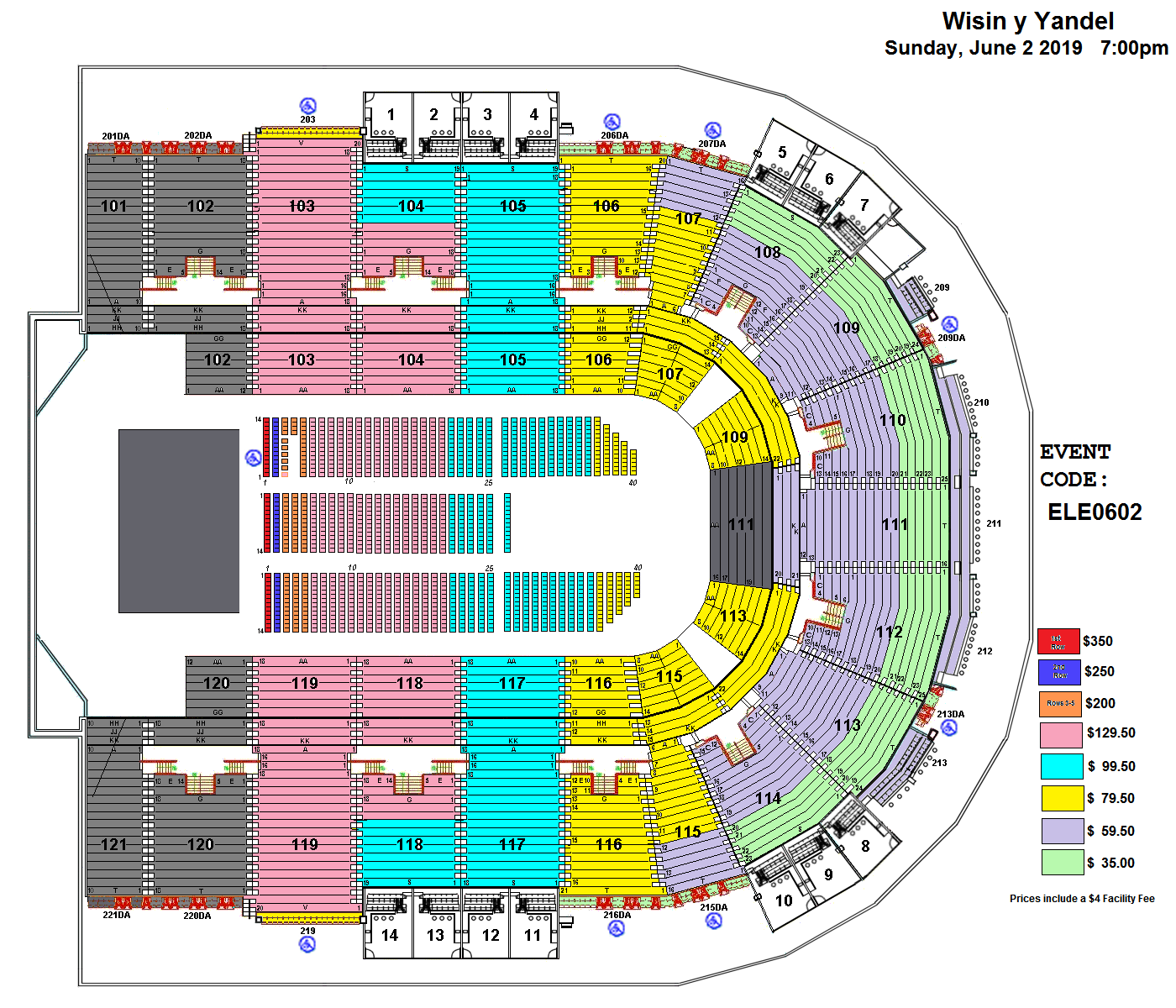 Tickets will go on sale to the general public beginning Friday, December 14th at 10am local time at Ticketmaster.com. Citi is the official presale credit card for the Como Antes Tour 2019. As such, Citi cardmembers will have access to purchase presale tickets beginning Wednesday, December 12th at 10am local time until Thursday, December 13th at 10pm local time through Citi's Private Pass program. For complete presale details visit www.citiprivatepass.com. VIP packages and Fan Club presales will be available starting today at 12pm local time through Thursday, December 13th at 10pm local time.

Wisin & Yandel also recently announced their first album in over five years, Los Campeones del Pueblo / The Big Leagues. It marks their tenth studio album and the first one they have recorded together since the multi-award-winning album Líderes (released July 3, 2012.) The new album will be released on December 14th and is available for pre-order or to pre-save on all digital platforms NOW.

The duo also just held 8 sold-out shows at the prestigious Coliseo de Puerto Rico on November 30th, setting a new record for the most consecutive shows held at the venue as well as the most shows
performed there by any act, with a grand total of 25. Yandel is managed by Andy Martinez and Wisin is managed by Walter Kolm.

About Wisin & Yandel
Yandel and Wisin are beloved artists that have garnered non-stop hits in their solo careers, yet as Latin music dúo Wisin & Yandel they have enjoyed unparalleled success, becoming the top selling Latin urban artists in the world, with their music and concerts.

During their 14 year career as a duo, Wisin & Yandel received numerous multi-platinum certifications in the United States and Latin America and dozens of prestigious awards including a Grammy and two Latin Grammys; as well as ten Billboard Latin Airplay #1s. On tour, Wisin & Yandel have proven to be a force to be reckoned with, becoming the only artists in the Urban Latin Music genre to sell out both the Staples Center and Madison Square Garden in the US. Wisin & Yandel's shows are nothing short of exhilarating. The duo travels with their 10-piece band, 8 dancers, and a state-of-the art audiovisual show; but the true stars, absolutely are Wisin & Yandel and their unique brand of Latin urban music, a fusion of genres and styles delivered with a power and passion that no one in their musical genre can match.

About Live Nation Entertainment
Live Nation Entertainment (NYSE: LYV) is the world's leading live entertainment company comprised of global market leaders: Ticketmaster, Live Nation Concerts, and Live Nation Sponsorship. For additional information, visit www.livenationentertainment.com

About CMN Entertainment
At CMN Entertainment we are culture connectors and emotion makers. We inspire action. Our purpose is to fill lives with cultural experiences that are memorable. Our inspiration breathes the same kind of fuel that keeps the work flowing nonstop, the possibility to connect fans with their favorite artists, sports teams and brands at thousands of live events each year.

CMN was founded in 2002 by entrepreneur and philanthropist Henry Cárdenas, a pioneer in bringing entertainment and sports to the United States and what started out as a series of small events at churches and university campuses around Chicago in the '70s has grown into a multi-million-dollar company with over 100 full-time professionals and offices in Chicago and Miami.

Wisin Media Contact:
Jennifer J. Nieman
The Nieman Group
[email protected]

Yandel Media Contact:
Blanca Lassalle
Creative Link
[email protected]

Live Nation Media Contact:
Emily Bender
[email protected]
Monique Sowinski
[email protected]

###
LOS ÍDOLOS LATINOS WISIN Y YANDEL
COMO ANTES TOUR 2019
2 de junio del 2019

El Nuevo Álbum Los Campeones del Pueblo / The Big Leagues Estará Disponible el 14 de Diciembre

LOS ÁNGELES, CA (11 de diciembre del 2018) – El dúo más icónico de la música latina, Wisin y Yandel, anunciaron hoy su primera gira por los Estados Unidos desde su separación temporal de cinco años con la gira Como Antes Tour 2019. Co-producida por Live Nation y CMN, la gira por 15 ciudades comenzará el 23 de mayo en Phoenix, AZ y tendrá paradas en Miami, Chicago, Houston, Los Ángeles y más ciudades, antes de concluir el 23 de junio en Orlando, FL. La lista completa de fechas esta incluida aquí.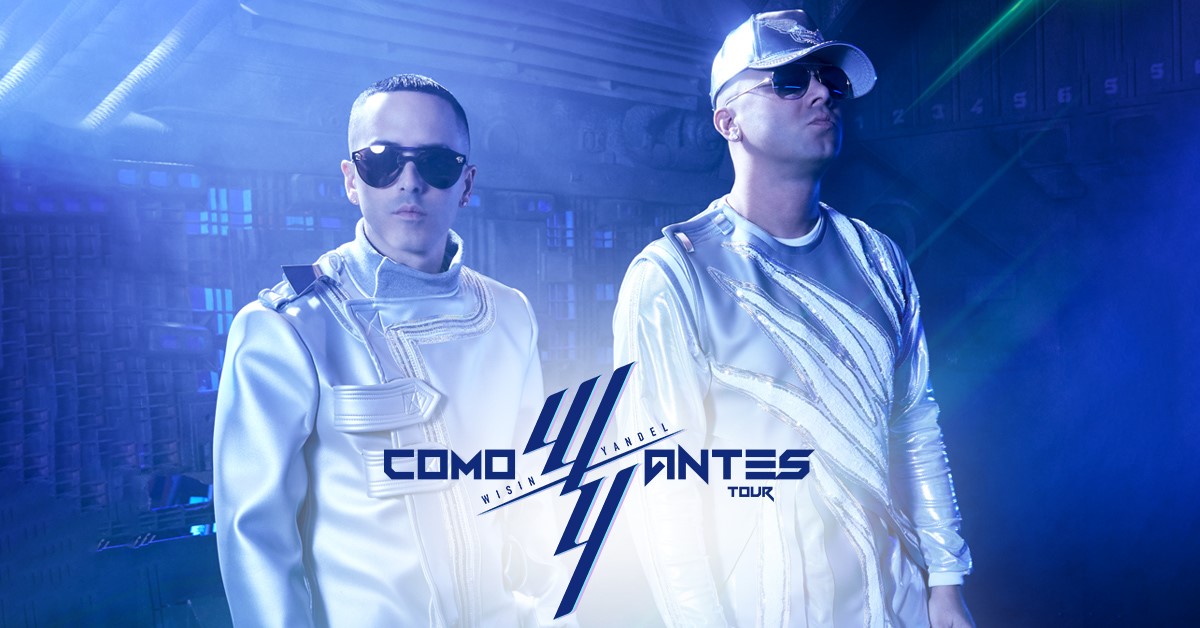 Precios comienzan en $35.00
(tarifa de instalación incluida)
Boletos disponibles en la taquilla de Sames Auto Arena,
Ticketmaster.com o cargo por teléfono 1-800-745-300
Los boletos saldrán a la venta al público en general a partir del viernes, 14 de diciembre a las 10am hora local en Ticketmaster.com. Citi es la tarjeta de crédito oficial para la preventa de la gira Como Antes Tour 2019. Como tal, los tarjetahabientes de Citi tendrán acceso a comprar los boletos en preventa a partir del miércoles, 12 de diciembre a las 10am hora local, hasta el jueves, 13 de diciembre a las 10pm hora local a través del programa de Citi conocido como Private Pass. Para obtener los detalles completos sobre la preventa visite www.citiprivatepass.com. Los paquetes VIP y las preventas para el Club de Fans estarán disponibles a partir de hoy a las 12pm hora local, hasta el jueves, 13 de diciembre a las 10pm hora local.

Wisin y Yandel también anunciaron recientemente el lanzamiento de su primer álbum en cinco años, Los Campeones del Pueblo / The Big Leagues. Este es su décimo álbum de estudio y el primero que graban juntos desde el multipremiado álbum Líderes (lanzado el 3 de julio del 2012). El nuevo álbum será lanzado el 14 de diciembre y esta ya disponible para comprar en preventa y pre-guardar en todas las plataformas digitales!

El dúo recientemente también concluyó 8 presentaciones completamente agotadas en el prestigioso Coliseo de Puerto Rico el 30 de noviembre imponiendo un nuevo record por la mayor cantidad de conciertos consecutivos en el recinto así como la mayor cantidad de presentaciones de cualquier artista en el lugar, llegando a un gran total de 25. Andy Martinez es el representante de Yandel y Walter Kolm es el representante de Wisin.

Acerca de Wisin y Yandel
Yandel y Wisin son dos aclamados artistas que han cosechado innumerables éxitos en sus carreras como solistas, sin embargo, en su faceta como dúo dentro de la música latina Wisin y Yandel han disfrutado de incomparable éxito, convirtiéndose en dos de los artistas urbanos latinos con mayores ventas en todo el mundo, gracias a su música y sus conciertos.

Durante su carrera de más de 14 años como dúo, Wisin y Yandel han recibido numerosas certificaciones Multi-Platino en los Estados Unidos y Latinoamérica y docenas de prestigiosos premios incluyendo un Grammy y dos Latin Grammys; así como 10 sencillos #1 en el listado Billboard Latin Airplay. En sus giras, Wisin y Yandel han demostrado ser una fuerza implacable, convirtiéndose en los únicos artistas en el género de Música Urbana Latina en llenar tanto el Staples Center como el Madison Square Garden en los Estados Unidos. Las presentaciones de Wisin y Yandel son más que emocionantes. El dúo viaja con su banda de 10 músicos, 8 bailarines, y un innovador espectáculo visual; pero las verdaderas estrellas son indudablemente Wisin y Yandel y su concepto único dentro de la música urbana latina, una fusión de géneros y estilos presentado con una fuerza y pasión que nadie dentro de su género musical puede igualar.

Acerca de Live Nation Entertainment
Live Nation Entertainment (NYSE: LYV) es la compañía líder a nivel mundial en entretenimiento en vivo conformada por los líderes globales en el mercado: Ticketmaster, Live Nation Concerts, y Live Nation Sponsorship. Para información adicional visite www.livenationentertainment.com

Sobre CMN Entertainment
En CMN Entertainment somos conectores de cultura y creadores de emociones. Nosotros inspiramos acción. Nuestro propósito es llenar vidas con experiencias culturales memorables. Nuestra inspiración respira el mismo tipo de combustible que mantiene el trabajo fluyendo sin parar, la posibilidad de conectar a los fanáticos con sus artistas, equipos deportivos y marcas favoritas en miles de eventos en vivo cada año.

CMN fue fundada en 2002 por el emprendedor y filántropo Henry Cárdenas, pionero en traer entretenimiento y deportes a los Estados Unidos. Lo que comenzó como una serie de pequeños eventos en iglesias y campus universitarios en Chicago, en los años '70, ha crecido hasta convertirse en una compañía de millones de dólares con más de 100 profesionales y oficinas en Chicago y Miami.

Contact de Prensa de Wisin:
Jennifer J. Nieman
The Nieman Group
[email protected]

Contacto de Prensa de Yandel:
Blanca Lassalle
Creative Link
[email protected]

Contacto de Prensa de Live Nation:
Emily Bender
[email protected]
Monique Sowinski
[email protected]

###