Details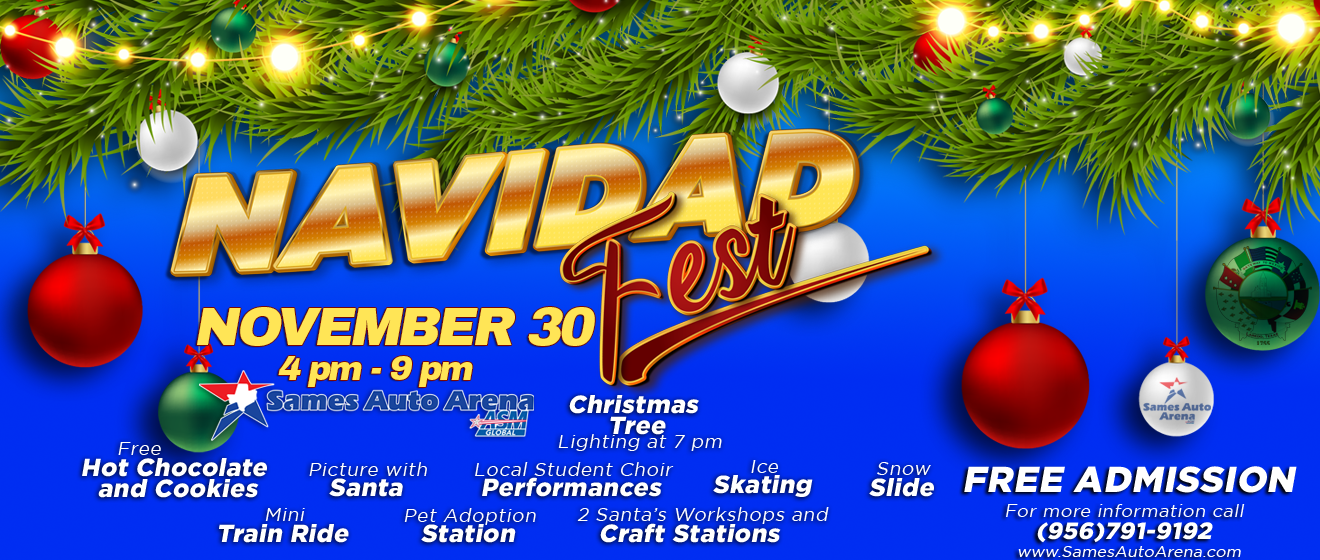 The City of Laredo and Sames Auto Arena Announce Details for Navidadfest 2022
LAREDO, Texas— Navidadfest, an annual tradition, is coming back this year. This is a free holiday celebration at Sames Auto Arena that will take place on Wednesday, November 30, 2022, from 4:00 p.m. to 9:00 p.m.
This year, the public will be treated to free ice skating, photos with Santa Claus, arts & crafts, cookies, hot chocolate, a snow slide, train rides, live performances by local student choirs, pet adoptions, Santa's Workshops, and the annual tree-lighting countdown.
While the event is completely free, attendees must have a ticket in order to take a photo with Santa or participate in ice skating. Tickets will be available on a first-come, first-served basis on November 30, starting at 3:00 p.m. at the Sames Auto Arena box office. There will be a limited amount of tickets given for ice skating per session (7 sessions in total) and 300 tickets for photos with Santa, so get there early! Doors open at 3:00 p.m. and the festivities start at 4:00 p.m.
Ice-skating sessions are 30 minutes at a time and require a written liability release form signed on-site by a participating adult individual or by the participant's parent or legal guardian. Skate sizes may be limited, but participants can also bring their own ice skates. Attendees are encouraged to dress warm as the indoor temperature will be cold. No food, drinks or cellphones are allowed in the ice rink.
The City of Laredo Animal Care Services Department will showcase pets available for adoption. Adoption fees will be waived during this event.
Lastly, Santa Claus will help Mayor Pete Saenz and other special guests light up the Christmas Tree at 7:00 p.m.
Motorists heading to the event are asked to observe all posted traffic signals and barricades, as well as Police Officers staffing the major intersections assisting in the event.
For more information on Navidadfest 2022, the community can call Sames Auto Arena at (956) 791-9192 or visit www.samesautoarena.com.
La Ciudad de Laredo y Sames Auto Arena Anuncian Detalles para Navidadfest 2022
LAREDO, Texas — — Navidadfest, una tradición anual, regresa este año. Esta es una celebración navideña gratuita en Sames Auto Arena que tendrá lugar el miércoles, 30 de noviembre del 2022, de 4:00 p.m. a 9:00 p.m.
Este año, el público disfrutará de patinaje sobre hielo gratis, fotos con Santa Claus, manualidades, galletas, chocolate caliente, un tobogán de nieve, paseos en tren, presentaciones en vivo de coros de estudiantes locales, adopciones de mascotas, talleres de Santa y una cuenta regresiva para iluminar el árbol de Navidad.
Aunque el evento es completamente gratuito, el público debe de obtener un boleto para tomarse la foto con Santa o participar en el patinaje sobre hielo. Los boletos estarán disponibles por orden de llegada el 30 de noviembre, a las 3:00 p.m. en la taquilla de Sames Auto Arena. Habrá una cantidad limitada de boletos para patinaje sobre hielo por sesión (7 sesiones en total) y 300 boletos para fotos con Santa, ¡así que llegue temprano! Las puertas se abren a las 3:00 p.m. y las festividades comienzan a las 4:00 p.m.
Las sesiones de patinaje sobre hielo duran 30 minutos cada una y requieren un formulario de exención de responsabilidad firmado en persona por un adulto participante o por el padre o tutor legal del participante. Las tallas de los patines pueden ser limitados, pero los participantes también pueden traer sus propios patines de hielo. Se les pide a los asistentes que lleguen abrigados ya que la temperatura interior será fría. No se permiten alimentos, bebidas ni teléfonos celulares en la pista de hielo.
El Departamento de Servicios de Cuidado de Animales de la Ciudad de Laredo exhibirá mascotas disponibles para adopción completamente gratis.
Por último, Santa Claus ayudará al alcalde Pete Sáenz y a otros invitados especiales a iluminar el árbol de Navidad. Este evento está programado para las 7:00 p.m.
Se les pide a los automovilistas que conduzcan por el área con precaución y observen todas las señales de tráfico, así como prestar atención a los oficiales que trabajan en las principales intersecciones para ayudar con la entrada y salida del evento.
Para obtener más información sobre Navidadfest 2022, la comunidad puede llamar a Sames Auto Arena al (956) 791-9192.